Old must join young in solving global problems, interfaith peacemakers conference told
A young Anglican from the United Kingdom has said that the young generation needs the older generation to work with them to tackle the world's problems, as neither group can do it alone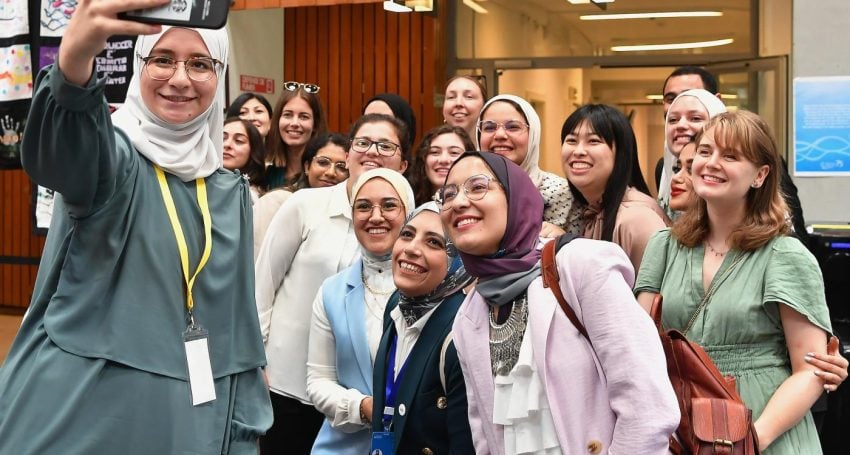 A young Christian from the United Kingdom has said that the young generation needs the older generation to work with them to tackle the world's problems, as neither group can do it alone.
Frederick Kratt, an Anglican from the UK, spoke at the July graduation ceremony, held at the World Council of Churches (WCC) in Geneva, for 50 participants from around the globe.
The 5-14 July Emerging Peacemakers Forum (EPF) was hosted by the WCC, Muslim Council of Elders, and Rose Castle Foundation, at the Ecumenical Institute at Bossey.
A young Christian, Jew, and Muslim each addressed those at the ceremony.
At the ceremony, WCC general secretary Rev. Prof. Dr Jerry Pillay urged the graduates to never give up on the hard work of peacemaking. "I can tell you, it might have take years, but I have seen, by God's grace, the mystery of God at work…transforming lives, changing behaviours."
"The real value of what graduates have gained will bear fruit in how they put it into practice, said Pillay. "It's what you do with what you have received," he said.
"Go out and be disciples and children of God, working with God to transform and heal a broken and suffering world."
Kratt said, "Several speakers have spoken this week about the need for young people to find solutions to the world's issues, issues young people have inherited. But such is the weight of this responsibility that we are left feeling disempowered.
"In truth, the young people of the world need the older generations, but the older generations also need the younger generations. I ask that our senior leaders speak less of young people as 'you' leaders of the future, but rather about 'us,' as we are all equal leaders in our time together on earth."
Police and crime
Kratt works in the West Midlands of England for the police and crime commissioner, 'bringing faiths together to tackle and prevent violence and exploitation affecting young people'.
"I have learned this week that the good things we seek for our world, such as peace between nations, faiths and communities, things that others would dismiss as 'unthinkable' also remain possible. The Emerging Peacemakers Forum is a diverse and beautiful demonstration of this vision," said Kratt.
He said what binds all he heard at the Emerging Peacemakers Forum "is a phrase that we've heard early in our time together, that the unthinkable remains possible."
The Emerging Peacemakers Forum taught him of the need for strong intergenerational partnerships to solve complex problems.
"We must stay on our guard against evils and dangers that some would dismiss as unthinkable in the modern 21st century," said Kratt.
Jewish involvement
Abigail Assidy, from Georgetown University in Washington, D.C., studying government and religious ethics and world affairs, said, "I'm a proud American Jew, and I'm honoured to speak before you today about my experience these past nine days here in Geneva.
"Firstly, I greatly appreciate that the World Council of Churches, Muslim Council of Elders and Rose Castle Foundation have expanded the forum to include Jews like myself…and I am excited for continued Jewish involvement in the future.
"As an American, I know Americans often think of ourselves as the centre of the world. The Emerging Peacemakers Forum fundamentally challenged me to rethink this idea and reposition myself in a global context."
She said that engaging with fellow youth from over 20 countries, listening to dynamic speakers who lead multinational organizations, learning the basic values of peacebuilding, and honing their perceptions of leadership helped her "look beyond my US-centric mindset and consider the global issues that we collectively face in a new way.
"While I advocate not letting go of yourself, I believe the ability to remove yourself from your own context and to assume a bird's eye view is critical to empathetic, humanity-based, and just peace-making, which is what our world desperately needs."
"The conversations we had are gritty and true and very special for me…they have inspired me to have hope and pride in our generation."
Khadija Fatihi from Morocco said the Emerging Peacemakers Forum was "an incredible and inclusive programme that welcomes people from different faiths and even those with no faiths as well coming from different backgrounds and countries."
Innovative approach together
Fatihi said, "Together, we learned about an innovative approach to address peace and social challenges with inspiring projects that uplifted the marginalized and, most importantly, to listen and disagree well."
They did this based on the belief that, as youth, they can create a better world "by delving into research, creating initiatives, or reaching decision-making positions.
"We accepted the invitation from your Jewish friends to attend the Shabbat day as we did with our Christian fellows in the church, and we are very pleased to have seen the amount of respect shown by our non-Muslim friends in our Jummah prayer."
Fatihi said, "We discovered our shared humanity. Every interaction was an opportunity to learn and grow and expand our perspective…through warmth and kindness to one another in building bridges of friendship to one another."
Photo gallery of the Emerging Peacemakers Forum 2023
Learn more about the Emerging Peacemakers Forum
First published on the World Council of Churches website on 20 July 2023. 
Jump to next article