Prayer Spaces initiative at St John's Cathedral builds faith and service for Coomera Anglican College students
St John's Cathedral recently welcomed Coomera Anglican College's Strong Hearts Club, who helped create a Prayer Space as part of the Cathedral's Prayer Spaces initiative, encouraging stronger connections between Anglican schools and the Cathedral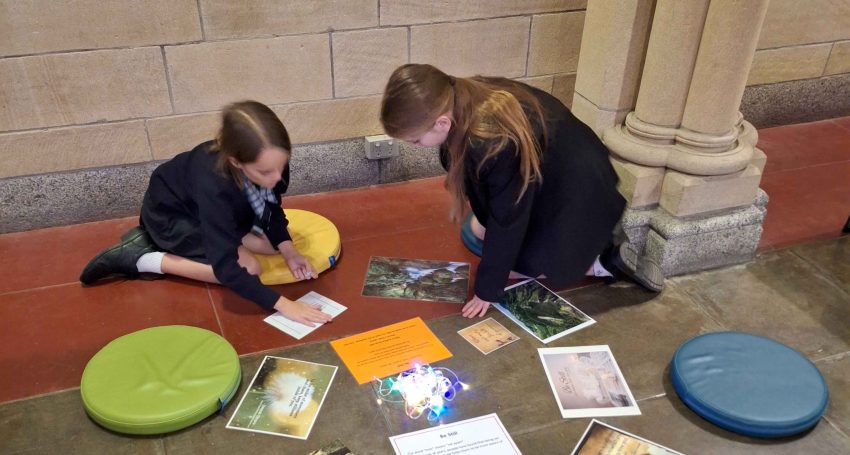 Following an invitation to contribute to St John's Cathedral's Prayer Spaces initiative, Coomera Anglican College's Strong Hearts Club recently visited the Cathedral for a memorable day of spiritual reflection and connection to the local community.
Established in 2022, the Strong Hearts Club is a voluntary co-curricular group within the College's Primary Campus that aims to encourage students and staff acts of kindness.
After receiving an invitation from The Rev'd Dr Ann Solari to contribute to the Cathedral through a Prayer Space, the Strong Hearts Club were very enthusiastic about the opportunity to serve in this way.
St John's Cathedral's The Rev'd Dr Ann Solari sees the Prayer Spaces initiative as a key way to strengthen the bonds between the Cathedral and Anglican schools in the state.
"These Prayer Spaces are important for us as it allows us to connect directly with our school students by having them visit the Cathedral in small groups and see what we do while setting up a Prayer Space, which matters to both them and us," The Rev'd Dr Solari said.
"At the same time, it offers a space for prayer that is welcoming and relevant to other young people, as well as speaking profoundly to the many different people from diverse cultures, faith groups and age groups who visit the Cathedral daily."
As part of their preparations for the visit, Coomera Anglican College students and staff carefully planned and curated a selection of prayer activities, each designed to inspire introspection and contemplation.
These activities, adorned with thoughtfully chosen resources, aim to create a welcoming environment where individuals can seek solace, guidance and a moment of respite from their daily lives. With topics including creation, relationships, hope and world issues, the space usually involves simple tasks (such as write a post-it-note prayer, take a deep breath, untangle the knots in a piece of cord) that encourage people to pray, to relax or to care.
For Coomera Anglican College Primary Lay Chaplain Rachael Stelzer, the opportunity to contribute to the Cathedral's Prayer Space was a great way to build upon the work the College already does in this area.
"Coomera Anglican College has used Prayer Spaces for several years now, both in the Primary and Secondary spheres, and in our House worships," Mrs Stelzer said.
"The Prayer Space involves simple tasks that encourage mindfulness, empathy, prayer and awareness of others; the importance of these activities is that they allow people to express their own spirituality in a simple and safe way.
"When The Rev'd Dr Ann Solari invited interested schools to contribute a Prayer Space in the Cathedral, we were very keen to help our students feel that the Cathedral is a living space and a welcoming space, and that they can interact with the Cathedral community and others through participating in this activity."
The collaboration between Coomera Anglican College's Strong Heart Club and St John's Cathedral is an important reminder of the strong links between the school and broader Anglican community and its values of faith and encouragement.
By bringing the Prayer Space to a well-established religious community such as St John's Cathedral, students not only enrich their own spiritual development, but also extend their outreach to a wider audience.
For Coomera Anglican College Year 6 student and Strong Hearts Club member Lexi, the initiative provided a valuable opportunity for learning more about her faith and the Cathedral.
"It was a fun way to learn about God and Jesus and it was great to be able to tour around the Cathedral," Lexi said.
Year 5 student and Strong Hearts Club member Mika echoed similar positive sentiments about the day.
"Setting up the Prayers Space was a highlight because it was really relaxing and I found it very meditative. It was super fun, quick and easy, and it helps to take your mind off the big world problems," Mika said.
The Prayer Space initiative serves as a reminder of the enduring power of faith and the significance of creating spaces for reflection and prayer, and The Rev'd Dr Solari was most encouraged by the success of Coomera Anglican College's visit.
"Coomera Anglican College have delivered more than we hoped for," she said.
"Approximately 500 people have visited the Prayer Space and the feedback was amazing."
Editor's note: All schools and any other ministry units are invited to become involved in the Prayer Spaces initiative at the Cathedral. Please contact the Cathedral office on 3852 2222 or email asolari@stjohnscathedral.com.au for more information.
Jump to next article