Community engagement: partnering to connect with the wider community
"We were blessed to have a full house for Living Waters — there was a moment as we were getting ready to open the doors when we thought we might have to turn people away, but thankfully we managed to squeeze in some extra seats," says formation student Lydia Fairhall, as she shares about a recent short film community engagement initiative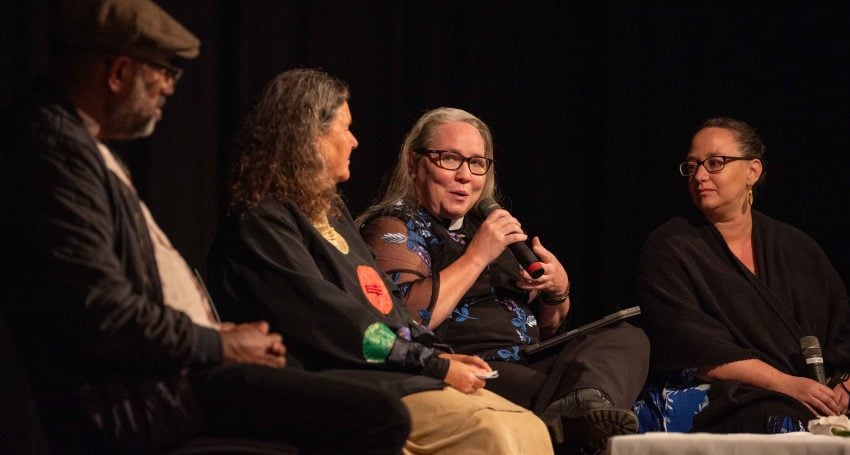 St George's, Maleny recently partnered with Horizon Festival (a multi-artform festival on the Sunshine Coast) and the Maleny Film Society to run an event called, "Living Waters: A Short Film Event".
I am in formation and my current parish placement is on the Sunshine Coast. Our parish priest, The Rev'd Deb Bird, and I have been talking about my formation goals throughout this year, and we recognised that one of them should be focused on working in the broader community. Because of my background working in the arts, it made sense to focus on something creative.
In the back of my mind, I also remembered a conversation with Bishop Jeremy while I was in discernment about the power of film and story. I also have a strong background in curating films for festivals and have produced a short film myself (called Out of Range — it's on SBS Demand and features Aaron Pedersen). So a film event was a natural fit.
Deb and I initially talked about holding an event inside the church. However, because we decided to approach other partners and embrace a holistic whole-of-community framework, we held it at our local community centre to appeal to a wider audience.
As we are committed to exploring the ways we belong to one another, selecting films that each look at our spiritual and ecological relationship to water made sense. It is a precious resource that ties us together as human beings, and is a beautiful way of looking at our interdependence and interconnectedness. This formed the curatorial basis for film selection and we screened films from all over the world, including from Portugal, to the remote Aboriginal community of Boroloola, to Senegal and Saibai in the Torres Strait Islands.
It was important for us to (both) have a presence as a church and to be comfortable being in the background. Having Deb on the Q&A panel (that we held after the short films were shown) and ensuring people knew our wonderful guild members were providing pay-what-you-feel homemade food was a subtle, but strong, way for us to tell the story of what we do as a parish and what we are all about.
We are grateful to Horizon Festival for funding the event, as well as helping us with promotions, such as through radio interviews and creating marketing materials, and providing the ticketing infrastructure. Maleny Film Society took care of all of the technical production, including providing a projectionist and converting film file types, and also helped advertise through their networks.
We were blessed to have a full house for Living Waters — there was a moment as we were getting ready to open the doors when we thought we might have to turn people away, but thankfully we managed to squeeze in some extra seats! We were thrilled to have it so well supported and whilst we worked hard at ensuring it was viable and sustainable, our main goal was to create a moment within the community that was focused on the unexpected ways we belong to each other.
We were fortunate to be able to screen Katele (Mudskipper), which was written and directed by one of our Q&A panelists, John Harvey. This film recently won Best Australian Short Film at Flickerfest and Best Short Film at the Melbourne International Film Festival. John is related to Aunty Dr Rose Elu, a Saibai elder who is also an ACSQ Diocesan Synod representative and an executive member of the National Aboriginal and Torres Strait Islander Anglican Council.
Joining Deb and John on our Q&A panel was the formidable Robin Clayfield, who is internationally recognised for her pioneering work in permaculture. Robin is well known and respected as a long-term member of the local community.
As the panel moderator, it was an honour to hear the wisdom, local knowledge and imagination of each panelist.
One lovely moment in the Q&A discussion was when a senior Traditional Custodian, Aunty Dinnawan, spoke about "Creator's Law", and specifically about how important it is to have a long-term eye on water issues globally. She said we need to have hope in the healing that can happen and have faith in the circular rhythm of Creator's Law.
It was also wonderful to hear from a few people afterwards, saying that although they have never had any interest in coming to church, they would love to come and hear Deb preach.
The following day we offered a free half-day workshop, run by John, in the St George's Church hall on producing, writing and directing film. We had about 10 people turn up — I'm unsure why, but they were all young men. As they walked in, we jokingly said "Welcome to the church men's group" and were subsequently met with some curious expressions. It is good to have a laugh.
Top 10 tips for partnering with businesses and community organisations in running creative initiatives:
1. Relationships come first — build upon existing relationships while seeking to create new connections.
2. Take the time to understand what your community is asking of you and what they would benefit from, listening deeply to discern what kind of gathering your community would like to attend or participate in.
3. Pick an event type that is a "natural fit" for the organisers (e.g. a sporting, gardening, craft, music, etc, event).
4. Put the effort into creating high-quality contemporary marketing materials (e.g. professional-looking posters).
5. Use internal (e.g. social media advertising campaigns) and external (e.g. radio) communication channels to promote your event.
6. Ensure that if a theme is chosen that this theme is carried through every aspect of the event (e.g. because our event was about belonging, we ensured that the Q&A panel featured diverse community members).
7. Ensure your offering is high-quality and appealing (e.g. the films we curated were celebrated and critically acclaimed within the film industry).
8. If the main event is offsite, hold a follow-up event in your church soon after the main gathering.
9. Hospitality is key because food brings people together, so our guild cooked savoury and sweet options (for an optional donation).
10. Budget well, balancing the need for a quality offering while ensuring that the event is affordable for community members.
Jump to next article