Anglicare Cultural Support Worker recognised during Queensland Child Protection Week
Anglicare Southern Queensland Cultural Support Worker Russell Bennet has received the Youth Participation Award at the 2023 Queensland Child Protection Week awards for the Gubbi Gubbi program, which provides practical and therapeutic benefits to young people who have experienced trauma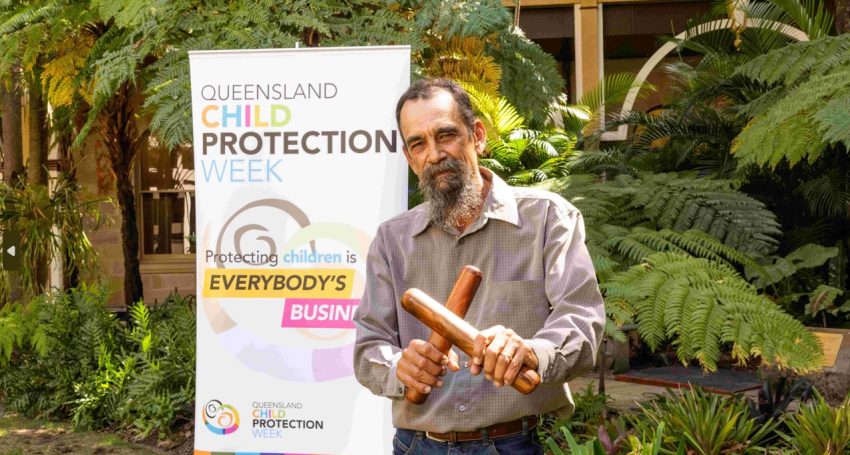 Anglicare Southern Queensland Cultural Support Worker Russell Bennet has received the Youth Participation Award at the 2023 Queensland Child Protection Week awards for the Gubbi Gubbi program, which provides practical and therapeutic benefits to young people who have experienced trauma.
The awards celebrate Queensland individuals and organisations who make a significant commitment to creating better outcomes for children who have been harmed by abuse and neglect, or who are at risk of harm.
Russell Bennet is a Gubbi Gubbi, Wakka Wakka and Kullilli man employed as a Cultural Support Worker with the Gympie Anglicare team.
In partnership with Landcare, the Gubbi Gubbi program teaches young people about the importance of caring for Country and helps to connect participants with their culture.
Mr Bennet said he was honoured to receive the award in recognition for the role he plays in helping to improve the wellbeing of young people aged 10 years and over.
"As an active member in the community, I'm caring for Country every day and teaching young people to become custodians of our bush and to take care of our Country and to look after it," Mr Bennet said.
"Once the children have been on Country, they become aware of the importance of why we need to save our Country.
"They become interested in what I try and teach them and then I take that angle to support them into further employment and training.
"I'd like to thank my Anglicare team for all your support, particularly my two coordinators Lesleigh and Shelli, and I would like to thank our Service Manager Sue Mills for all her guidance and support.
"I would also like to thank Gympie Landcare for their continuous support of our young people and myself and the traineeships they deliver and the employment that follows on after that."
Anglicare Southern Queensland's Chief Operating Officer for Children, Youth & Families Jason Ware congratulated Russell for his dedication to helping the community's young people.
"It's great to see Russell being recognised for his commitment to helping young people in the Gympie region," Mr Ware said.
"The positive impact he has had on the lives of our young people is a testament to his hard work, dedication and commitment that he brings to work each and every day and, we are very fortunate to have him work for Anglicare."
Two years ago, Mr Bennet was nominated in the annual PeakCare Awards for his tireless contribution to his community. He works with young people, families and professionals in preventing children from entering care, as well as working with children who are in care and the carers who support them.
Mr Bennet actively connects the community through individual and group mentoring sessions with children, focusing on addressing barriers, exploring cultural backgrounds, taking children back to Country, grounding children in Country, building self-esteem and resilience, promoting positive behaviour choices, respecting Elders and improving employment outcomes.
Jump to next article