Peace building celebrated as St John's Cathedral hosts Brisbane's International Day of Peace commemorations
An up-close look at an actual Nobel Peace Prize medal, a keynote speech by renowned social justice activist, broadcaster and footballer Craig Foster AM and two Local Agents of Peace Awards were among this year's St John's Cathedral International Day of Peace highlights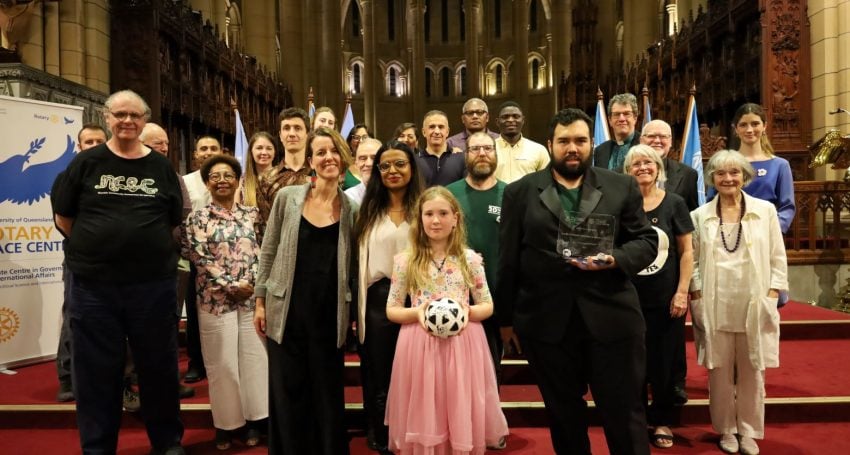 Over 200 people filled St John's Cathedral on 21 September for this year's International Day of Peace commemorations, which featured a keynote speech presented by renowned footballer, broadcaster and social justice advocate Craig Foster AM, as well as the presentation of two Local Agents of Peace Awards and an up-close look at a Nobel Peace Prize medal.
St John's Cathedral's The Rev'd Canon Gary Harch welcomed the audience and acknowledged Mr Foster before welcoming Kate Maccarone from the United Nations Association of Australia Peace and Security Program to deliver a message from the United Nations Secretary-General.
Reading the message on behalf of Secretary-General António Guterres, Ms Maccarone drew attention to the urgency of peace and stability given the multitude of challenges facing the global community.
"As we mark this International Day of Peace, people and our planet are in crisis," Ms Maccarone read.
"Conflicts driving record numbers of people from their homes; deadly fires, raging floods and soaring temperatures; poverty, inequalities and injustices; mistrust, division and prejudice — this year's theme reminds us that peace is not automatic.
"Peace is not only a noble vision for humanity, peace is a call to action. Let us commit to build, drive and sustain peace for all."
Craig Foster kicked off the 2023 Brisbane Peace Lecture by noting the wonderful gathering of those committed to social justice and human rights in the Cathedral and acknowledging the traditional custodians of the land, before turning his attention to the United Nations and peacemaking in the modern world.
"The provision of basic human rights, and indeed peace itself that is so much under challenge right now in Europe and elsewhere, only come through the actions of people like you and I, and rooms like this all across Australia and throughout the world," Mr Foster said.
With the 75th anniversary of the Universal Declaration of Human Rights coming up in December 2023, Mr Foster remarked about the landmark document's importance in bringing the world together over a shared understanding of human rights standards.
"Undoubtedly I would say [it's] one of the most important documents in, not just modern history, but perhaps history — a document that provides an objective basis through which all people can come together and agree on a set of standards by which everyone can be treated," he said.
Given the impending 75th anniversary, Mr Foster invited the audience to project what the next 75 years of human rights would look like in the context of the hopes and challenges the world currently faces.
Highlighting the challenge of food security as a basic human right, Mr Foster discussed the struggle to feed the entire Australian community, noting his experiences at a recent food equity conference in NSW where he recounted sharing, "It's not just about food, food is the vehicle through which we see prejudice, food is the vehicle through which we see who is worthy and who is not."
Elsewhere, human rights issues of housing and the right to protest in the Australian context were covered, with Foster spotlighting the particular importance of the right to protest in Australia in the context of the climate.
"Let us dream that whistleblowers in Australia are respected and congratulated," Foster said, drawing applause and cheers from the audience.
With refugees and people seeking asylum close to Mr Foster's heart, his speech turned to those seeking safety.
"Can we have a global system so that all refugees, irrespective of ethnicity, culture, race, faith are all treated equally, which is certainly not the case in Australia at this present time?" he asked.
"We need to change the narrative, we need to challenge the media portrayal, we need to challenge the disgraceful mistreatment, communication, lies told about people who need to flee persecution, that has to be the future for us, surely."
Recounting his own experiences advocating for refugees in the wake of his campaign to free footballer Hakeem al-Araibi from detention in Thailand, an emotional Mr Foster spoke of his visits to Papua New Guinea to meet with refugees.
On one of these visits, Mr Foster shared, experts advised him not to provide any sense of hope to those he visited because any further disappointment could lead to catastrophic mental health impacts.
Recalling one encounter with an Iranian refugee, a neurosurgeon, who has been reduced to a life existing on painkillers with little hope of freedom, Mr Foster reiterated the devastating impact of Australia's asylum policies.
"He could no longer cope and so today all he does is exist on painkillers, so he had to switch his brain off in order to get through another day and I looked at him and reflected and thought, 'That's the end point, that's how bad it was,'" he said.
"We put humans in a position where they couldn't think and they couldn't feel for another day."
Foster emphasised the importance of listening to Aboriginal and Torres Strait Islander peoples and the forthcoming referendum.
"It's an opportunity that we're being offered at the moment to actually reach back in history and join hands, and actually go back 235 years, and just join hands, and say, 'We hear you,'" he said.
"We shouldn't be challenged by that, we should be inspired by it — the future of Australia surely is to be founded on the truth, and following that is to understand what those impacts are, and then come together to say, 'This is how we are going to move forward together.' What a wonderful vision."
Turning to football, Foster spoke of the success of the recent women's World Cup in Australia to highlight gender equality, and detailed how equal pay was implemented for both the men's and women's national football teams through pooling all income revenues and then distributing the money equally.
The University of Queensland's Rotary Peace Centre Director Roland Bleiker, alongside University of Queensland Rotary Peace Fellow Udaya Shanmugam, presented this year's Local Agents of Peace Awards.
The annual awards acknowledge Queensland-based persons or organisations who have made a substantial contribution to peace and peace building activities consistent with principles of non-violence, either locally, nationally or internationally.
This year's recipients were Ghunghanghi elder Aunty Flo Watson OAM and the Nundah Community Enterprises Cooperative.
While Aunty Flo could not attend the event due to an unexpected health issue, Ms Shanmugam spoke about Aunty Watson's long-term pioneering work in peace building in Queensland.
"Aunty Flo has made major contributions over many decades, supporting and advocating for Aboriginal and Torres Strait Islander communities in different parts of Queensland," Ms Shanmugam said.
"She has done so by telling her own family history, which is linked to a violent colonial past, but she has also done so as an activist and community worker in the spirit of healing and non-violent reconciliation, standing up for those who are marginalised."
University of Queensland Adjunct Research Senior Fellow Anne Brown accepted the award on Aunty Watson's behalf, noting that Aunty Watson was very moved to get the award.
"She wanted to accept it on behalf of the Stolen Generation — she is one herself and a descendant of the Stolen Generation," Dr Brown noted.
"Her grandmother was shot and killed by troopers who were taking her children from her in the Palmer River.
"They also killed one of her aunties and one of her uncles who were small children at the time, and Aunty Flo's mother was shot, but survived and grew up in a state institution basically.
"Aunty Flo has come from this context, a hard upbringing, to be someone who has worked all her adult life for cultural understanding and for children in particular.
"She has worked with great generosity and good will, and her work now up in the Caboolture area with the Pumicestone Indigenous Education & Employment Council, a community organisation, is trying to look after young kids who are not at school…and trying to keep them away from the justice system essentially.
"I just hope, speaking as a non-Indigenous person, that we can bring some of the generosity and great heartedness of people like Aunty Flo to really try and heal this country, to try and really enact some peacebuilding at the grassroots because this is what is needed to push the institutional change."
Nundah Community Enterprises Cooperative members took to the sanctuary lectern to accept their award as Prof Bleiker outlined the positive, inclusive impact the organisation has had for those seeking employment.
"Over the past 25 years the Nundah Cooperative has tried to create meaningful work opportunities for people with learning difficulties — this includes workers with either an intellectual disability or mental health issues," Prof Bleiker said.
Nundah Community Enterprises Cooperative member Taurean Lea addressed the audience after accepting the award.
"It is indeed an honour to be here tonight to receive this award for the tremendous work we have done over the past 25 years," Mr Lea said.
"We'd like to say a big thanks to our partners and supporters, especially the Brisbane City Council for their support they give to us every year to continue the work that we do every year."
Following the awards presentation, Canon Gary Harch invited International Campaign to Abolish Nuclear Weapons (ICAN) Co-Chair Dr Marianne Hanson to briefly discuss ICAN's work and show attendees the Nobel Peace Prize medal her organisation received in 2017, the first and only time an Australian-born organisation has received the accolade.
As the evening drew to a close, a football signed by Craig Foster was presented to nine-year-old Future Matilda Amaia — an exciting moment for the budding footballer to receive such a special memento.
"I am really excited and happy, and I am going to exercise my feet and hands with the ball while training," Amaia said.
"I want to be a Matilda one day because they support our country and they are role models for females."
The United Nations Association of Australia Queensland (UNAAQ) was one of the key groups that organised the event, and for UNAAQ Peace and Security Communications graphic designer Dawoon Chung, who was present on the night, it was inspiring to see inclusivity and compassion championed so strongly.
"Because I have a multicultural base, I'm from South Korea, it was really impressive for me to hear what Craig said about compassion, to make a more inclusive community, more kindness to others," Ms Chung said.
"It made me think about how can I contribute to inclusive communities, more compassion to others, more kindness."
"I was impressed so many people have the same mind about peace and try to make a better community, a better world.
"I've learnt a lot and it was insightful for me."
Author's note: the full event can be viewed on the St John's Cathedral YouTube channel.
Jump to next article