Flinders students join world-class innovation project to design taxis for the sky
Three Senior School Design and Technologies students at Matthew Flinders Anglican College on the Sunshine Coast have been selected to work on a cutting-edge student project, the eVTOL (electric vertical take-off and landing)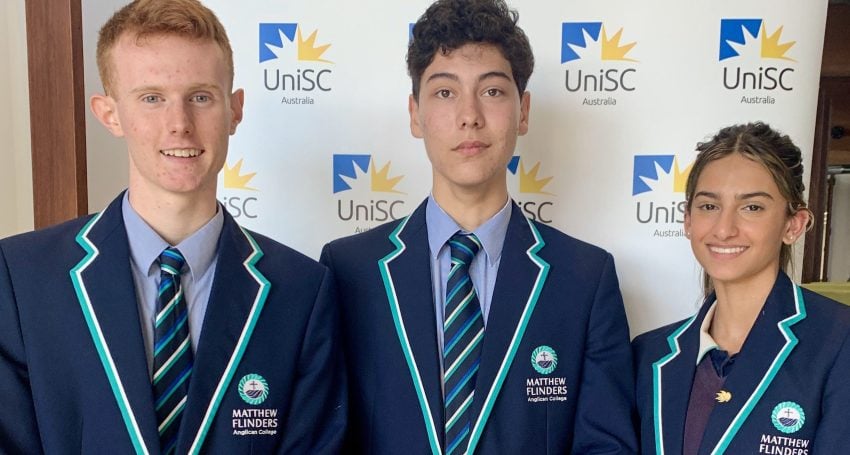 Three Senior School Design and Technologies students at Matthew Flinders Anglican College on the Sunshine Coast have been selected to work on a cutting-edge student project, the eVTOL (electric vertical take-off and landing).
The eVTOL project aims to provide commuters with a taxi in the sky from the Sunshine Coast to Brisbane by 2030 – in time for the 2032 Olympic and Paralympic Games!
Flinders students, Henri E and Kiara V-R in Year 11 and Sam H in Year 10, were chosen to be part of the project team, which met on Wednesday, 23 August at the University of the Sunshine Coast.
The team brings together experts, industry leaders and high school and uni students from the UniSC and the Manufacturing Excellence Forum (MEF).
Head of Technologies at Flinders, Mrs Natalle Sutton said, "The eVTOL project provides a unique and exciting opportunity for our students to develop real-world enterprise skills that are highly sought after in all careers, and to build knowledge and skills within aeronautical engineering, manufacturing and business.
"The project's industry mentors and partners are world-class experts in their respective fields, and it's an extraordinary experience for our Flinders students to be able to learn from and work with these leaders," Mrs Sutton said.
"Henri, Kiara and Sam have shown outstanding enthusiasm and commitment in the various Technologies courses they have studied and will be valuable contributors to the eVTOL project team."
Mrs Sutton said it was an exciting time at Flinders, with the College's new Infinity Centre opening in the Secondary School campus in 2024 as part of the Flinders Masterplan.
"This state-of-the-art and technology-rich facility will provide the space, resources and expertise to support our students to explore innovative projects such as the eVTOL.
"Who knows what we will be able to achieve in a facility that's purpose-built for design, innovation, collaboration, problem solving and more?" Mrs Sutton said. "The possibilities are endless."
Mrs Sutton also said the students' involvement with the eVTOL project would hopefully inspire more partnerships with UniSC, the Manufacturing Excellence Forum and other community stakeholders.
Flinders Students Ready to Tackle the eVTOL Challenge
Flinders student Henri said he was looking forward to using his engineering knowledge and CAD skills and exploring new skills and technologies.
Henri was a Mayor's Telstra Innovation Award finalist in 2021 for a design concept he developed and pitched with this team, and has also custom created a DMX projector shutter with 3D printing.
"The EVTOL project is an amazing opportunity! It will give me a better grasp of what it's like to work in the industry and prepare me for a career in engineering," Henri said.
"I aim to bring extensive CAD and manufacturing knowledge and leadership skills to the project and improve upon my electronics ability, including PCB design and manufacturing."
Kiara is also thrilled to be working on a world-class innovation.
Kiara was a Head Intern this year at the annual Flinders Powered by Design industry event for budding innovators, contributing her skills in time management, collaboration and communication.
Mrs Sutton said Kiara's forward-thinking mindset was invaluable to the event and provided enormous support to the teaching team.
Kiara said, "I am excited to be involved in the eVTOL project as it is going to change Australia's aviation.
"Skills that I hope to contribute are my ability to be practical but also my openness to learn," Kiara said.
"I am not the most confident in CAD software and aviation, however, being on the manufacturing team will allow me to grow my skills as a developer while pushing me beyond my comfort zone to learn new things.
"Once I graduate from Flinders with the Class of 2024 I hope to enter the interior design or interior architecture industry, however, I am keeping my options open to the design and engineering industry as a whole."
In Year 10 at Flinders, Sam – who has already obtained his pilot licence – said he was excited to be meeting and working with like-minded people and industry gurus.
"The eVTOL project is a fascinating opportunity to design and engineer Brisbane's helicopter taxis," Sam said.
"I'm excited to work with professionals, build a range of manufacturing and design skills, and work with high-tech equipment and materials to achieve this," he said.
"I hope to take these skills to the aviation industry as a pilot, continue working with this team and potentially work in this industry."
Sam has achieved excellent results in engineering and is very keen to continue to study and explore this field in his senior years at the College and beyond.
The eVTOL project is led by Sunshine Coast aeronautical engineer, Tim Kelly, an aeronautical engineer and UniSC special projects lead.
Tim has mentored and inspired many budding designers at Flinders, including through his keynotes delivered at the College's Powered by Design Industry in Innovation conference in 2022 and 2023, initiated and hosted by the Flinders Technologies Department.
The eVTOL project is not just about a design and engineering product; it involves building an engineering organisation from the ground up, and establishing all the structure, people, networks, skill transfer and collaboration that is required for success.
Jump to next article