Student-led radio station to launch at Flinders
Matthew Flinders Anglican College Secondary School students are starting a radio station and who better to teach them the ropes than one of the Sunshine Coast's best, Old Flinderian and Hot 91.1FM Radio Host Sam Coward (Flinders Class of 1996)?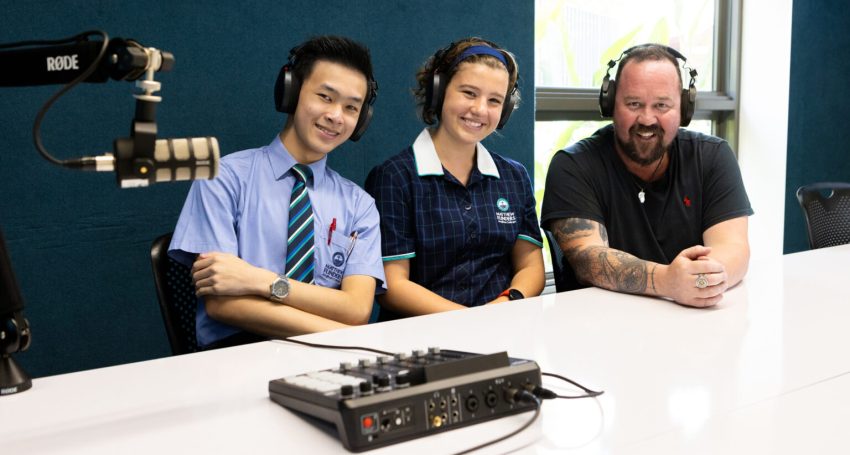 "Goood Morning, You're listening to Flinders Radio.…!"
Secondary School students at Matthew Flinders Anglican College are starting a radio station and who better to teach them the ropes than one of the Sunshine Coast's best?
Old Flinderian and Hot 91.1FM Radio Host Sam Coward (Flinders Class of 1996) visited the College on Wednesday, 18 October to share his tips and tricks on how to host a successful radio show — and have fun along the way!
The first students on the Flinders Radio mic are Lucy McCann and Tristan Mon in Year 9, who will be responsible for all aspects of the show, from the script to the music selection, interviews, editing and more.
Lucy said, "I found it really inspiring to talk to Sam! He shared how to create an engaging radio from his nine years of experience.
"He gave us invaluable advice that will help us develop our radio and he was really interesting to chat with as he has lived an amazing life."
Tristan said, "I am very grateful to have had this opportunity to meet Sam from Hot.91, and to learn so much about radio and broadcasting from his experience. I'm excited to see what the future holds, and how our project will grow from there (hopefully with some new members!)."
Next week the students will join Sam in the 91.1 Hot FM studio in Maroochydore to observe a show in progress.
Each Flinders Radio episode will feature lessons on cyber safety to build awareness and support the safety and wellbeing of young people at the College and in the wider community.
The first show will feature an interview with Flinders' new Head of Music, Dr Cade Bonar with a link to a whole-school competition for the students to compose a Flinders radio jingle that can be used to kick off each show.
Flinders Launches New ENIGMA Program in 2024
The radio station project is part of the new Flinders ENIGMA program, which aims to drive entrepreneurship, innovation and tech awareness at the College.
Next year, Flinders ENIGMA students will contribute to a large-scale project and also work on smaller initiatives, such as the radio station project and a project that began in Term 4 this year to build a retro arcade machine.
The College's Head of Learning Futures Mr Patrick Morrow said the 'Flinders Mission to Mars' would be the large-scale project opportunity in 2024.
"As part of the ENIGMA program's Mission to Mars, we're inviting students to form a team to enter the Australian Space Design Competition. Teams will vie for the chance to win a trip to the Kennedy Space Center (Florida, USA)," Mr Morrow said.
"The Flinders Mission to Mars will also see a FarmBot introduced to our Flinders Farm to engage and inspire the next generation of farmers, engineers, plant scientists and coders," he said.
"Students will get hands-on as they explore this cutting-edge STEM-based learning and research experience which can help with everything from weeding to planting seeds with precision and watering plants."
Mr Morrow said the Flinders ENIGMA program would give students the chance to try different roles that build diverse skills, from writing application letters and applying for jobs, to writing funding proposals, designing and managing budgets, pitching ideas to supporters and investors, prototyping, 3D modeling, robotics, installing electrics, marketing and more!
First published on the Matthew Flinders Anglican College website on 18 October 2023.
Jump to next article