Well-versed St Aidan's English teacher scoops major writers fellowship
As one of only three writers in the state to be awarded the prestigious Queensland Writers Fellowship, St Aidan's Anglican Girls' School English and Literature teacher Brett Dionysius is an inspirational role model to the school community for pursuing one's literary passions as he develops his next poetry collection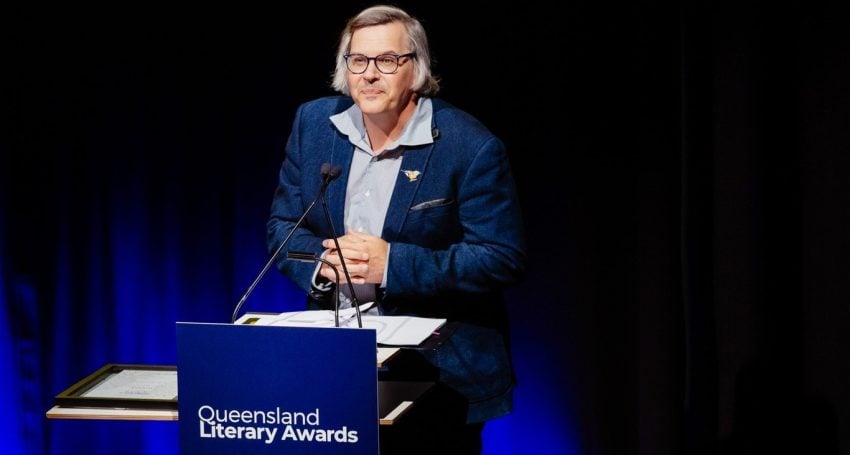 St Aidan's Anglican Girls' School English and Literature teacher Mr Brett Dionysius was recently awarded the 2024 Queensland Writers Fellowship, a major achievement for the teacher and author who was one of only three writers in the state awarded the annual fellowship.
Established in 2013 and supported by Arts Queensland, the State Library of Queensland and the Queensland Writers' Centre, the Queensland Writers Fellowship provides three winning authors with cash prizes of $15,000 and development funding up to $4,500 to support their creative practice, write their next book and reach new audiences.
Mr Dionysius will receive funding to support research and writing of a new poetry project, The Eromanga Sea, that will explore Queensland's geological, ecological and socio-cultural evolution since the Cretaceous Period 100 million years ago.
"My project will map how Queensland's climate has changed over this long time and how these often radical shifts have affected our state's landscape, ecology and topography, producing quite resilient and adaptive species, including humans," Mr Dionysius said.
"Personally, I come from western Queensland and have had an interest in writing about the environment for over 20 years.
"As well as a project proposal and budget details, I had to supply 10 pages of writing (poetry) to be assessed by a panel of three interstate writers who judge the fellowship each year."
Mr Dionysius is no stranger to poetry as a literary form — he was the founding Director of the Queensland Poetry Festival in 1997, and since 2000 has published nine collections of poetry, including five book-length volumes, two chapbooks, an artist's book and a verse novel.
After winning or being short-listed for over 60 literary prizes, including short-listing in the prestigious Montreal International Poetry Prize in 2017, he can now add a Queensland Writers Fellowship to his many accomplishments.
For St Aidan's Anglican Girls' School Principal Toni Riordan, Mr Dionysius' achievement exemplifies the kind of creativity that the school values in its teachers and students, and serves as an important reminder to students of the great outcomes that can be achieved in the literary world.
"Brett is an outstanding educator of English and his writing success reflects the generosity and commitment to foster in others their literary and poetic talent," Ms Riordan said.
"Through mentorship, creative writing opportunities, and exposure to renowned writers, Brett's journey exemplifies the possibilities that are available when passion goes hand-in-hand with determination.
"As a school community we have a very strong culture of reading and writing and a passion for literature. We expect our students will be inspired to continue to embrace the literary world, as well as recognise that everyone has unique and personal aspirations.
"When teachers and mentors unlock our potential, great things can be accomplished."
As one of Mr Dionysius' English students, Year 11 Student and 2024 Prefect Louisa has always found her teacher to be an inspiring figure in the classroom, and his latest accomplishment has shown students how to authentically pursue their goals with humility.
"Mr Dionysius' extraordinary humility after such a remarkable writing accomplishment is a role model to all his students to work towards achieving their goals without fanfare," Louisa said.
"His example reinforces the importance of embracing our authentic selves and to wholeheartedly pursue our unique passions.
"Mr Dionysius has nurtured my confidence and honed my skills in responding to English assessment tasks. His unwavering support, combined with his profound knowledge of the world, its history and its people, has provided me with a wealth of inspiration and insights."
As a progressive educational institution that values creativity in both its students and teachers, having students like Louisa witness their teachers' literary experience and interests outside the classroom is an important lesson Mr Dionysius feels can only enhance learning outcomes.
"It is critical for high school students to understand that their teachers often have real-world experience in the subject areas that they teach, and that we have passions that complement our pedagogical approaches, which can extend the syllabus objectives and enhance classroom engagement with unit content," Mr Dionysius said.
Jump to next article