A piece of history
Assistant Archivist for the Diocese, Adrian Gibb, explains how the oldest item in our Records and Archives Centre found its way to the Diocese from Westminster Abbey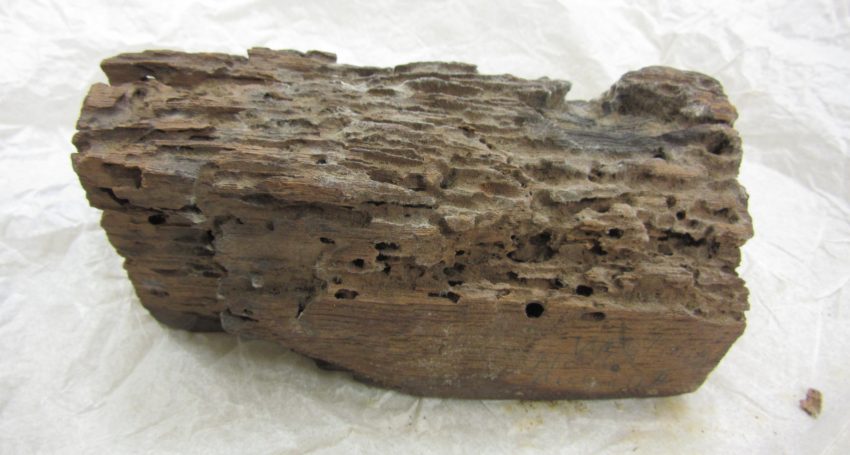 As he waited for his coronation service to begin at Westminster Abbey, a possibly anxious Richard II dined at Westminster Hall, a structure that was already 280 years old on 16 July 1377. Perhaps, he was already contemplating the extensive renovations he would later order. Chief among these was a new oak ceiling, installed in the 1390s. In a wonderful piece of good fortune, a piece of the wood used in the 14th century renovations can be found in the Diocese Records and Archives Centre's collection, courtesy, it seems, of Canon D.J. Garland.
In 1919, extensive work was being done on some of the timbers of the Abbey. Many beams were removed, riddled with borer holes. The Secretary of State for the Colonies decided to offer these discarded beams to various states in Australia. One made its way to Brisbane. As a small piece had fallen off during the long journey to these shores, the then acting Premier of Queensland, Mr John Huxham, saw an opportunity to use the oak for considerable good. He sought out Canon Garland, head of the Soldiers' Church of England Help Society, and founder of the Lavender Day Committee. Each year on Lavender Day, parishes throughout the Diocese would donate money for the continued care of returned soldiers and the families of the fallen during WWI. Mr Huxham gave Canon Garland this piece of ancient oak with the notion that it could be sold to raise funds for this cause, as per the below, which he wrote on the 3 October 1920:
"This piece of oak is part of the oak trusses of the original timber built into the roof of Westminster Hall by Richard II in the 14th Century. It was given to us by the acting Premier of Queensland."
In the end, it was not sold and remains with us to this day, the oldest item in our collection. This small piece of wood stands as a witness to monarchs from the Houses of Plantagenet to Windsor and to civil wars, great fires, and the rise of London. It is, quite literally, a piece of history.
Jump to next article