Q&A with The Rev'd Canon Gary Harch, parish priest at St Mary's, Kangaroo Point
Meet The Rev'd Canon Gary Harch and find out about his ministry in Brisbane, Gladstone and the Western Region and his plans for 2019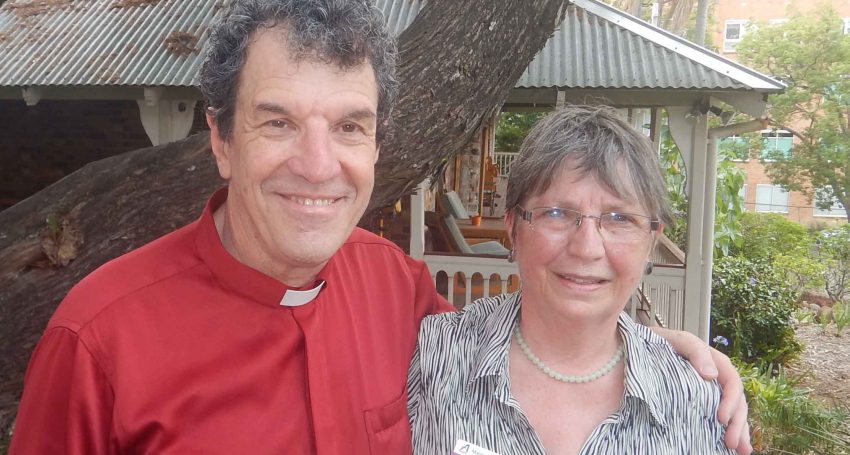 The Rev'd Canon Gary Harch is the parish priest of St Mary's, a residentiary Canon of the Cathedral and Chair of Committees at Synod. In this Spotlight, Canon Harch chats to anglican focus about what his many roles involve, his experience as an environmental activist in the 1980s and what he enjoys doing in his free time.
How long have you been involved in the Anglican Church and in what roles?
I was born into the Anglican Church and have been involved in the Church all my life. I have been on parish councils, a youth worker, an ordained Deacon and Priest, an Area Dean, an Archdeacon, on the Parish and other Mission Agencies Commission (PMC), involved in Angligreen and just finished serving on the Diocesan Audit and Risk Committee. I am currently a residentiary Canon of the Cathedral, on Diocesan Council, on the reference committee for the Royal Commission and Chair of Committees at Synod; however, my main job is the parish priest at St Mary's, Kangaroo Point.
What are your current roles and what do your roles involve?
My primary role is priest at St Mary's, Kangaroo Point, where I am growing the local church. As St Mary's parish priest, I am also the honorary chaplain at St Vincent's Private Hospital, which is next door to the church. We are one of three parishes that are trialling the Pathways Program. There are a number of weddings at St Mary's which I officiate at and I am a national trainer for the Prepare-Enrich program, which trains people to lead marriage preparation courses.
I am also a national trainer of the Education For Ministry (EfM) program, which is a four-year course that trains lay people to be more effective in their ministry through studying the Bible, church history and modern issues. I also co-mentor an EfM program at the Cathedral.
On Diocesan Council, I contribute to the strategic planning and governance of the Diocese. I meet with Diocesan Council monthly, where we discuss strategic and policy issues, reports form the various Diocesan Commissions and other matters.
What projects and activities are you currently working on?
Much of 2018 was spent planning for the Remembrance Day event at St Mary's. Our efforts were largely spent responding to community members who wanted to be involved in the Centenary of Armistice Day. St Mary's has a long history of connection to the Navy, which is the primary reason why we held the Centenary event: to honour the Navy's role in World War I.
In 2019, much of our time will be put into further developing the Pathways Program, which is designed to help people move from just knowing about the church to being actively involved.
We will also be developing a new website and finding ways to leverage modern technologies.
What have been the highlights of your roles so far?
Outside the Cathedral entrance door with the Archbishop at the consecration of St John's in 2009.
As Archdeacon of the Western Region, I travelled through the west in towns like Roma, Birdsville, Mitchell, Surat, Mungallala, and many more. Throughout this time, my wife Marie-Claire and I aimed to have a counter meal in a pub in every town that we passed through to connect with locals and support local business.
Can you tell us a little about your faith journey?
I have always gone to church. When I was initially asked to be a priest by the Gladstone parish priest, I said no. I was originally trained as a surveyor, but became a youth worker in Gladstone. While doing youth work, I felt a distinct call while I was leading a service as Liturgical Assistant at Miriam Vale. I then lived at St Francis College, while studying a Bachelor of Arts, majoring in Studies of Religion at University of Queensland.
How does your faith inspire you and shape your outlook, life choices and character?
EfM trains you to reflect continually on your life and the Gospel. My whole life is about reflecting on who I am, what I do and the connection to the Christian message.
What is your favourite scripture and why?
This varies on the situation. As above, if your life is about reflecting on the Christian story then different passages are prominent at different times. One that stands out is Romans 8: 38-39: "For I am convinced that neither death, nor life, nor angels, nor rulers, nor things present, nor things to come, nor powers, nor height, nor depth, nor anything else in all creation, will be able to separate us from the love of God in Christ Jesus our Lord."
This scripture stands out because it shows the importance of a pastoral response to people.
What person of faith inspires you the most and why?
There are many current and past people; however, in my early ministry, I especially remember James Fenhagen, a scholar who wrote then well-known books like More Than Wanderers.
Other people in the environmental movement also inspire me, including Bob Brown and fellow blockaders of The Franklin River in 1982.  When I was flooded out and couldn't continue down the Franklin River, I ended up organising a birthday party outside the walls of the Hobart prison for David Bellamy, who was a British environmental activist. Local people who are active in their own areas always inspire me.
What are the primary strengths of the church and what is the best way to make the most of these for the benefit of our communities?
The primary strength of the church is that it is full of faithful people. The best way to make the most of this strength is to support them in making a difference.
What are the challenges currently faced by the Church and what can be done to overcome these?
One of the challenges is disengagement from the institution of the church. Another is to help people who are interested in church by taking one step at a time to become more actively involved and explore their faith to connect to the real issues of today.
What are your New Year resolutions?
I never have them because I won't keep them.
What do you do in your free time to recharge and relax?
I used to kayak, but have not done that for a while. I enjoy reading murder mysteries. My wife and I also enjoy educational travel – when we visit a place we find out about the history, natural history and culture of where we visit. We have travelled to France, and more recently to Spain and Portugal. Decades ago I also led a scientific study of the Simpson Desert.
What is your favourite book and why?
I don't have a favourite book, but my favourite genres are murder mysteries and historical scientific questions of the past, such as Longitude.
What is your favourite travel destination and why?
The Pyrenees are my favourite destination because of the beauty of the pace, the Basque traditions, the food and being near Marie-Claire's extended family.
Jump to next article