Sunday Devotion: 24 March 2019, Third Sunday in Lent
Fake news, truth and God's promise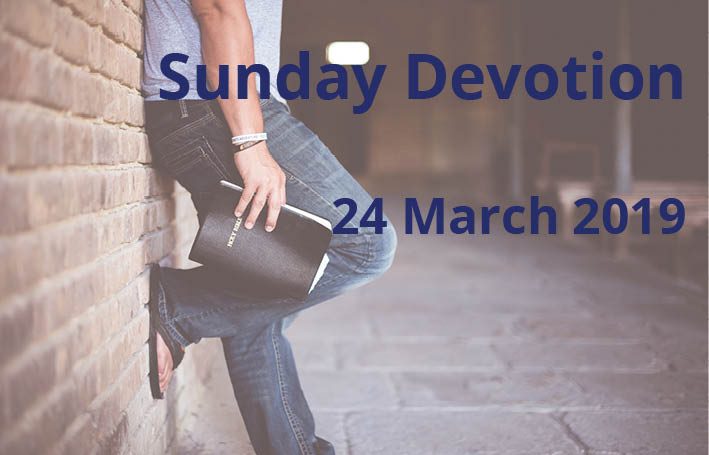 Main readings: Isaiah 55.1-9, Ps 63.1-9, 1 Corinthians 10.1-13, Luke 13.31-35
Secondary readings: Ps 14, Galatians 4.12-20
"No testing has overtaken you that is not common to everyone. God is faithful, and he will not let you be tested beyond your strength, but with the testing he will also provide the way out so that you may be able to endure it." (1 Corinthians 10.13)
We hear a lot about 'fake news' in the media these days, but it is not entirely a new phenomenon. Temptation is like 'fake news', because with temptation the truth is often misrepresented.
It is unfortunate that 1 Corinthians 10.13 above is often misquoted to those who are suffering. Many people suffer beyond their strength – at the bedside of a loved-one in intensive care, or the young mother whose husband died in a workplace accident. They are not 'being tested'. They are suffering, so weep with them and stand by them – but please don't dismiss their grief and call it a 'test'. 'Testing' or 'temptation' is from our own desire (James 1.14-15), and so it is personal to us, although common to humanity. It is from within us, so someone who doesn't like chocolate is not tempted by it.
With temptation, the truth is misrepresented when we are not true to ourselves or fully aware of our shortcomings or desires, and the potential consequences of these. The 'way out' God promises may involve being true to ourselves about our darker side, which mostly involves truth seeking. What do I really feel? What are the true ramifications? Whom do I trust – myself, others, or God? To resist temptation is being aware of our true selves – good and bad – and then strategically and prayerfully strengthening those vulnerable areas of our character. This is how we can overcome the 'fake news' we create about ourselves.
We are all sinners and we do not always get it right – but by being truthful to ourselves and honest to God, we can embrace His truth, which makes things a whole lot clearer.
Jump to next article