Q&A with Cathedral 'COWs' coordinators, Rod Rogers and Terry Albone
Meet Cathedral Coffee on Wednesdays (COWs) coordinators, Rod Rogers and Terry Albone, and find out about their church and broader community volunteer work, hobbies, faith journeys, former careers and travels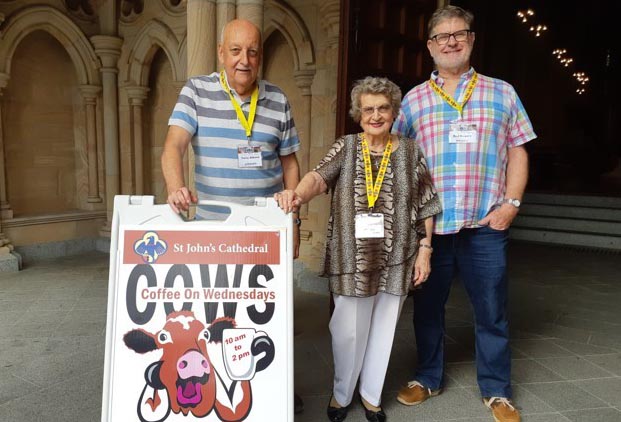 Prof Rod Rogers is a retired University of Queensland plant scientist and grandfather to three. Mr Terry Albone is a retired financial controller and father to one son. They coordinate the Cathedral's successful Coffee on Wednesdays (affectionately known as 'COWs') initiative, which started 10 years ago with the aim of welcoming anyone who wants to come by for some TLC, cake and a chat over coffee between 10am and 2pm every Wednesday at the Cathedral. In this Spotlight Q&A, Rod and Terry talk about their COWs ministry as one of compassion through conversation, as part of this week's #AprilAngel campaign theme 'be a messenger of compassion through conversation'.
How long have you been involved in the Anglican Church?
Rod: I have been involved in the Anglican Church for about 10 years, but I have been around other churches for as long as I can remember because I was raised in Methodist and Uniting Churches. I have been a lay Canon, a member of the Cathedral Council, a Steward, a Children's Ministry volunteer, a Sacristan, and a Welcomer.
Terry: For 25 years as Steward, Deputy Head Steward, Head Steward at the Cathedral, as well as a Sacristan, Cathedral Council member, Children's Ministry volunteer, and Welcomer along with Rod. We were married in October last year at the Brisbane Registry, after nine years together.
What is the name of your current role and what does your role involve?
Rod: I am a Cathedral 'Welcomer' and I talk to people who come by Coffee on Wednesdays (COWs). The point of COWs is to offer hospitality. The kind of hospitality we offer is important for people who are different and may not fit in other places comfortably. They can come here and know there will be no demands made of them and that they can sit and talk about whatever they want to chatter about.
Terry: Since retiring as Head Steward, I have more time to devote to Coffee on Wednesdays (COWs), which I coordinate and bake cakes and savoury items for, set up the food and drink for and chat to anyone who comes in to make them feel welcome. I started helping with COWs when it began 10 years ago. It serves the Diocese because it is a wonderful community venture that the Cathedral offers, enabling visitors a place to be welcomed and parishioners of our Diocese to see the Cathedral. COWs is an opportunity for non-churched people to enjoy coffee and conversation in a church atmosphere without proselytising pressure. I also assist with Children's Ministry on Sundays.
What have been the highlights of your COWs role so far?
Rod: That every week, COWs is different.
Terry: Today Anglican former neighbours who I have not seen for more than 45 years came in to COWs to say hello as a result of seeing COWs promoted on a Diocese Facebook page post that featured me in an image.
Another highlight was 15 months ago, when a lady whom I did not know who was on holiday from the UK, came into the Cathedral and after speaking to her for a few moments I realised that she lived in the village, Clifton, in England where I was born. She then became a regular COWs visitor while on her holiday.
What are your plans and goals for the next few years?
Rod: To see COWs to continue and to adapt as needs emerge.
Terry: I feel the same as Rod. We need to adapt and avoid becoming stale, like our madeira cake did last Wednesday.
Why is it important for us as Christians to serve the broader community?
Rod: I can't think what else our job is.
Terry: I believe that everything in life needs to be addressed by including a large dose of love and understanding. That is our responsibility as Christians.
Can you tell us a little about your faith journeys?
Rod: I learnt to love Jesus as a very small child. My faith has grown in every age and stage since then – sometimes on very rocky pathways.
Terry: My faith started with attending Sunday School as a young child and then becoming a member of the local church choir and has consistently grown since then into what it is today. Having said that, my faith is only as deep and wide as the love I put into it. The three words 'hope', 'faith' and 'love' inspire me to be the person I am today, and in my opinion the Church does not have a monopoly on these virtues, but has a responsibility to take them out to the wider community.
What person of faith inspires you the most and why?
Rod: Dietrich Bonhoeffer, whose anniversary of death was marked on 9 April, because he was prepared to do the thinking necessary to cope in the age he was living in, even though it ultimately cost him his life.
Terry: Bishop John Parkes, who was the Dean of our Cathedral at one stage, because he taught me so much about the importance of love and understanding as he was always there and always knew the right thing to say. There needs to be more emphasis on being caring in church and the wider community.
How does your faith inspire you and shape your outlook, life choices and character?
Rod: It helps me keep a level of optimism because of the life of Jesus and the positive influence of sharing and caring that he demonstrated, as well as the triumph of the resurrection.
Terry: I have a greater understanding of my fellow human beings.
What do you do in your free time to recharge and relax?
Rod: I do botanical research, which takes up a couple of days a week. We also spend time with our grandchildren.
Terry: I help at Milpera State School a few days a week cooking breakfasts and helping refugee children in classrooms.
If you could have a billboard with any text on it, what would it say and why?
Rod: "Every day is a new day."
Terry: "All are welcome here."
What is your favourite book and why?
Rod: Tolkien's The Lord of the Rings is one of the few books I have read over and over again because of the language and breadth and complexity of the story.
Terry: Any book that I can lose myself in on any subject. I especially like family-orientated books.
Where have you travelled to?
Rod and Terry: Outside of Australia, we have travelled fairly extensively in Europe, the UK and Canada.
Jump to next article