Free press campaigner headlines Loaves and Fishes fundraiser
Former Al Jazeera journalist Professor Peter Greste shared his incredible story of captivity and survival in a Cairo jail and how the power of a global community helped to secure his release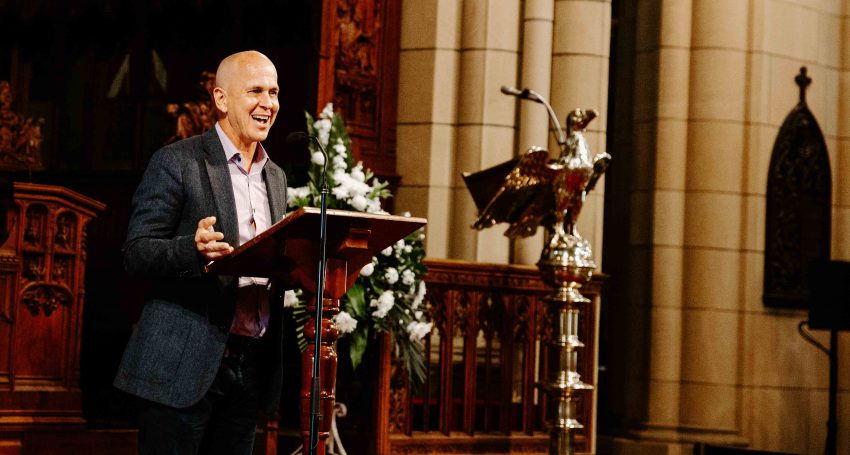 Spending 400 days in an Egyptian jail is enough to make anyone appreciate the simple pleasures in life – such as a feed of fresh fish and chips – and journalist/academic Professor Peter Greste was happy to tuck into the modest meal under the cavernous roof of the St John's Anglican Cathedral for the annual Loaves and Fishes lunch.
Professor Greste was guest speaker for the event before a sell-out crowd of over 700 guests, with ABC TV Queensland's main news presenter Matt Wordsworth doing a fine job as Master of Ceremonies.
Professor Greste set a record before the lunch even began, becoming the first guest speaker to arrive for a Loaves and Fishes lunch on a BMW sports motorbike, resplendent in leather jacket (although he quickly changed into a sports coat for the lunch!)
Professor Greste opened his 20-minute speech by telling the audience what a "bold move it was for the church to have a convicted terrorist as its guest speaker!"*
He held the audience captive as he recounted his own story of unjust captivity from the time he was arrested in his Cairo hotel room in December 2013 after a brief two-week stint working as a foreign correspondent for Al Jazeera reporting on Egyptian politics and the power struggle between the democratically elected, but banned, Muslim Brotherhood and the new regime.
"I hadn't been there very long and I didn't think my reports were controversial or subversive – it was what I'd call 'vanilla journalism'," said Greste, who also revealed a deep, dark secret – that he was dancing in his room with music from Australian station Triple J playing on his laptop when police knocked at his door!
Guests at the lunch included Archbishop The Most Rev'd Dr Phillip Aspinall, new Deputy Lord Mayor Cr Krista Adams, Supreme Court Justice Debra Mullins and husband Pat Mullins (Partner at Mullins Lawyers), Hutchinson Builders chairman Scott Hutchinson, long-time inland rail campaigner Everald Compton and Leadership HQ CEO Sonia McDonald.
The Loaves and Fishes lunch is now in its 26th year and event host Anglican Dean of Brisbane The Very Rev'd Dr Peter Catt chooses a different charity partner each year. This year's beneficiary was Hummingbird House, Queensland's only children's hospice which provides end-of-life care for children with life-limiting conditions.
Hummingbird House was the vision of Brisbane philanthropists Gabrielle and Paul Quilliam, who, after fostering a child affected by a life-limiting condition, made it their mission to build Hummingbird House, on Brisbane's north side.
It has since grown and evolved to become the shared vision of thousands of families and supporters across Queensland. Hummingbird House General Manager Dr Fiona Hawthorne shared stories of sadness and joy with the lunchtime guests and how her dedicated team provided short break stays, family support services, creative therapies and end-of-life care – along with lasting memories for families of the ill children.
Professor Greste recounted how a global community harnessed its outrage and support for the common cause of his release and urged the lunch attendees to use their community mindedness to support the Hummingbird House charity to help sick children. His message seemed to resonate with around $65,000 raised at the luncheon.
He continues to keep a close watch on political and human rights events in Egypt – recently campaigning actively for the release of Brisbane father Hazem Hamouda who spent 433 days incarcerated in the same jail – Tora Prison – where Greste himself was jailed. Hamouda was arrested upon arrival in Egypt in 2018 and returned home on 5 April this year.
Greste has also played a part in the recent release of other foreign correspondents and is a director of the newly-formed Alliance for Journalists' Freedom.
* Peter Greste was accused by the Egyptian Government of aiding the banned Muslim Brotherhood (which had been elected to power and was later ousted in a military coup by the government which labelled them a terrorist organisation).
Jump to next article