Sunday Devotion: 29 September 2019, Sixteenth Sunday after Pentecost
The Rich Man and Lazarus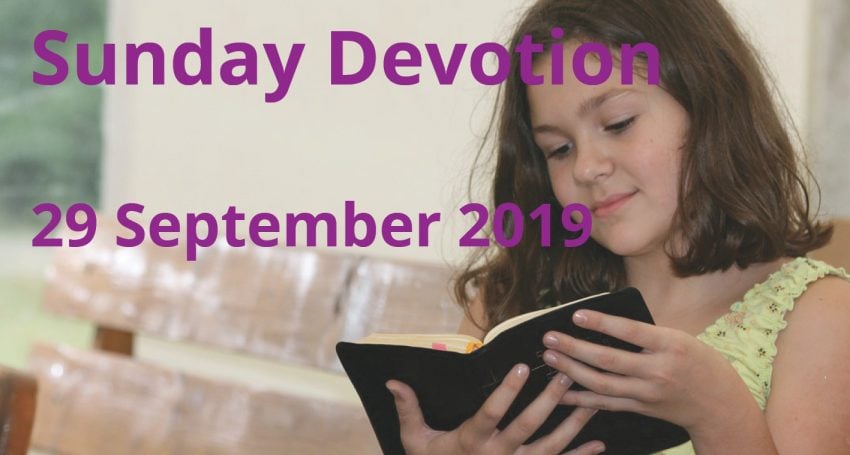 Main Readings: Jeremiah 32.1-3a, 6-15; Psalm 91.1-6,14-16; 1 Timothy 6.6-19 or 4.12–5:8; Luke 16.19-31 [Amos 6.1a, 4-7; Psalm 146]
Supplementary Readings: Psalm 96; Luke 20.19-26; Jeremiah 36.1-4, 14b-24, 32; Psalm 146; 1 Timothy 4
"Child, remember that during your lifetime you received your good things, and Lazarus in like manner evil things; but now he is comforted here, and you are in agony." (Luke 16.25)
In 1990, media mogul Kerry Packer suffered a heart attack and was clinically dead for seven minutes. When asked of his experience, Packer is reported to have said, "Son, I've been to the other side…there's no one waiting for you, there's no one to judge you, so you can do what you bloody well like." Those of us committed to the way of Christ would beg to differ!
There is nothing subtle about the parable of the Rich Man and Lazarus; its message is quite clear – there is no place for greed in the community of Christ! In the naked poverty of his birth in a stable through to the naked poverty of his death on a cross, readers of the gospel of Luke are confronted with the fact that Jesus is not the triumphal Messiah that Israel had hoped for. He is the Messiah of the abandoned places, the hovels of the poor, the sad camps of the lepers, the filthy bed mats of the sick. He is the Messiah who had nowhere to lay his head, the Messiah who rode into Jerusalem, not on a black stallion heading a mighty army, but rather on the back of a humble donkey followed by a group of scruffy disciples.
This parable is an uncomfortable reminder to us that the pursuit of wealth, at the expense of the poor, may bring us some measure of comfort in life, will not in death, where rich and poor stand together before God's gaze as naked as on the day they were born.
As St Paul said, "We brought nothing into the world, so that we can take nothing out of it."
Jump to next article