The unselfish selfie
"Sunday by Sunday, I hope I am helping to reimage the way people see our churches," says Bishop John Roundhill on his popular #SundaySelfie tradition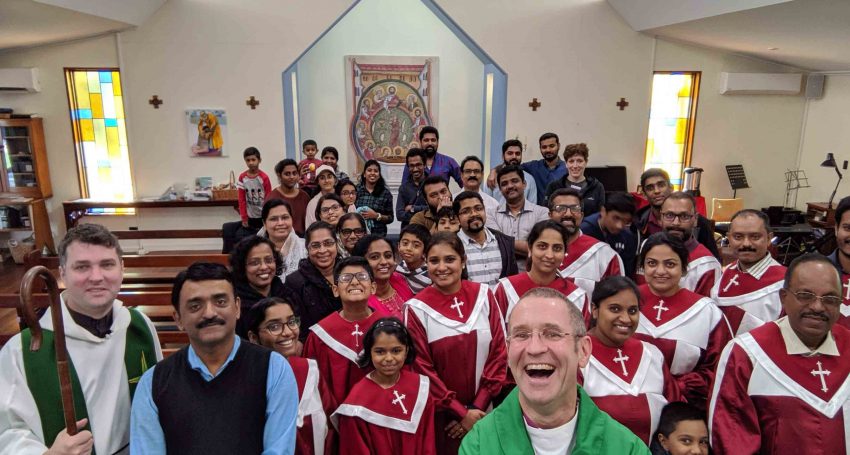 The other day I had the unexpected experience of someone asking me to get my phone out after a Sunday service so she "could have a selfie with the selfie Bishop!" I was happy to oblige, but it rather begs the question, 'why?' We live in an increasingly self-indulgent world, which is arguably strewn with selfies, so why was I so eager to accommodate this request?
I have been posting a Facebook #SundaySelfie at weekend church services since earlier this year, and it is perhaps time to come clean as to why.
I find Facebook a rather confusing place. I joined Facebook back in 2007, along with many others. Since then I have had a rather up and down love affair with the platform. It has been very useful in publicising events and starting conversations. When I was Dean of St Paul's Cathedral in Bendigo, one post I wrote got 3,400 comments. Need I add, that this number is far greater than the number of people who ever came to listen to my sermons.
Yet at other times, I have found Facebook and other social media channels a great distraction, and often a waste of precious time. Even worse, when I would check in with myself at the end of spending a distracted 40 minutes on social media, I would often feel negatively about myself and the world. Apparently, this is not that unusual, so why have I seemingly flung myself headlong into the sometimes narcissistic selfie world?
The Oxford Dictionary defines 'selfie' as "a photo of yourself that you take, typically with a smartphone or a webcam, and usually put on a social networking site." And, the BBC reported that 'selfie' was the 2013 Oxford Dictionary word of the year. So, the 'selfie' seems to be a popular part of our vernacular these days.
The #SundaySelfie idea was not actually my own. Earlier this year I went to Canterbury in the UK for what is fondly called the 'Baby Bishops Conference', an annual conference for all new bishops. At the conference, Bishop Douglas Sparks of Northern Indiana told me how he creatively uses social media. At the time he was particularly using YouTube to communicate with his Diocese. Returning to Australia I thought I would have a go at doing a selfie photo on Sundays at the end of each service and then posting these on Facebook with the hashtag #SundaySelfie, so I could start engaging more on social media.
One of the benefits of 'hash tagging' the selfies is that it allows people browsing the internet to find images of worshippers in churches simply by entering '#SundaySelfie' into a search engine, such as Google Chrome. Many church pics online are images of empty churches, and so it is advantageous to provide an easy way for people to see pics of churches where people are engaged. This might not surprise folk, but the notion that churches are empty buildings is a deep misrepresentation of what is happening in day-to-day lived reality.
Furthermore, I choose the selfie as a way of capturing a less formal and often more joyful photograph of our congregations, while also engaging young people in way that is common for them.
Sunday by Sunday, I hope I am helping to reimage the way people see our churches.
Lastly, and this was part of the initial idea, I wanted to do something unexpected at Sunday services, something that would break the formal view some have about Bishops. That element of surprise has gone now, as I think most folk in the Southern Region now expect their Bishop to come along with his selfie stick. In fact, If I forget to bring my phone to church, a parishioner will generally lend me one, so the church does not miss its SundaySelfie opportunity.
Thank you to all the parishioners in my Region who have become part of the new #SundaySelfie tradition. Here are a few of my favourite #SundaySelfies:
Jump to next article