A mysterious end to an 'other worldly' life
"Her fortitude and spiritual determination showed no bounds," says Archives Researcher Adrian Gibb of missionary nurse Dorothea Tomkins, whose remarkable faith drove her to do extraordinary things in perilous times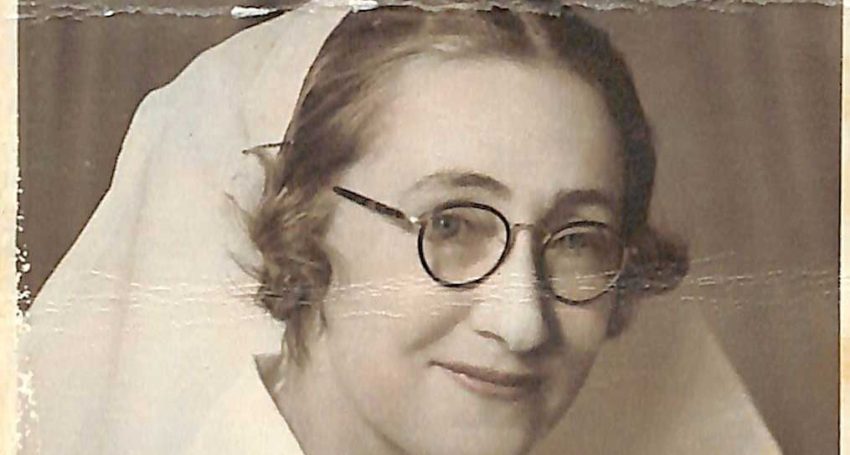 Dorothea Eleanor Florence Tomkins was born in 1903 to a family dedicated to the Church. Her uncle and some cousins were priests, and the missionary work that she would herself engage in was well established within the Tomkins family. Determined to be a nurse, she trained at the Royal Brisbane Hospital from 1925, later working as a staff nurse at the Nambour Hospital for some years. In 1937 Dorothea felt ready to begin training for missionary service. She trained at a facility set up by the then Australian Board of Missions called 'The Women's Missionary Training Hostel'. She would have known fellow students May Hayman and Mavis Parkinson, and both Dorothea and May Hayman were posted as missionary nurses to the Diocese of New Guinea, overseen by future Archbishop of Brisbane Philip Strong.
Remembering Dorothea in an 'In Memoriam' that we have a copy of at the Records and Archives Centre, Archbishop Strong wrote, "I remember so well when she first joined our staff…how frail I thought she looked. And frail in body she remained all through the years…But a wonderful faith animated that frail body and always triumphed over it. It seemed as if our Lord's words to St. Paul were specially applicable to her: 'My strength is made perfect in weakness', and 'When I am weak, then am I strong' and 'My grace is sufficient for thee.'"
She was fearless and indefatigable, often running stations almost single-handedly while the mission was short-staffed. Strong remarked in the same document that he had complete confidence in her, "…wise and enlightened and loving management of the affairs of the Church and in her oversight of Papuan fellow-workers, teachers, evangelists, medical trainees, Church Councillors and even Papuan Clergy." She was said to be completely trusted by the Papuan population and loved for her gentleness mixed with steely resolve.
It is well established that her friends and fellow missionaries Mavis Parkinson and May Hayman did not survive the 1942 Japanese military invasion of New Guinea where they were martyred. Dorothea, told to evacuate by the government, was able to escape the oncoming danger with Bessie Newman, Denis and Lesley Taylor, and their six-month-old baby John. What followed was what can only be described as an epic journey across the Owen Stanley range. For two weeks she looked after the physical and spiritual needs of the party until they reached safety. While it cannot be confirmed, it is likely that she was one of the first people of European descent to cross what became known as the Kokoda Trail. The party found their way to safety and were evacuated. Dorothea, however, returned to New Guinea, as soon as she could in 1944. In an address at the Eucharistic Commemoration of Dorothea at St John's Cathedral, Bishop Eric Hawkey recalled the poem that Dorothea, who wrote throughout her life, penned to memorialise a Eucharist service they had along the way.
Despite the incredible feat described above, Dorothea remembered a feeling of guilt in leaving her mission to escape the oncoming invasion. In 1967 she was interviewed upon her retirement by the South Pacific Post. In this article she states, "My worst moment…was when I had to face the Bishop during the war and explain why I wasn't on my station." She need not have been concerned, as this same Bishop, Philip Strong, wrote some years later of his, "…heartfelt thanks to our Heavenly Father for the rich gift he gave to His Church in New Guinea of Dorothea; for her saintly and dedicated life, and for her most devoted work for His son Our Lord, and for all His people in Papua New Guinea."
She suffered ill health throughout her life, and in 1948 was sent to Brisbane with a lung issue. Things got so dire that Bishop Hawkey and Bishop Strong attended on her and administered the Sacrament of Holy Unction. She pulled through, however, and used her long period of convalescence to begin to write, along with co-author Brian Hughes, The Road from Gona, chiefly about the New Guinea Martyrs, a copy of which resides here in the Records and Archives collection at Church House. She again returned to New Guinea and did not let any infirmities limit her desire to help. She even took on extra training to become an authorised teacher, as well as a nurse.
Finally, in 1967, after 30 years of missionary work, Dorothea retired and purchased a small cottage at Lota, not far from her Brisbane family. As the years progressed, however, her physical and mental faculties diminished, and the decision was made for her to move to Nazareth House at Wynnum, run by the Good Sisters of Nazareth.
In early 1981, at 2 pm on a Sunday afternoon, Dorothea was seen walking towards the main gates of Nazareth House. She had been at the home for several months by that stage, and was known to walk the grounds. She was never seen again. Despite a massive search by police with tracker dogs and appeals from her family to look out for her as she was likely in a confused state, she simply vanished. In his 'In Memoriam Bishop' Strong states, "We all felt grieved at the deterioration of her health in her later years and the failing of her natural powers of body and mind, and then finally at her mysterious disappearance. Perhaps we need not have grieved so much, for all the time she seemed to have a kind of mystic and 'other worldly' union with our Lord. Because of that we can be sure she has been most precious in His sight, and under his special protection and care."
Dorothea Tomkins stands as a symbol of what can be achieved through a life of service. Whether it was supporting the whole party that crossed the Owen Stanley Range in 1942, or the countless Papuans and New Guineans who shared such an incredible relationship of trust with her, her fortitude and spiritual determination showed no bounds. Dorothea, about to leave New Guinea for the last time, wrote, "I love the people and have felt very much at home here." For Dorothea Tomkins it was that love, so obviously returned, and her boundless faith that drove her to do extraordinary things during extraordinary times.
Jump to next article