Western Region Anglicare disability advocate honoured
Anglicare Home Care Worker Judy Blinco received a major accolade at the annual Maranoa Regional Council Australia Day Awards, in recognition for her services to the local disability sector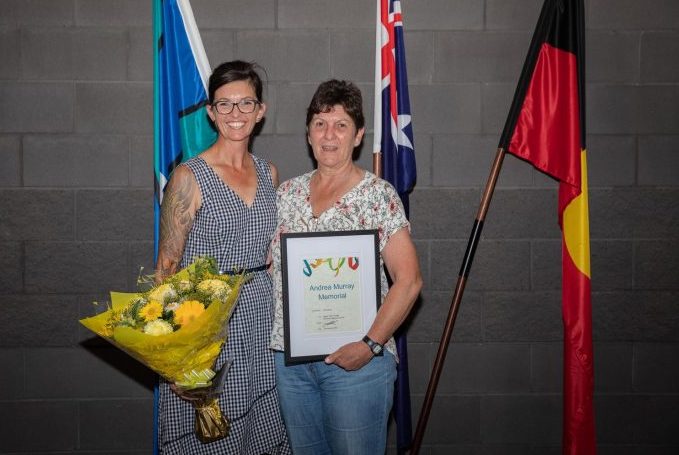 Anglicare Home Care Worker Judy Blinco received a major accolade at the annual Maranoa Regional Council Australia Day Awards, in recognition for her services to people living with disability.
The Andrea Murray Memorial Award is presented yearly by David Murray, in memory of his wife Andrea, to acknowledge those who make a noteworthy contribution to the local disability sector.
Maranoa Regional Mayor Tyson Golder said that caring and committed Anglicare staff members, such as Judy Blinco, contribute an important role to those in the local community doing it tough.
"Agencies such as Anglicare are very important to the Maranoa Region as they provide services to those in the community that need a little extra help, offering those the support they need to empower themselves to reach and obtain their goals," Cr Golder said.
"Acknowledging people such as Judy Blinco allows the community to recognise the amazing work that people do across the region that go above and beyond the call of duty.
"Judy is most certainly one of these individuals, as she possesses the ability to help all those she supports with grace, integrity and her caring personality."
Judy was nominated for the Andrea Murray Memorial Award by Anglicare Southern Queensland's Roma Office.
Team Leader at Anglicare's Roma Office Katie Hall said that Judy is deserving of the award because of the tireless way in which she advocates for and empowers service users.
"Judy is absolutely dedicated to her clients – she genuinely cares and works with our clients to do her bit to improve their lives and independence," Ms Hall said.
"Judy always advocates for her clients and has been a strong voice in bringing improvements that help foster independence."
Judy commenced working at Anglicare in early 2018 when nearing the completion of her Certificate III in Individual Support, and then went on to complete multiple in-house training requirements, as well as further training to enable her to assist service users further.
Judy said that she enjoys working alongside her Roma-based team, as she supports service users in their homes, and that she was proud to be recognised for her contribution in a role that fits her so well.
"When I came for my interview with Anglicare, I was told the role was community based and involved working with clients in their homes to keep them independent, and that's when I knew the job was for me," Judy said.
"To be nominated for the award was a shock in itself, but then to have my name called out as the winner was an absolute honour.
"I love my job at Anglicare, the team I work with and most of all my clients, so to get recognition for doing what I have a passion for is an extra bonus."
Every year on Australia Day Maranoa Regional Council, in Queensland's south west, holds an awards ceremony to recognise outstanding contributions to the local community.
All Saints' Anglican Church, Mitchell won the Cultural Award at the event for the church's 130th Anniversary Dinner and the associated launch of the book From Bush Brothers to Mission Area in 130 Years by dedicated All Saints' parishioner and author Christine McLean. To buy a copy of the historical book, contact Christine via mitchellchurch@outlook.com
Jump to next article