I Still Believe
"Some films are made to challenge and others to comfort – this one knows what it is and feels like a nice, reassuring soft blanket on a cold rainy day," says Jonathan Sargeant in his review of the Christian romantic drama, I Still Believe, inspired by the true story of singer-songwriter Jeremy Camp and Melissa Henning-Camp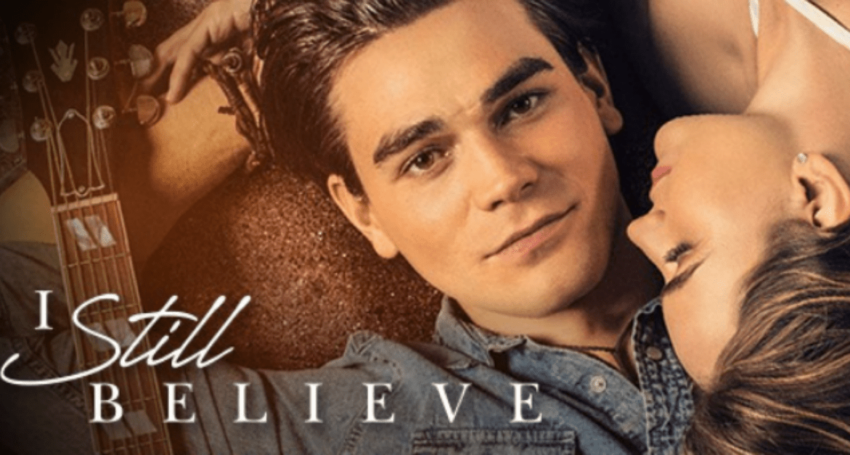 Leaving his supportive family, including mother (Shania Twain) and father (Gary Sinise), Jeremy Camp (KJ Apa) heads for Bible college, toting a new guitar and a suitcase full of dreams. Before long he has met successful music artist Jean-Luc (Nathan Parsons) and love interest Melissa (Britt Robertson). Jean-Luc gives him some good advice, suggesting he explore the question, "What is the truth you want to share?" That begins Jeremy on the path to both love and loss in this true story of a Christian music artist who has now sold more than five million albums.
Directors Andrew and Jon Erwin are known for making films for Christian audiences and I Still Believe fits neatly into that category. Each character is nice to everyone they meet and there is earnestness to burn, leavened with a little sass for realism's sake. Imagining the possibilities of the film as an evangelistic tool, I found myself trying to view it as a person with little knowledge of church-type things. Did the film give an account of faith that stands on its own two feet? On that score I found the film a little frustrating. There is some talk about the nature of faith, but it takes the form of brief aphorisms, which rely on the charisma of the actors for verity. Sure, there is a lot of charisma on show here. Veteran actor Sinise, best known for his award-winning role as Lieutenant Dan in Forrest Gump,  and singer-songwriter Twain, the best-selling artist in country music history, are well known of course. Apa will be familiar to some viewers as Archie in the popular Riverdale TV series and Robertson's Melissa is convincing in the more challenging role. So, is the film convincing from an evangelisation viewpoint? Possibly, in that there is a medical turn in the plot that will be relatable for many, with Melissa diagnosed with a life-threatening condition shortly before she and Jeremy marry.
It is at this point that I Still Believe takes a new turn, approaching soap opera territory. Certainly, there is a particular arc to the film's trajectory and dialogue that might feel comforting from that point, particularly since the life events of such a well-known musical artist as Camp might be known to some viewers. The dialogue sometimes falters though. A chuckle arose around the theatre as a family member tells a weary Camp to get some rest and head for home; Camp looks to the comatose Melissa and states "She's my home." But the film manages to tread just to the left of becoming too soapy.
These things aside, the Erwins have crafted a well-made film with attractive leads and pleasant musical tunes along the way. There is a positive message about faith in times of difficulty, probably more for in-house viewers than others. Some films are made to challenge and others to comfort – this one knows what it is and feels like a nice, reassuring soft blanket on a cold rainy day.
I Still Believe, rated PG, is directed by Andrew Erwin and Jon Erwin and opened on 12 March.
Editor's update (23/03/20): With non-essential services currently closed, look out for this film when it is released on streaming sites or DVD.
Jump to next article