Killers of the Flower Moon
"Killers of the Flower Moon is tour-de-force cinema in which not a minute is wasted, bravura filmmaking from an auteur fascinated by the complex nature of faith and humanity," says Jonathan Sargeant from St Francis College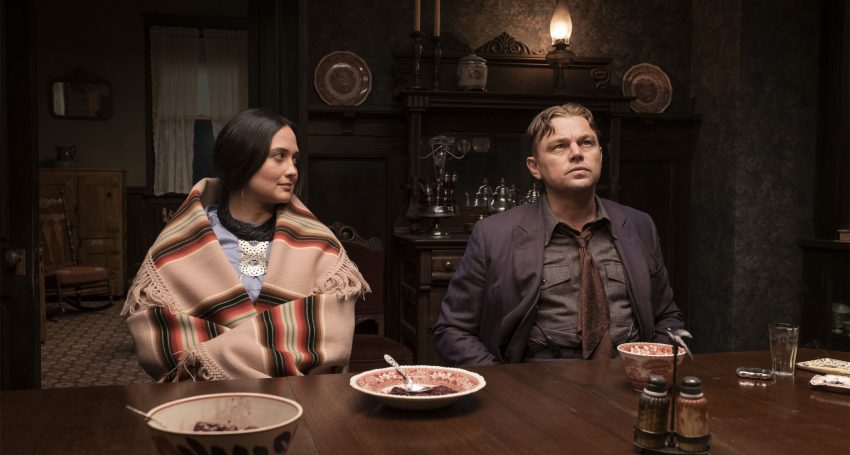 "Can you find the wolves in this picture?"
So reads Ernest Burkhart to his son, a bedtime book. The illustration shows wolves prowling in a country-side scene and they're easy to spot. But Ernest's line could be the mission statement for Martin Scorsese's new film, Killers of the Flower Moon, a masterful epic from a filmmaker still at the height of his powers.
Based on David Grann's book of the same name, the film drops us immediately into a post-WWI mystery. A number of murders have been committed in Oklahoma for which there were no investigations. That the victims of these murders were members of the Osage Nation, a Native American community made rich through oil discoveries on their barren lands, piques our suspicions.
Quickly though, as Scorsese introduces his central characters, the mystery is revealed. Burkhart (wrenchingly honest work by Leonardo DiCaprio) returns from war to his ancestral home run by his uncle, William "King" Hale (Robert De Niro) who tellingly prefers those around him to call him by his middle name.
Hale gives Burkhart the mission to marry a local Osage woman, Mollie Kyle (Lily Gladstone, in a still and luminous, Oscar-worthy performance), in order to draw the valuable "headrights" to oil reserves into the Hale family. Those rights can only be made truly secure if the wife dies. And so it was in this true story that an estimated 60 members of the Osage Nation were murdered, wives and relatives caught up in the greed-motivated genocide engineered by the local white community, pillars of community with influence into politics and law enforcement. Hale himself was an honorary deputy sheriff, hence the paucity of attention to the plight of the Osage people.
What an early draft of the script intended to be a mystery becomes instead something else: a detailed, unflinching exploration of how avarice corrupts all that it touches, a central theme of much of Scorsese's work, but never more sensitively driven home than here.
Certainly, Wolf of Wall Street and Goodfellas depict the words of Mark 8.36 ("For what will it profit them to gain the whole world and forfeit their life?", or in other translations "lose their soul") with stunning clarity, but do it with a sense of excess that can absolve the viewer of their own liability.
In their Killers of the Flower Moon script, Scorsese and Eric Roth always pull at the viewer's self-perception — as the best cinema does. Where would we be situated in this horrific tale of colonisers' erasure of First Nations people? What is our complicity in this and other more local Australian iterations of this tale? It is perhaps Scorsese's greatest skill as a director always wrestling with the implications of a life of faith that these questions are ever insistent.
Over three and a half hours that never feel that long, Ernest Burkhart's character descends willingly and enthusiastically into the hell created for him by Hale. In his first scene with Hale, he notes, "I just love money!" and it is this desire that colours his actions thereon. It is the skill of the script and DiCaprio's performance that the malice Burkhart has for Mollie is juxtaposed with a growing mutual attraction, even as he gradually works towards her demise. The contradictions of the human self are picked at exquisitely by the filmmakers here.
Through it all, Gladstone's depiction of Mollie is the moral centre of the film, a gentle smile inhabited by a sense of deep faith in the midst of a tornado of evil dressed as civilisation. That Mollie, at their first meeting, labelled Burkhart a "coyote" only interested in her money, makes their relationship all the more tragic: she saw him for what he was intuitively, but fell nonetheless.
There is so much more to say about this astonishing film. Rodrigo Prieto's cinematography is breathtaking, making an epic tale at once both intimate yet wide-screened and awe-inspiring. The final score of Robbie Robertson uses local voices and blues-inflected pulses to keep a sometimes introspectively-paced film propulsive and driving. Frequent collaborator Thelma Schoonmaker's editing is entirely sympathetic to the film's tone, both supporting and driving it.
An entirely surprising coda, featuring several cameos, turns the film on its head — there is no cliched text before the credits to inform us of the fates of the characters, but those fates are still clear. In fact, the epilogue again has us pondering our complicity as the film honestly acknowledges that even this story of the Osage peoples' plight has been appropriated from them. Fortunately, the beautiful final shot of the flourishing survivors of a tragedy less than a century old returns us to another welcome Scorsese theme: the nature of justice in a complex and very human world.
This is tour-de-force cinema in which not a minute is wasted, bravura filmmaking from an auteur fascinated by the complex nature of faith and humanity. In a canon filled with some of the greatest films of our age, Scorsese reminds us of who we were, who we are and the dangers of who we could be.
"Can you find the wolves in this picture?"
That is a question we should ask daily, in the mirror and elsewhere…
Killers of the Flower Moon, rated M and directed by Martin Scorsese, is currently showing in cinemas.
Editor's note: Interested in learning more about film, the Arts, and the many intersections with life and faith? Jonathan Sargeant will be teaching DA2003Z / DA9003Z  — Theology and the Arts at St Francis College in 2024. Please contact Sheilagh, Dean of Students via sheilagh.obrien@anglicanchurchsq.org.au for more information.
Note from Domestic and Family Violence Working Group chair The Ven. Dr Lucy Morris: The Anglican Church Southern Queensland (ACSQ) is committed to the rollout of the Ten Commitments as our Church's response to domestic and family violence. This includes encouraging links with local support services.
The following 24/7 telephone services have a long track record responding to people experiencing domestic and family violence:
DV Connect 1800 811 811 helps Queenslanders wanting to escape domestic violence.
1800RESPECT is a national service providing information, referrals, and counselling.
If you, or the person you are assisting, are in immediate danger please call the Police on 000.
Note from Director of Professional Standards Rob Bates: The Office of Professional Standards is also available to offer support and guidance and can be contacted on 1800 242 544 or via email professionalstandards@anglicanchurchsq.org.au.
Jump to next article