Perfect Days
"Wim Wenders' Perfect Days is the kind of meditative, arthouse crowd-pleasing experience that doesn't come along all that often in more refined cinema settings…it's certainly one of the highlights at this year's Brisbane International Film Festival," says Ben Rogers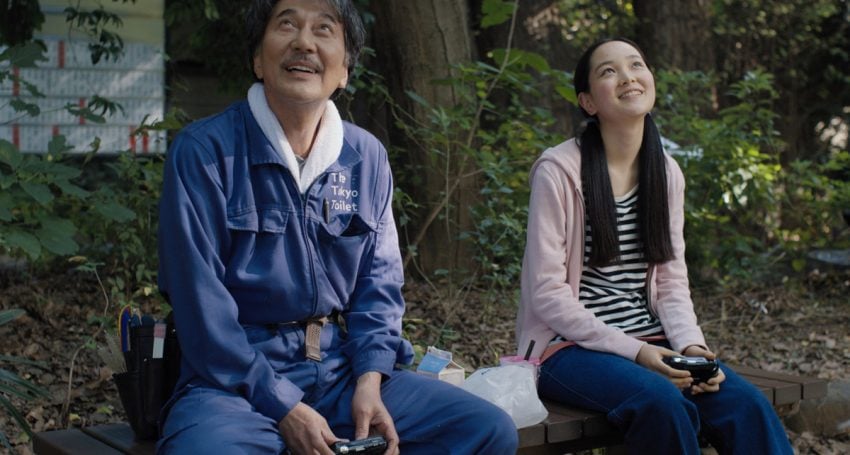 Widely praised since its unveiling in competition at this year's Cannes Film Festival and recently selected as Japan's official entry for the 2024 Oscars in the Best International Feature Film category, Wim Wenders' Perfect Days is the kind of meditative, arthouse crowd-pleasing experience that doesn't come along all that often in more refined cinema settings. With its irresistible soulfulness and superbly moving performances it's certainly one of the highlights of this year's Brisbane International Film Festival, which commences on 26 October.
Wenders and Japan go way back — the iconic German filmmaker behind Wings of Desire and Paris, Texas went to Japan in the 1980s to make Tokyo-Ga, his documentary on master filmmaker Yasujirō Ozu (more on him shortly), and the famed Japanese fashion designer Yohji Yamamoto was the subject of his documentary Notebook on Cities and Clothes.
However, it's a rather historic occasion for a non-Japanese filmmaker, such as Wenders, to be selected by the Motion Picture Producers Association of Japan to lead their campaign for an international feature film Academy Award, perhaps especially given one of the other main contenders was surely the renowned animator Hayao Miyazaki's film, The Boy and the Heron.
It's understandable though why Perfect Days was chosen as Japan's international feature Oscars submission despite Wenders' nationality. While universal in appeal and thematic substance, the film is thoroughly Japanese in its construction (set entirely within Tokyo) and the spirit of Ozu liberally hangs over proceedings. This is perhaps an unavoidable reality given Wenders' adoration for the Japanese master director and the way that the film's subject matter allows Ozu-isms to find their way into the material.
A summary of the film's plot is relatively straightforward: we follow the life of a single, middle-aged toilet cleaner, Hirayama, in Tokyo as he goes about his work around town, and then the largely uneventful proceedings when he's off the clock — visiting a local eatery, taking photos with a film camera, unwinding in a bathhouse, visiting a bookstore.
Hirayama's world is one of simple routine and careful attention to detail, and Koji Yakusho's lead performance is a tremendous masterclass in skillfully conveying all kinds of just-hidden emotions and suppressed memories, manifested not through dialogue, but rather via careful movement and facial expressions.
Small pockets of dramatic friction are generated through Hirayama's interactions with those around him — a hopelessly-in-love co-worker, a lost child in a park, a middle-aged bar owner — but the most poignant and dramatically important encounter comes when a runaway niece turns up on his doorstep to live with him (temporarily).
The film's final title card about komorebi will help audiences better get to grips with Wenders' narrative and thematic strategies at play — the film takes inspiration from this word, which roughly translates as "the way in which light and shadows interact when seen through the leaves on a tree". Komorebi may be a seemingly ordinary natural occurrence, but the term can be found in various linguistic iterations in Japanese pop songs and haiku poetry. Wenders' reference to it in Perfect Days surely suggests that it's in these seemingly ordinary moments, that will pass by so many unnoticed, that we can find an extraordinary depth of beauty and poetry.
Despite the rather ordinary settings around Tokyo, Wenders and cinematographer Franz Lustig conjure up a mesmerising vision of the city's urban sprawl, and their ability to find visual poetry in public toilet blocks, parks and snaking highways thankfully never risks exoticising "Japanese-ness". Settle into the film's gentle narrative rhythms and splendid visuals and you're in for a moving tour of life in Tokyo few tourists will ever really see.
The more unforgiving of critics might roll an eye at some of Wenders' musical choices dotted throughout the film: Hirayama spends his time listening to an assorted soundtrack of Lou Reed, the Rolling Stones, Patti Smith, The Animals and Nina Simone. Some of these musical choices work well enough, others seem a little obvious — was it inevitable we'd hear Reed's "Perfect Day" given the title? Did we really need to hear The Animals' House of the Rising Sun in the land of the rising sun?
Hirayama is also presented as an avid reader, allowing Wenders to throw in a few references to William Faulkner and Patricia Highsmith. With his taste in music and literature, combined with his demeanour, some might imagine Hirayama could have found a home in one of Haruki Murakami's stories.
Many arthouse filmmakers have come to Japan to make feature films to varying degrees of success — Gaspar Noé's Enter the Void, Hou Hsiao-hsien's Café Lumière, Abbas Kiarostami's Like Someone in Love, the Michel Gondry, Leos Carax, Bong Joon-ho omnibus Tokyo! immediately come to mind — but Wenders' celebration of the quotidian pleasures and rituals of a quiet, ordinary life surely ranks as one of the finer efforts by an outsider to capture both a thoroughly Japanese milieu and a universally-appealing story.
Wenders may not have reached the masterly heights of the best of Ozu with Perfect Days, but it will certainly go down within his own oeuvre as one of his most moving and elegant dramas.
Editor's note: Perfect Days, rated 15+, will screen in this year's Brisbane International Film Festival with select screenings in late October and early November.
Jump to next article