Slow and steady service fulfils an authentic Christian life
"All parishes do things in different ways, and we in Drayton are enjoying finding ways to live the loving, serving, joyous Christian life authentically," says The Rev'd Rick Gummow from The Parish of Drayton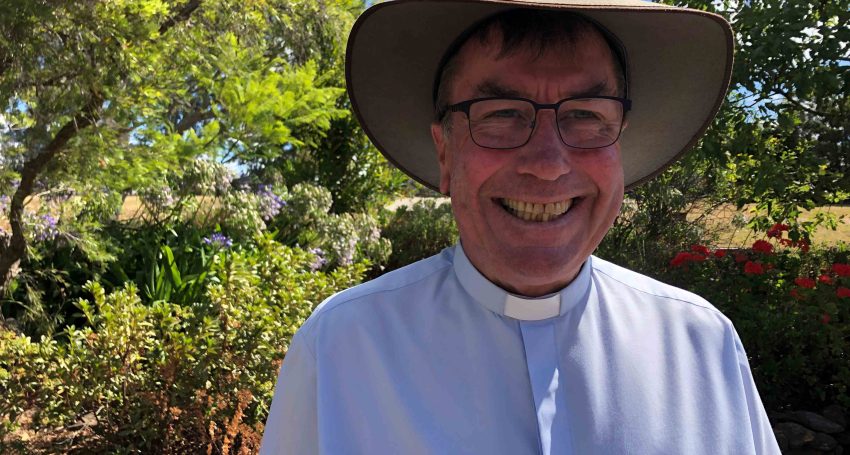 "You've got the best of both worlds here!"
So said Simon, the bus driver, as we walked from the front of St Matthew's, Drayton, across the churchyard to the Community Centre for morning tea.
Simon was comparing the thoroughly rural view from the front of the church looking south-west across the Downs, and in the other direction, a view of some Toowoomba suburbs and the sign of what was once Australia's biggest Bunnings.
St Matthew's, Drayton is on top of a hill, yet is hard to see until you stumble upon it. The road up to it is lost in the contours and folds of the foothills of the range. It's a small, beautiful, heritage-listed church made of Toowoomba bluestone from the Harlaxton Quarry in north Toowoomba and sandstone from around Helidon.
Simon had bought a group of 60 or so from the Garden City National Seniors for a guided tour and history of the church (which is part of the history of Drayton and Toowoomba), a walk around our large churchyard and gardens, a plant stall, a craft stall, and a morning tea (no complaints there).
As a parish, we do bridge the town and the country, and our parishioners reflect that. Our pastoral work can as easily be on a farm or small rural community, as in suburban Toowoomba.
One of our focusses as a parish, and a way in which we seek to glorify God, is the beautiful fellowship that comes out of our unity in Jesus. We believe we have this precious unity and so we seek ways to share what we have as a parish with the very diverse communities in which we live and serve.
So what does a parish who is unified in Jesus and wants to serve their communities do as they age? Well, something within our capabilities that is slow and steady, not complicated or requiring a lot of physical effort.
One of our wardens suggested "St Matthew's in Bloom" — a week where we open the church and gardens from 9 am to 12 noon every day, offering a morning tea in our Community Centre, with plant and craft stalls.
We teamed up with two other Drayton landmarks — the Royal Bull's Head Inn and DownsSteam Tourist Railway & Museum — and had brochures printed, and then became part of the month-long Toowoomba Carnival of Flowers advertising, too.
Our prayer was that God would be glorified, that people would come (albeit not too many at once), and our unity in Christ would be infectious and people would leave knowing that belonging to a small parish church can be a life-giving thing.
I think this is exactly what came to pass last month.
It ran from Monday to Sunday, and on the Sunday, mid-morning after church, we completed the week with a performance by the Bundaberg Youth Orchestra playing in St Matthew's with its perfect acoustics — it sounded so wonderful, and the church was full.
All parishes do things in different ways, and we in Drayton are enjoying finding ways to live the loving, serving, joyous Christian life authentically. Drayton could be a microcosm of the communities in our Diocese — communities in the east and communities in the west.
The Bush Ministry Fund (BMF) does wonderful work in maintaining Diocesan unity through its direct support of rural and remote ministry. Parishes thrive by worshipping together in perfect unity, and the BMF helps ensure this. Please consider supporting the BMF in your parish giving programmes.
Editor's note: The Bush Ministry Fund solely funds rural ministry in our Diocese, and it is the only fund that financially supports rural ministry in our Diocese. The Bush Ministry Fund money boxes are a fun and easy way for individuals, families, parishes and schools to donate to bush ministry in our Diocese. Order your BMF money box today by emailing Helen Briffa in the Western Region office via helen.briffa@anglicanchurchsq.org.au or by calling 07 4639 1875.
Jump to next article