Brewing community connections with a Cuppa and Company
"In our own little way we have made a community of care for those who come to join us, something I have found at Christ Church since I was lucky enough to come up here to journey with them," says The Ven. Sue Barker from The Parish of Goonaneman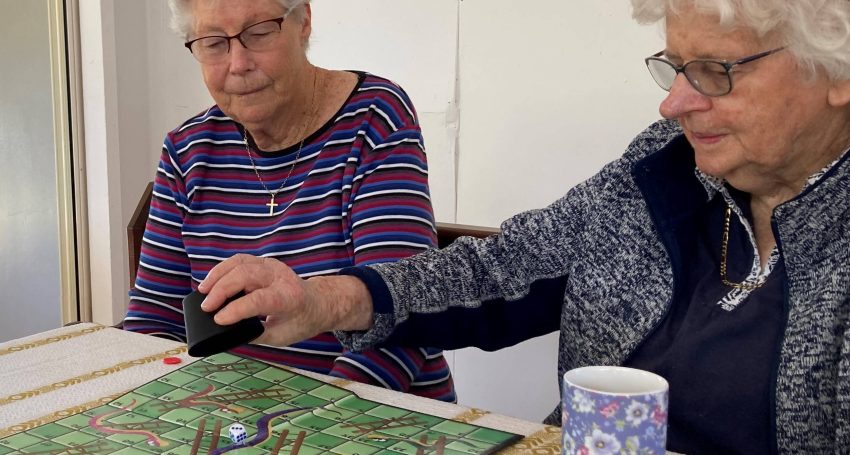 Who remembers their mother or grandmother assuring someone that they would "feel better after a nice cup of tea"? And who has felt better after coffee with a close friend, or after sharing a scone hot out of the oven with Mum or Gran, and telling them about your week?
There is something special about talking around the table that lifts our spirits and helps our day along. At least, that is what seems to happen every Tuesday in the hall at Christ Church, Childers, up here in The Parish of Goonaneman. It all came about by accident — or not, depending on your point of view — but it is now a regular part of the week for parishioners and visitors.
Last year we started running soup lunches in the cold months, but it soon became evident that more people were coming because they wanted the company than because they needed a meal. Even those who did come for the meal stayed to talk and to share their stories, but more people came who didn't get out much, or who were on their own and no longer had the will or the ability to cook for themselves. A bowl of home-made soup, and someone to talk to, made a difference in their week.
So the parish sat down and talked about it, and earlier this year Cuppa and Company was born. Every Tuesday morning we boil the urn, put out the scones and biscuits (and a pot of soup if it's cold) and wait to see who will come to share them with us.
Members of other congregations in the parish drop in; we sometimes meet clients of the local IDSS (Integrated Disability Support Services) or the Childers Neighbourhood Centre; a couple of the local Red Cross volunteers are regulars; and sometimes we have new people in town who are looking for company and somewhere to belong. The volunteers at the Lifeline shop in the main street put out our Cuppa and Company sign every week and thank us for "what you do for the community".
We also put out a pile of games — Scrabble, snakes and ladders, Chinese checkers, cards, draughts and chess. Do you remember playing Chinese checkers as a child? Or Beggar-my-neighbour? Or snakes and ladders? I hadn't played any of them in 40 years, but we found that there is a surprising number of people out there just waiting for a game.
Daphne came looking for someone to play her favourite Chinese checkers — and found quite a few takers; Linda is a dab hand at Beggar-my-neighbour; Grant taught his carer to play Uno; and, volunteers Lorraine and Sybil had snakes and ladders out recently, sliding up and down the board like the champions they must have been as girls. The Scrabble players had help this week from Val, a first-time visitor, who quite impartially pointed out possibilities to both sides. For someone who said she had never played, she learned quickly! We hope she'll be back for a game.
We also have some dedicated knitters, crocheters and sewers who bring their current projects along to work on while they chat. Lesley was teaching Ruth how to crochet this week, in between rows of the blanket she is crocheting for her granddaughter's best friend. Colleen had the table in stitches (sorry!) when she brought out her bag of knitted Barbie doll clothes, including underwear in fluoro colours. She wants to make sure there is a stock of them, so that her granddaughters will always remember Grandma. This week's project was a shimmery blue and silver jacket for Barbie party wear.
And while all this is going on, we talk together about an amazing variety of things — new grandchildren; old times, hard times, memories of growing up on the farm; recipes for scones and ginger cake; where that very pretty wool someone is using came from; who owned which shop 50 years ago; whose health is not the best at the moment; and, who has dropped in to see them.
In our own little way we have made a community of care for those who come to join us, something I have found at Christ Church since I was lucky enough to come up here to journey with them. Now we are able to share some of it with anyone who needs it; something we can give to the town, and not just keep for ourselves on Sundays.
Editor's note: The Bush Ministry Fund solely funds rural ministry in our Diocese, and it is the only fund that financially supports rural ministry in our Diocese. The Bush Ministry Fund money boxes are a fun and easy way for individuals, families, parishes and schools to donate to bush ministry in our Diocese. Order your BMF money box today by emailing Helen Briffa in the Western Region office via helen.briffa@anglicanchurchsq.org.au or by calling 07 4639 1875.
Jump to next article