Fatima
"The political, religious and cultural zeitgeist of Portugal during the period of the first World War is captured in a way that brings a depth of understanding to the way these children are treated," says anglican focus film reviewer Jonathan Sargeant on Fatima, which is currently showing in cinemas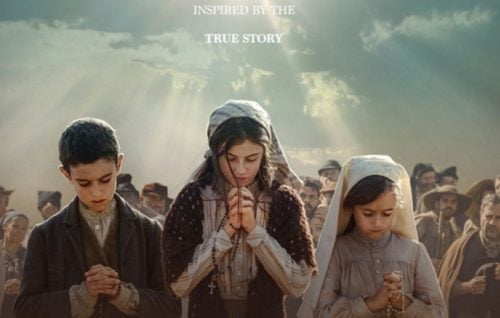 Three shepherd children go to look after their flock at Cova da Iria in Fátima, Portugal on the 13 May 1917. What happened next? How you choose to answer that question might determine your feelings about this new film.
The visions of Mary at Fátima, occurring over six months during the first World War, are a part of history that have garnered great attention. Filmed a few times before, this 2020 version brings a freshness to the tale achieved with sweeping camerawork and great attention to detail in production design. The Italian director, Marco Pontecorvo, is largely known as a cinematographer and this shows on the screen. The Portuguese countryside never looked so good!
Pontecorvo's straightforward version of this story features bright young actor Stephanie Gil as Lucia, the oldest child and the film's major focus. She brings an earnestness to the tale that it might not otherwise have achieved. And, earnest the film is. Some categorise movies like this as either informing the viewer about faith or urging the viewer towards faith. Fatima leans heavily into the latter type. The nature of belief is taken as a given, and anyone who might have another point of view is seen to operate from a stance of antagonism. For me, this blunted the film's edge a little; if you want to convince someone about faith it seems more effective to do so with gentleness and some acceptance, rather than through a brick wall of absolutism. In this sense, Fatima feels a little old-fashioned.
The nature of faith is treated in an interesting way, too. Because the children's visions are depicted graphically, both in their experience of Mary (a truly radiant Joana Ribeiro) and the revelations she delivers, the idea of faith is not really in question, at least not religious faith. Instead, the film probes the question of why the children might not be believed. They face opposition from their parents at first, then the Church and the local authorities who see the visions as a political manoeuvre to destabilise the mostly secular republic in its infancy at that stage. The script by Valerio D'Annunzio and Barbara Nicolosi does a good job of giving a sense of place to Fatima. The political, religious and cultural zeitgeist of Portugal during the period of the first World War is captured in a way that brings a depth of understanding to the way these children are treated.
Of course, visions like these raise all kinds of questions. Why an appearance to small children aged 7 to 10 years? Why a monthly format? Why are the children told to keep the larger part of the visions' content secret? Why not appear to a larger group? Pontecorvo's film poses each of these questions and some receive answers, largely at the lips of an older Lucia (Sonia Braga) many years later. The film's framing device has a researcher (Harvey Keitel) interviewing her. Unfortunately, this might be the least successful component of the film. Keitel is a great actor but he's just phoning it in here, with little to get his teeth into. There's no space for any real fire between atheist and believer that might have ignited the rest of the film with passion.
So, will Fatima change the minds of doubters? It seems unlikely. More aimed at believers, the reverential treatment doesn't quite pierce the surface of who these characters are as people beyond what one might read on a Wikipedia page. Earnestness only takes you so far. Despite these limitations, the film as a window into the events at Fátima that might just encourage some to look a little further, Pontecorvo has found success.
Fatima, rated M, is directed by Marco Pontecorvo, is currently showing in cinemas.
Jump to next article