Mustering and ministering in the Maranoa-Warrego and beyond
"Outback ministry is more than services, Bible studies and prayers…As well as assisting graziers with feral pest control, I also help food producers with mustering…I mow the lawns of elderly home owners; help school children with their reading; engage in maintenance, repair and painting of parish buildings; and, aid very elderly parishioners by cleaning churches," says intrepid Western Region missioner, The Rev'd Geoff Reeder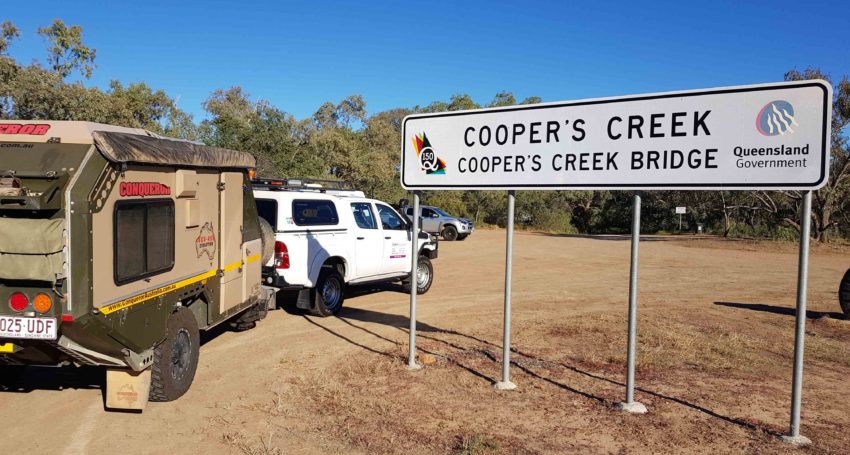 Upon my retirement from commercial work in 2010, the then Bishop Rob Nolan asked me to conduct itinerant ministry on a rotating quarterly basis in the Cunnamulla, Tara and Murgon parishes. I was eventually appointed 'Missioner to Quilpie Parish and District' by Bishop Cam Venables. This area covers the towns of Quilpie, Eromanga, Windorah and Birdsville, with special permission (because it is in the Diocese of Rockhampton) to minister to folk in and around Bedourie as I have connections to the district. The Quilpie Parish covers 184,000km2 , is 950km by road from east to west and has a population of about 1250.
Why am I ministering in such faraway places? Well, with Bishop Cam's permission, and responding to a request from the CEO of Barcoo Shire in Jundah (in the Diocese of Rockhampton), I conducted the funeral of a stockman in Jundah. A close relative of the man who had died asked if I would go to Adria Downs cattle station 135km north west of Birdsville for a service there. A couple of visits later, all management and stationhands attended services on the homestead verandah beside the Georgina River in Channel Country alongside the Simpson Desert where there is such wild beauty. Relatives and friends of some of these eight people were on neighbouring stations requiring visits, and so the ministry 'snow-ball' began.
Big distances and remote places require safety first. Hence, I always carry a SatSleeve, which converts my mobile phone into a satellite phone; a UHF two-way radio; a personal EPIRB (emergency position indicating radio beacon); food and water for 10 days; a double set of spare wheels and extra tyres for a HiLux truck and camper trailer; and, sundry vehicle spares and tools.
I was once stuck in the mud in the middle of a drought 55km from the Adria Downs homestead in the west beside a gibber desert and 58km from the Birdsville to Bedourie road in the east. Unable to dig out, I was saved by using my SatSleeve phone, with a station rescue vehicle arriving two hours later and snatch-strapping me out in five seconds! On another occasion, after conducting a church service in Birdsville, I was stranded there for three days by an unusual rain event. 50mm of rain fell over two days – the average annual rainfall is 150mm, with roads generally becoming impassable after just 17mm of rain.
On my visits, I also take a computer, projector, home-made screen, sound system and a 2kVA generator to enable power point services to be conducted out in the paddocks or beside creeks. Music on an iPod and CDs helps keep me sane. I also pack a portable altar and usual vestments, which I wrap in plastic to keep clean from mud and dust. Hymn and prayer books or service sheets add to the weight. I have had the HiLux re-surveyed to carry an extra 500kg. Fishing gear is also a must! Working on 'country time' and before or after visiting homesteads, any 'free time' can be gainfully used trying to catch yellowbelly in Cooper's Creek. Aaahh, but they are cagey, so I'm learning and my patience is gradually winning.
When I first arrive in Western Region towns, I introduce myself to the local police officer and request their help for GPS coordinates, email, phone and other contact details and UHF call signs for the properties in their jurisdiction. I also accept any offers from the 'copper' to be driven to local properties for introductions, camping in the bush on the way.
I have presided over many baptisms, weddings and funerals in our Western Region since 2010. This photo shows two-month-old Athenia Cunningham's baptism, with her mother, Bridget, and the congregation looking on in Charleville in September 2020.
Outback ministry is more than services, Bible studies and prayers. It is also very much about offering to help in any way possible. Following the question "How can I help you?" to a Western Region grazier, the reply came, "Rev'd Geoff, can you get a gun licence to shoot wild dogs, kangaroos and wild pigs?"  "Sure", I reply. So, I joined the Sporting Shooters' Association of Australia (SSAA) and the SSAA Farmer Assist Program to assist with feral pest control, purchasing a Sako 223 rifle with Swarovski scope and plenty of ammunition. The grazier, who lived 70km east of Windorah, had a breeding flock of just 2,200 ewes (he normally carried over 8,000 sheep, but reduced numbers because of the drought). After the wild dogs had done their foul deeds by killing or maiming over half the flock, he had to sell all those remaining – just 950 ewes. Then the wild dogs attacked his cattle!
As well as assisting graziers with feral pest control, I also help food producers with mustering where fixed-wing aircraft, helicopters and teams on motor bikes have been used leading to yarding and cattle drafting. I also mow the lawns of elderly home owners; help school children with their reading; engage in maintenance, repair and painting of parish buildings; and, aid very elderly parishioners by cleaning churches of months of dust and dirt before services. I enjoy my chats with 'grey nomads' and travelling salespeople in caravan parks and have often lent a compassionate ear to graziers in times of drought.
An Aboriginal 'digger' from 1st Battalion Royal Australian Regiment, who then became a stockman and 'ringer', was dying. As an honorary chaplain to our local RSL Sub-branch, I was able to visit and relate to his life experiences, including stories of military service and cattle station life, as well as share texts of comfort and reassurance and pray with him. It was an honour to conduct his funeral.
I also take Brisbane parishioners to remote areas of our Western Region who want to share in ministry and are prepared to 'rough it', swallow dust and enjoy the wide-open spaces. A great friend, who had lost his wife to cancer and was experiencing a rough time with his business, came west to the dust and heat. As a geologist, he was very familiar with these conditions and was greatly refreshed by using his Liturgical Assistant skills to serve the Western Region parishioners, sharing one another's experiences and receiving their generous hospitality.
How much longer will I keep going? Until I reach the age of 80 – body willing and as long as Bishop Cam still thinks I am suited to the task. What a privilege to think that wherever I go, I can offer people sacramental ministry, a listening ear and whatever practical help they need.
These trips to our Western Region – I aim for six a year – are only possible because of the generosity of the Anglican Church Southern Queensland community, as they support the Bush Ministry Fund (BMF). I have paid for the truck, camper trailer, all the equipment and its repair and maintenance, as part of my gift to God's work. The BMF covers the caravan park fees and the fuel expenses, which regularly amount to $1,000 to $1,200 per trip. For those of you who have given in the past, I offer a heartfelt 'thank you'. For those of you who have prayed for Western Region folk as they experience fire, flood, drought and the good seasons, your prayers are heard and answered by our generous and compassionate God. The clergy who live amongst our Western Region parishioners have greater needs than mine. So, on their behalf I say, 'thank you'.
Editor's note: While similar funds are promoted by other Anglican Dioceses, the BMF is unique in that funds go solely to support rural and remote ministry in our Diocese, with at least 98 percent of money donated directly funding bush ministry. Please consider the Bush Ministry Fund as part of your parish's mission programmes.
Jump to next article