Feeding the future
Year 11 Fraser Coast Anglican College student and aspiring chemical engineer Kaitlin Edmondstone tells us about her recent experience as a STEM intern at QUT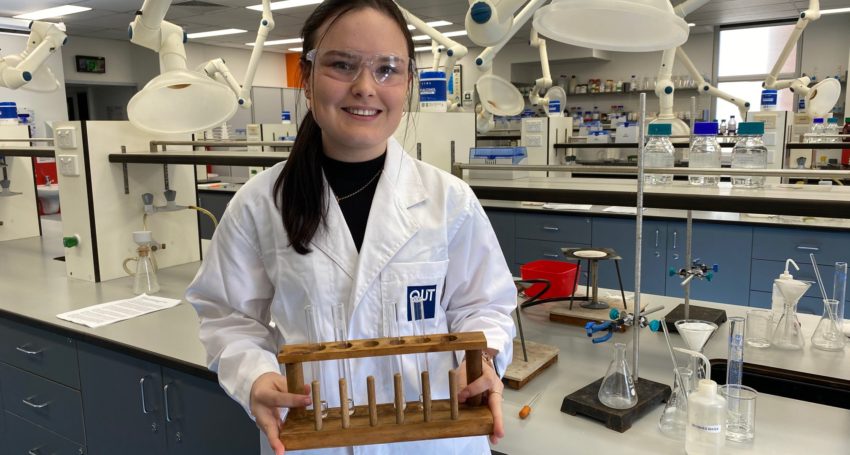 I got involved in the QUT STEM Internship Program through a recommendation made by my specialist maths teacher. She suggested that this STEM (science, technology, engineering, maths) program would be a great experience for me to expand my knowledge in STEM field while also preparing me for a career in STEM. This program offered a vast range of different internships – all of which focused on different aspects of STEM.
The purpose of my research placement was to work alongside QUT researchers from the Science and Engineering Faculty and the Centre for Agriculture and the Bioeconomy (CAB) to gain an in-depth understanding of their research and the processes involved. The focus of the 'Feeding The Future' placement was assisting the CAB researchers by traveling to various different facilities, including The Banyo Pilot Plant and The Redlands & QCDF (Queensland Crop Development Facility) Research Facility, as well as visiting some of the research labs at the QUT Gardens Point campus to see the different processes/stages involved in genetically modifying plants to enable farmers to grow more food using less water and chemicals, improving crop nutrition especially in developing countries, and discovering new ways to use agricultural waste products to produce more valuable products from this waste. Throughout this week I also got to participate in several experiments which included a chemistry practical to make aspirin and a biology practical where DNA was extracted using two different methods.
The most beneficial aspect of my participation in the internship program was being able to spend a week doing something I am passionate about while being surrounded by people who are excited and passionate about STEM, too. It was also really great to be able to discuss university life with current QUT students, including their daily experiences living away from home, the pros and cons between double and single degrees, and the differences between school and university.
I strongly believe it is vital that young people get involved in STEM fields, and especially the renewables and environmental science industry, for a range of different reasons. This industry has so much potential and the research done in this field is rapidly growing in demand and will continue to grow into the future as our world continues to advance and change, creating jobs that we can't even image yet. As well as the increase in demand for this industry, careers in STEM are challenging and so rewarding because everyone's contribution positively benefits and advances our changing society.
Following my completion of Year 12, I want to pursue a career in chemical engineering. This is a branch of engineering that aims to efficiently use, produce, design, transport and transform energy and materials using principles from chemistry, physics, mathematics, biology and economics. The information and experience I got from attending this STEM internship will continue to help my career aspirations in my future, university life and the STEM industry.
Overall the 'Feeding the Future' placement showed me that there are many benefits that the fields of medicine and agriculture can provide for society. The chemistry practical positively impacted me in a range of ways because it gave me an insight into what first year chemistry would be. The work done in the 'Feeding the Future' placement was also beneficial to me as it gave me an insight into possible career paths after university, especially in the area of research and the practical hands-on field. This placement also challenged me to step out of my comfort zone and study more of a biochemical approach to scientific concepts. Finally, this experience has broadened my understanding of the career opportunities that STEM subjects provide, as I have been fortunate enough to listen to a vast range of people talk about their careers and the process involved in getting to where they are today.
Jump to next article