Sunday Devotion: 18 October 2020, Twentieth Sunday after Pentecost
My way or Yahweh?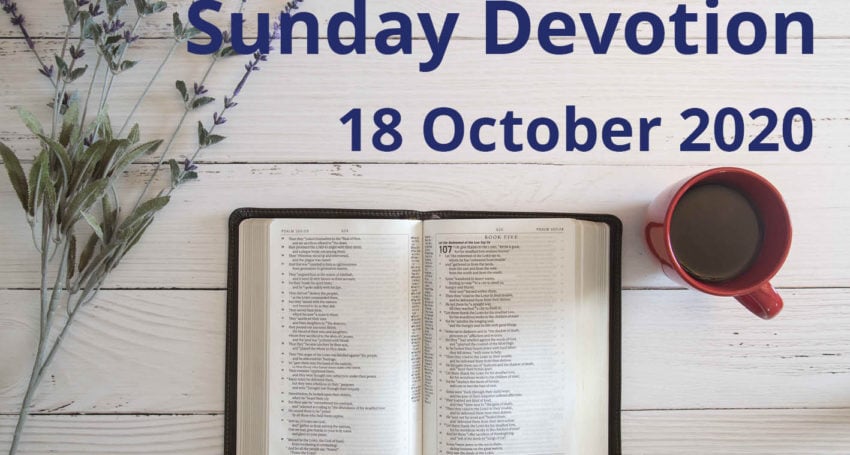 Written by clergy and lay people across our Diocesan community, 'Sunday Devotions' is a column of short reflections based on a Lectionary reading of the day, suitable for small group discussion or personal use.
Main Readings: Exodus 33.12-23; Psalm 99; I Thessalonians 1.1-10; Matthew 22.15-33 [Isaiah 45.1-7; Psalm 96.1-9 (10-13)]
Supplementary Readings: Psalm 69.1-18; Matthew 21.12-22; Exodus 34.1-8; Psalm 96; Philippians 4.10-20
"…you turned to God from idols, to serve a living and true God" (1Thessalonians 1.9)
The seed of rebellion was strong in me from a young age. I ran away from home at three to play at the park or with the gypsies and then ran away at 15 to hang out with the local circus. I finally left home at 18 to move 50 miles away so I could lead an essentially selfish and careless life of 'my way or the highway!' It was fun until I became alcohol dependent. The faith of God TV preachers who witnessed such an amazing U-turn in their own lives led me to become captivated by the Word of God. This gently reframed my selfish maxim of 'My way or the highway' into a life transforming one – 'My way or Yahweh?' This eventually led me to becoming an ordinand 15 years after being healed from what I describe as my particular idolatry – alcohol.
Our Thessalonian Christian brothers and sisters turned from the worship of idols to the worship of the living God, too. They moved from the worship of something that was counterfeit. Instead of being seduced by their fleshy desires, they became imitators of Paul, Silvanus and Timothy – much like I did with my God TV preachers – and of course our Lord. People noticed the difference in their lives. Their faith in God became known and they emerged as examples to all believers. Subsequently, the proclamation of the Gospel was enhanced by their witness (1 Thessalonians 1.8).
Faith is crucial to discerning the quality of our own life. Moreover, it's crucial to the quality of the lives of others. Whom we choose to have faith in has the power to affect whom our circle of beloveds chooses to have faith in. As we all have faith in something or someone, we have to decide therefore, whether it will be in 'my way' or 'Yahweh'. It is only the latter that generates true life because it is only Yahweh that is the true living God.
We become what we behold. Whose way are we beholding, my way or Yahweh?
Jump to next article