Q&A with talented flautist, Parish of Goodna community member and Churchie teacher, Brijette Tubb
Meet Brijette Tubb and find out about her current ACSQ roles, how her faith shapes her outlook, which local Anglicans are the people of faith who inspire her the most, her childhood and the question she is always asking herself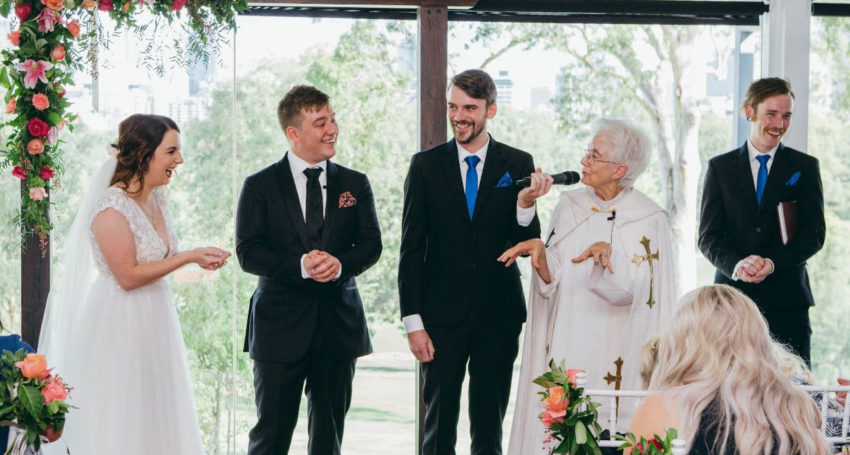 Brijette Tubb enjoys a busy career as a soloist, orchestral musician, accompanist and instrumental teacher. Recent performances include the flute and piccolo with Queensland Festival Philharmonic for their performance of Love Actually and as principal piccolo with the Queensland Pops Orchestra concert series throughout 2018 and 2019.
How long have you been involved in the Anglican Church and in what roles?
In childhood I was a server at The Parish of Goodna and I have always played music for the parish. I have also been involved in St Luke's, Toowoomba as a chorister. I currently teach instrumental music at Churchie.
What are your current roles, including any voluntary roles, and what do your roles involve?
I am an instrumental teacher at Churchie and am involved in music activities in the wider Anglican Church. For example, on 14 November, I will be playing flute in a chamber music concert at St Paul's, East Brisbane and on 15 November I will be performing as part of a flute/piano duo at The Parish of Goodna with the latter performance also offered live online.
What projects and/or activities are you currently working on?
My main church focus at present is organising The Parish of Goodna 'Raise a Flute' concert. I am spending countless hours practising and rehearsing and have arranged a few pieces specifically for the concert.
What have been the highlights and fond memories of your Anglican Church roles so far?
I remember being a server as a child and walking up with the long candle at the end of the service when I accidentally kicked the base of the candle holder causing wax to drip all over my hair. Fortunately, it did not hurt.
I also have fond memories of leading the music in the midnight Christmas service with Mrs Brockman at The Parish of Goodna. I do this almost every year.
I also fondly remember being married by The Ven. Valerie Hoare in 2018 – she gave a powerful homily, which family members still talk about today.
What are your plans and goals for the next 12 months?
2020 has been such a topsy-turvy year for Churchie students and I am keen to give them more performance opportunities in 2021. The students missed performing this year, including the Year 5 boys who perform annually at St Paul's, East Brisbane. I have also missed performing myself this year and hope 2021 brings more opportunities to share music.
Can you tell us a little about your personal faith journey?
I grew up in a household where I was taken to church weekly as a kid. I went to Sunday School, although I probably didn't understand a lot. It wasn't until I lost my dad in 2007 that I started living my life more according to Christian values. Since my dad's passing, I have worn a gold cross every day which I have never taken off. After his passing, I went through a reflective journey as my world was rocked and I now understand the importance of living my life with Christian faith.
How does your faith or spirituality inspire you and shape your outlook, life choices and character?
I interact with people in a way that I would like them to interact with me. The values that I have help guide me in how to respond to others and help me choose whom I want to be in my circle of friends. My faith helps me step back and reflect on things before I act.
What is your favourite Bible scripture and why?
I don't have a favourite Bible scripture, but I do have two favourite hymns based on Psalms – 'As the deer pants for the water' because it is a beautiful song with a great message and 'On eagle's wings' because this was played at my grandfather's funeral.
What person of faith inspires you the most and why?
Olaf Anderson and Valerie Hoare because they are the reason I continued going to church. They are down-to-earth and welcoming people who don't judge.
What is the kindest gesture you have ever received or witnessed?
Pretty much anything my mum's cousin (more like an aunt) did – she worked her whole life but gave everything she had to family – she was one of the most giving, kindest people I was lucky to have as family.
What is the best piece of advice you have ever received and who gave you this advice?
My parents, who always encourage me to believe in myself.
If you found yourself on a deserted island, what three things would you choose to have with you?
My flute, chocolate and a TV.
Where do you do your best thinking?
In the car when I am driving.
What's your best childhood memory?
Probably road tripping from Canberra to Brisbane with my mum and dad when I was in primary school – particularly falling asleep in the car in Sydney, and waking up three hours later only to still be in Sydney…
If you are having a bad day, what do you do to cheer yourself up?
I put the radio on and listen to music. I like punk rock, which surprises people as I am a classical flute player.
What do you do in your free time to recharge and relax?
I enjoy spending time with family and friends, watching TV, reading, completing paint-by-numbers and cooking. I play with my dogs and cat (or rather run around after them) and, I am right into health and fitness – I am learning to love running.
What makes you nostalgic and why?
Music, perfume and flower smells make me nostalgic because they transport me back to times and places.
What's your unanswerable question – the question you are always asking yourself?
When do you give up on your dream? For someone in the arts world this question is something you struggle with, whether you like it or not.
Hear Brijette Tubb play the flute at The Parish of Goodna on Sunday 15 November. See the parish Facebook page for more information.
Jump to next article