First Nations artist donates painting to Symes Thorpe
A First Nations artist who spends up to 80 hours on an individual painting has kindly donated his artwork to Symes Thorpe Residential Aged Care in Toowoomba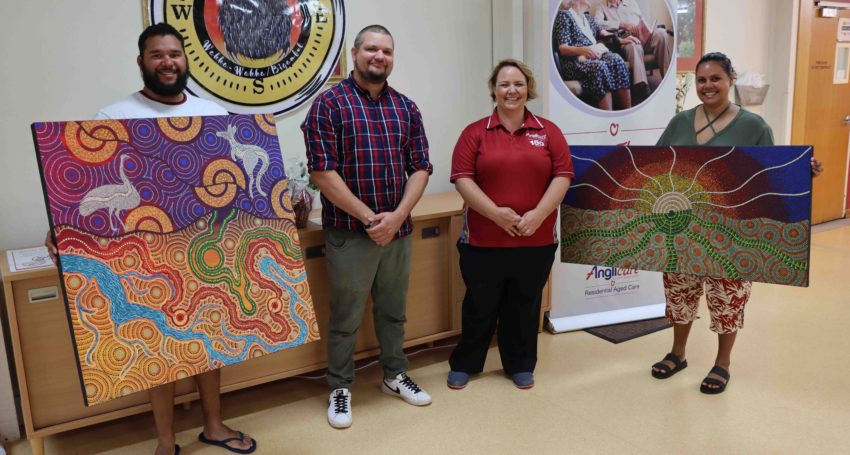 A First Nations artist who spends up to 80 hours on an individual painting has kindly donated his artwork to Symes Thorpe.
Emerging artist Kye Lane-Hart attended the Symes Thorpe Residential Aged Care Home on Wednesday and showcased his artwork to around 10 residents.
Symes Thorpe was looking for a way to bring culture to the home and were hoping to give back to the community with this initiative.
"While we currently do not have residents who identify as First Nations people, it is important that we are supportive and reflect the diversity of many abilities, cultures and backgrounds," Lifestyle Lead Marllisa Beaver said.
"We do have staff working in the industry who come from many different backgrounds, and we want them to be able to come to work and feel a sense of belonging and support, and we also hope that by having Mr Lane-Hart visit with our residents we can provide a learning opportunity that will work towards bridging the gap with our seniors."
Mr Lane-Hart is an emerging Bigambul and Wakka Wakka artist aiming to pave a way for future artists who are trying to create a career in the industry.
The preservation of First Nations culture is important to Mr Lane-Hart as he raises his young family. The desire to be part of that preservation and to build ongoing relationships with others in the community is what has driven this partnership.
Residents and staff were excited to listen to the stories of his current artwork which will now be displayed at Symes Thorpe for the residents and visitors to enjoy and purchase.
This will be an ongoing display located at Symes Thorpe, with the goal for Mr Lane-Hart to have an ongoing space to display his artwork.
"The cost of good quality artwork sometimes does not reflect the amount of time spent on the piece," Mr Lane-Hart said.
"It takes more than most people are aware of to complete a high quality piece of art. With Symes Thorpe's support, I now have a great place to display my work and the added bonus is I get to educate a whole different generation about my culture. I get to share my talent and knowledge, knowing that we can hopefully start an initiative where businesses donate a wall to support an emerging First Nations artist to begin building those bridges to understanding and mutual respect."
Yesterday's experience left the residents with admiration for the etiquette and dedication that emerging artists follow to earn their place within the community as a valued artist and historian.
It was also an opportunity for the residents to deliver their gift to Mr Lane-Hart as a thank you for his time and enthusiasm for this project. Mr Lane-Hart's artwork can also be viewed on his Facebook page, Kye Lane-Art.
See the WIN News Toowoomba story.
First published on the Anglicare Southern Queensland website on 11 February 2021.
Jump to next article