From Sanctuary to Zumba
"It's been a bit of an adjustment to move from Sanctuary to pews, but this shift helped me to see that something that's as clear as day to me as a clergyperson, may not be so to a layperson in the pews. This is something I have been thinking much about recently," says The Rev'd Canon Ron Bundy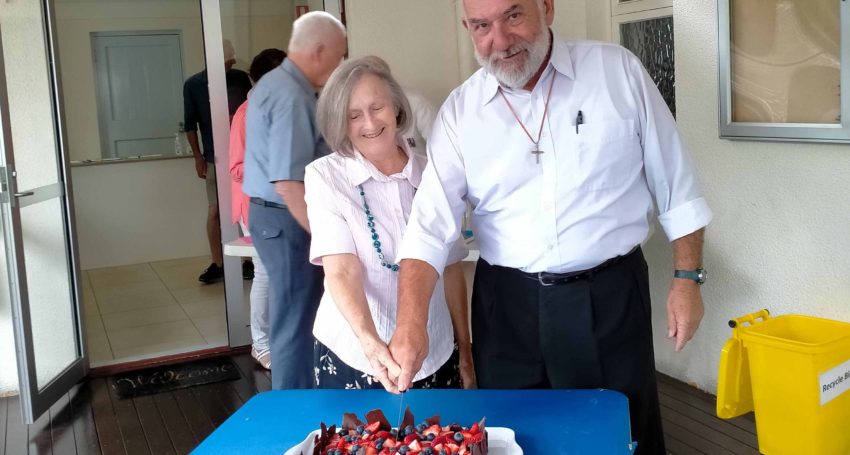 Story Timeline
Clergy reflections on 'retirement'
I 'retired' in April 2016 at nearly 69 years of age, following over 35 years of full-time active clergy ministry. The last parish I served in as parish priest was Gold Coast North. After my 1979 ordination, I subsequently ministered in Sydney, Adelaide, the NT, Brisbane, briefly in the Diocese of Liverpool, and finally in Gold Coast North. I love being a parish priest.
There have been many highlights in my 40 years as a Parish Priest. One that stands out is hearing a Residential Care Manager speaking about how his faith journey started from a service that I led in his workplace. It was one of those services where I could be tempted to think that nothing much was happening. He was standing at the back as he felt that he had to attend. He made those comments at a function I attended but didn't know I was there.
In my more than 40 years of ordained ministry, seven years stand out. They were the years we spent in the NT, from 1985 to 1992 in Palmerston which is 20 km south of Darwin. When we arrived in December 1985 Palmerston was a fairly new town of 3000 residents, now over 30000, I think. An established home group made up the core of the new congregation and we met in and under the rectory. It occurred to me in the very early days that locals were unlikely to come to church in our home, so I decided to go to them through involvement in schools and by some door-to-door visitation. It was not a hard sell simply to say, "Good morning. I'm Ron Bundy the parish priest from St Luke's up the road."
These seven years were the most memorable because they were the hardest. The parish experiences that I talk about refer to those seven years in the NT more than anywhere else. I think it's because I gained a better idea of what works and what doesn't work in an environment when my very human weaknesses were exposed and acknowledged. There was a small number of clergy for such a geographically large Diocese. On the whole the clergy got along well, despite theological differences, because we all understood that at our core we were fellow humans with much the same concerns, and thus needed to support each other.
I retired for two reasons. My parents were elderly and needed my help as I am their only child. Also, it wasn't so much that I was tired in my ministry, but I had grown 'stale'. Or at least I felt stale.
Since then I have enjoyed some interesting locum appointments, including short stints in Coffs Harbour and Port Macquarie in 2019 and as a two-day a week locum at St Mary's, Bardon in 2020, which was wonderful and certainly helped to deal with any residual 'staleness.'
I think it took me about five minutes to adjust to retiring from full-time ministry as I was ready for it and looking forward to 'another life', which currently includes reading, family (I have seven grandsons), gardening and cooking. I've done all the home cooking since retiring and I really enjoy it – especially using as much of my own produce as possible. I've been physically active for all my life. I surf regularly, having started in 1961, and I still have five surfboards in use. I also jog and use weights to keep fit and physically strong.
The main impact of retirement on me is having so much free time. Many years ago I developed a lengthy early morning practice which, I believe, has deepened my faith. I rise early, make coffee, and read. Then I have a lengthy time of Bible reading, prayer and contemplation. It's not always riveting, as I can get bored so easily, but this routine has been a major personal 'shaper', both before and after retirement. Now the pace of the routine is more leisurely. After my Bible reading and prayer, I head out for exercise and return for breakfast.
My wife, Margaret, and I were both involved in a local Council-sponsored exercise class for seniors which focused on core strength, flexibility and balance. This stopped with COVID-19, but we continued using YouTube doing aerobics in the morning and Zumba dance-fitness in the afternoon (Zumba is so enjoyable, by the way).
The biggest change for me was the death of Margaret on 29 November last year. It was a mere six weeks from diagnosis to death. She had an aggressively spreading pancreatic cancer. We had been together for 54 years. So added to all the extra time due to retirement has been grief, plus loads of silence where there used to be conversation.
However, I'm travelling reasonably well thanks to family, neighbours, church and the fact that Margaret and I had spoken openly about death and planned for it. Also when we turned 50 we decided not to put anything off. So there wasn't really anything left on our so called 'bucket list' – we did much travelling, for example.
It's been a bit of an adjustment to move from Sanctuary to pews, but this shift helped me to see that something that's as clear as day to me as a clergyperson, may not be so to a layperson in the pews. This is something I have been thinking much about recently. This new perspective has helped me try harder to communicate and connect with people better.
Overall I've enjoyed retirement. I've always had 'my own life', in that being a parish priest was not the sum total of who I was. Looking back, I see how healthy it was for me to have friends and activities outside of my church community.
I'm still fit and my brain is working ok, so I want to offer my abilities where needed. Being available to assist with locuming work and other part-time ministry helps to keep me occupied and sharp and enables me to continue to fulfill my life-long ordination call.
Editor's note 8 March 2021: A number of forthcoming online events, hosted by PMC, will be held for clergy related to retirement, finances and superannuation. Online event page links will continue to be added to the below dates. In the meantime, please save the September dates. 
Wednesday 28 April 2 – 3.30 pm: Talking about clergy retirement (Register online)
Tuesday 4 May 2 – 3.30 pm: Superannuation (Register online)
Wednesday 12 May 2 – 3.30 pm: Thinking about your finances (Register online)
Jump to next article