Sunday Devotion: 18 April 2021: Third Sunday of Easter
Truth from fiction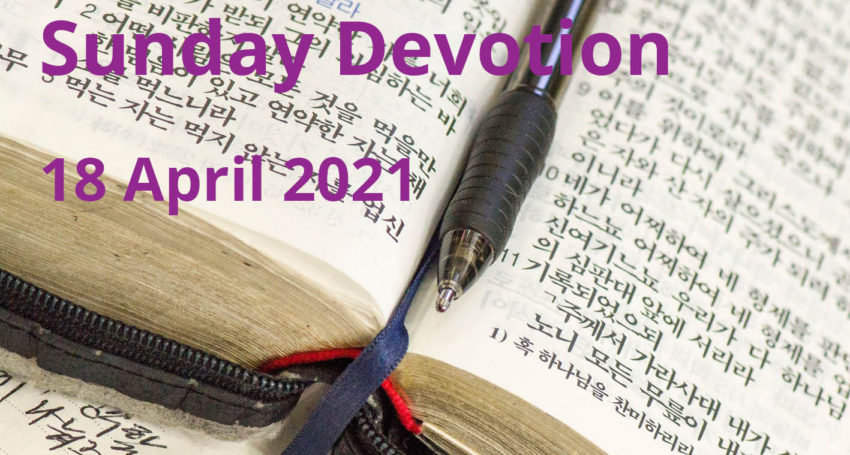 Written by clergy and lay people across our Diocesan community, 'Sunday Devotions' is a column of short reflections based on a Lectionary reading of the day, suitable for small group discussion or personal use.
Main Readings: Acts 3.12-20; Psalm 4; 1 John 2.15-17; 3.1-6; Luke 24.36b-48
Supplementary Readings: Psalm 124; John 7.37-46; Ezekiel 37.15-28; 'A Song to the Lamb' (APBA p.417); Revelation 19.4-10
"They were startled and terrified, and thought that they were seeing a ghost." (Luke 24.37)
Confession, I am a 'Trekkie'. And, yes, I have dressed up as a Klingon and 'witnessed' Mr Spock beaming between an array of interstellar locations. I have also been watching the progress of the Mars Exploration Rover mission, both very realistic in image and sound. However, while I have witnessed both, I personally cannot prove either; yet, I accept one as fiction and the other as truth.
The disciples, with plenty of witnesses, believed that Jesus was dead. No wonder there was discussion following the claims of the women, and then Simon and the two returned from Emmaus, that they had witnessed not a ghost but Jesus in the flesh. Imagine your reaction if someone you believe dead once again stands very alive in front of you. How would you test reality?
Distinguishing truth from fiction is essential for navigating life. We measure what is definitive against what is variable, often relying on trust to reach acceptance. To believe a dead man returned to new life requires great faith, especially for those of us not present in that room. Accepting a resurrected Jesus requires faith not only in God, but trust in the witness accounts of others who know Christ. It requires us to consider exegesis of scripture, tradition and history, and to be open to the work of God through and around us.
I pray that our faith strengthened by our desire to know God opens our hearts and minds, so permitting us to recognise the resurrected Jesus and in doing so, to know and witness to the joy of this truth. Amen.
Jump to next article