Sunday Devotion: 25 April 2021, Fourth Sunday of Easter
Jesus, our blue print for life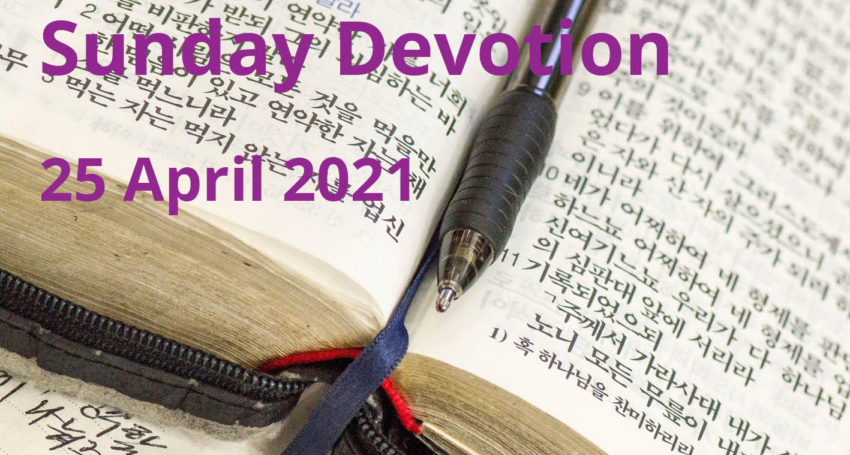 Written by clergy and lay people across our Diocesan community, 'Sunday Devotions' is a column of short reflections based on a Lectionary reading of the day, suitable for small group discussion or personal use.
Main Readings: Acts 4. 5-12; Psalm 23; 1 John 3.16-24; John 10.11-18
Supplementary Readings: Psalm 95; John 8.1-11; Ezekiel 34.1-10, 25-31; Psalm 100; Hebrews 13.7-19
"the stone that was rejected by you, the builders; it has become the cornerstone." (Acts 4.11)
I was recently on our Prep School Campus when I walked past some Year 5 boys saying some unpleasant things to a younger boy. Of the three boys standing in the group that was speaking to the younger boy, I overheard one of the Year 5 boys say to his friend, "Leave him alone" and then steer the name caller away by gently taking his arm and ushering him in another direction. The boys could not see me and did not know I was within earshot. Unfortunately, as boys age, it is rare to see a teenager break the social stronghold and sacrifice their comfortable status, avoiding the spotlight, by showing conviction and standing up for the truth amongst their peers. However, on occasion, a light will shine in this space and at risk of being rejected by those around them, the young person embraces and absorbs the short-term pain for the long-term goal of highlighting the truth and justice of a situation.
In the Acts of the Apostles when Peter was filled with the Holy Spirit, he proudly exclaims Jesus' act of sacrifice as the cornerstone for our faith, and for our values, morals and motivations. Jesus' direct act of selfless love and conviction to make things right and new through the crucifixion, just like the boy's profound act of courage among peers, is for the betterment of others.
Changing a culture takes time, whether it be on a large scale within wider society or within a friendship group at school. Shifting a toxic culture often requires us to lay down our lives for each other, as Jesus did for us. His example gives us the courage to tap into our convictions, especially when our conscience is Christ-like.
The good shepherd is our 'blue print' and as the courageous young school student lays down their reputation and risks scorn and ridicule, we see support of the meek and lowly mirroring Christ's sacrifice on Calvary.
Jump to next article