Five Resource Church leaders share stories and resources
Five Resource Church leaders from across our Diocese tell us about their current activities and the highlights of their roles so far, while also sharing resources for parishes and ministries to use and adapt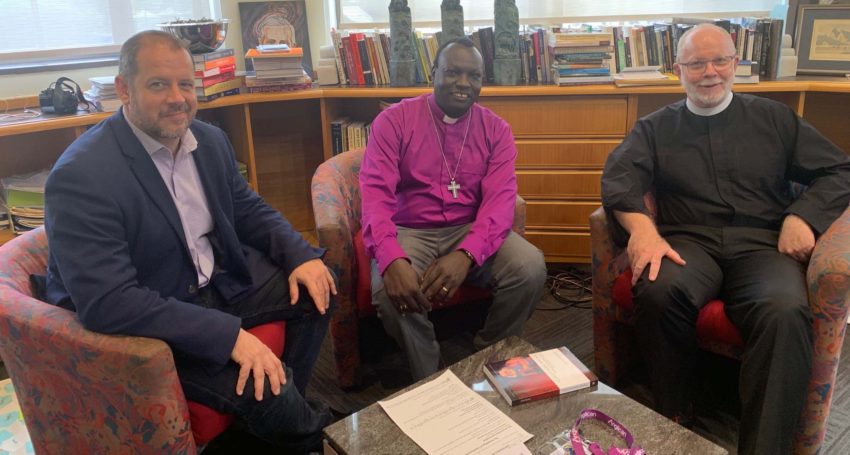 Inspired by a similar project in the Church of England, the Anglican Church Southern Queensland launched the 'Resource Churches' project in 2019 as part of our strategic framework to support parish health and growth. While project plans were inevitably disrupted or necessarily shifted online due to COVID-19 in 2020, Resource Church leaders have been busy with exciting new and ongoing initiatives this year.
The Rev'd Charlie Lacey – Priest-in-Charge and Resource Church leader, St Andrew's, Springfield
When St Andrew's was invited to join the Resource Church project, I initially had reservations about the ability of our church to contribute in any meaningful way. "We're a small church" I thought "and oftentimes we struggle to resource our own ministry." However, being a 'Resource Church' is helping us to shift from a mindset of poverty to one of abundance as we focus, not on what we lack, but on what we can offer.
The Alpha Course has been a regular feature in our church calendar for over four years. Due to COVID-19, all our Alpha Courses have been offered online since March last year. This has revolutionised our thinking around Alpha. We can now run more courses, at different times and for people who may never have been able to join us in person. On our current course, one participant logs on from Columbia! Because of the increased flexibility, we have more emerging 'Alpha leaders' and have decided to make this a primary ministry focus for our church. The need to help people understand the basics of the Christian faith has never been greater. We are seeing people join our Sunday gatherings who have never stepped foot inside a church building before and know very little about the Christian message.
We believe that our growing expertise in running Alpha is something that we can offer as a resource to the wider Diocesan community. Additionally, we have a very diverse congregation – people who hail from every continent, and of all ages, backgrounds and walks of life, as well as people who come from a broad spectrum of denominational backgrounds. Because of the relatively small size of our congregation, we can only hold one Sunday service and so we must find creative ways to accommodate so much diversity. This is another area where we can offer advice and support.
If you would like to know more about anything covered above, please do not hesitate to contact me via charlie@standrewsspringfield.org.au
The Rev'd Stewart Perry – Rector and Resource Church leader, Parish of Robina/Mermaid Beach
The history of the Parish of Robina/Mermaid Beach is one marked with bold and visionary decisions. From the people of St John's, Burleigh Heads seeing the opportunity to plant a new community, through to the establishment of our community's main base in the centre of Robina's CBD. One of the most exciting things for me leading a Resource Church is to build on and continue this legacy of bold and visionary ministry. In coming full circle, it has been exciting to work alongside The Rev'd Eron Perry from Burleigh Heads in recent months, as we discover what we can do 'better together'.
We feel called to champion the idea of 'church done differently', to try new things, even though they don't always 'work', and to look for different ways and mediums of connection. All while holding, in careful tension, the traditions and cultures of our past. One of the most exciting things for me in leading a Resource Church is to be able to provide working examples and shared experiences of learning how to do church differently. We are getting better at understanding what it means to have in-person and online congregations; we are working hard at empowering and equipping the young adults in our church to lead; and, we are aspiring for best-practice op shop, Early Learning Centre and community engagement ministry. We also write our original songs for worship!
Our church is blessed with a number of strength areas developed mostly from learning as we go and trial and error. Church music, liturgical resources, change management, digital ministry, working with young adults, multi-generational worship and connecting with the wider community through entrepreneurial and service-based ministries are some of the areas where we might be able to help resource other parishes. A Bishop once said, "Deep change or slow death", but I've always advocated for the idea that "Deep change without deep care is quick death".
Our ministry team and I would be happy to help explore the idea of church done differently any time. Drop me an email at stewart@robinaanglican.com or call 56188238 any time!
The Rev'd Selina McMahon – Rector and Resource Church leader, St Paul's, Ipswich
One major highlight of participating in the Resource Church project has been the way in which, when a common need that is particularly prevalent in all areas of the city has been identified, all churches in the area are willing to collaborate in order to alleviate the issues. This has seen the formation of the Ipswich Anglican community as a city-wide community, rather than something that merely happens at one brick and mortar church location.
Liturgy is a strength at St Paul's and there are a great number of resources available. We are looking at alternatives for the Daily Office that focus on the different seasons in the liturgical year, utilising items from the UK, New Zealand and Canada, as well as those used by various religious communities. We are hoping to soon make all of this content available on a dedicated website.
From a social justice perspective, there are already plenty of food pantries in the area, so we provide hot meals to people who sleep rough in the city, in collaboration with other local churches. We are looking to spread the net further and are leading the exploration of an ecumenical initiative to provide overnight accommodation for those without a warm bed to sleep in at night – again in collaboration with other Christian churches in Ipswich.
We can assist parishes in advising on the issues/practicalities of setting up a meal kitchen, including what can and cannot be provided, how to meet COVID-19 requirements and so on. We can also assist with variations on resources for different forms of liturgy to help heighten worship, both in church and in the home throughout the Church's year.
If you would like any further information on any of the resources we are currently developing, please feel free to give me a call/drop me a line on 0415 771 345 or via Selina.mcmahon@anglicanchurchsq.org.au
The Very Rev'd Dr Peter Catt – Dean and Resource Church leader, St John's Cathedral
On a beautiful April day, we gathered in the hall of St Paul's, Manly.
Following the morning session of input and working in parish teams, we engaged in our first circle conversation. What were we noticing? How was the process speaking to our spirituality and theology?
Teams from nine Diocesan faith communities are engaged in the Cathedral-based Resource Churches project which aims to enable and develop collaborative capacity. Each community is involved in a process that seeks to allow them to notice what possibilities for mission and ministry are emerging in their context. Part of this 'noticing' is acknowledging that we live in complex times. We are learning that dealing with complexity requires special tools.
'Collaboration' is one of the buzzwords of our time. We know it is a good thing. Most of us want to do it. We also know that it is a challenging thing to develop. To foster that capacity, we need to do some skill development. We also need to recognise the factors in ourselves and in our communities that inhibit its development.
One of the resources participating communities have access to is a suite of videos developed by Dr Neil Preston, an industrial psychologist. Neil has been working with the Social Responsibilities Committee (SRC) for many years to develop our Diocesan capacity for collaboration. The videos explore the characteristics of collaboration, the situations in which collaboration are best applied, and lead participants through the work required to build a truly collaborative team. They also help us recognise some of the disablers of collaboration.
The SRC has a licence to offer these videos to our Diocesan faith communities. Faith communities that are not part of the Resource Churches project are welcome to get in touch to gain access to the videos and to discuss how they might be used in their context. Please email me via pcatt@stjohnscathedral.com.au if you are interested in accessing these video resources.
The Rev'd Adam Lowe – Senior Minister and Resource Church leader, St Bart's Toowoomba
Over the past 18 months, it has been a great joy to serve as a Resource Church leader in the life of our Diocese. In my role at St Bart's, my focus has been in the nurturing of the Resource Church learning community, along with sharing resources in the areas of:
It's been a privilege to share in conversation with other parish leaders, hearing about some of their local opportunities and challenges, and witnessing how resources that we've developed can be of blessing as they're adapted in a different local context. I'm so thankful that it's God's mission in which we share and are partners in the Gospel.
In the coming months, we're really excited at St Bart's about beginning to implement our VISION 2025. We believe that God is leading us to pursue five key mission goals, as we grow our vision to make and mature disciples. We're also really excited for the potential of some of this work to contribute to other local communities. I especially think this will be the case in some of the work we're doing in extending our reach (both ethnically and with regard to accessibility), establishing a leadership academy, and growing our training centre. The team at St Bart's is also looking forward to continuing to share in key areas of children's ministry, digital ministry, discipleship, and our partnership with one of the local Anglican schools.
If we can assist with resources in any of the above areas, then we would be really happy to be of help. You may also wish to explore our:
Training resources and articles on strategy and leadership (you can visit our online hub).
Teaching (e.g. sermons, small group materials, going deeper resources) and children's resources (Sunday School materials, Kids Talks videos, Bible reading eBooks), or our teaching repository.
For any church leaders who would like to chat more about any of the above, please feel free to email me via adam@stbarts.com.au.
Jump to next article