The QCA, our Church and the $2 billion clean energy and jobs fund
"If we partner with others to bring about a common good for all people in our state and nation, we are doing God's work. This is relevant whether we are effecting positive change or enablement for God's good Creation, including God's people," says Social Responsibilities Committee member, The Ven. Bronwyn Pagram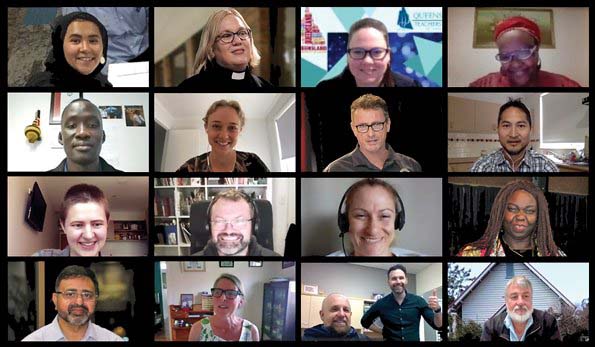 One of the biggest challenges community members and elected representatives wrestle with in respect to addressing damage to the climate is the impact on livelihoods. Real jobs are needed for real people. Ask anyone who works in the energy and associated industries, or in the manufacturing, logistics, farming or tourism sectors, and they will tell you the thing they most worry about is, "Will I still have my job?" Or, "What will I do when the coal-fired power station closes?" Or, "What will I do when the Great Barrier Reef dies?" Or, "What will I do when my skills become obsolete?" Job security is a major issue for those directly and indirectly affected by damage to the climate.
When the Queensland Community Alliance (QCA) began its storytelling initiative in 2019, stories related to these questions bubbled up time and time again. Those stories became the driving force behind the 'Maroonprint for Queensland Reconstruction' that the QCA took to the Queensland Government before the 2020 state election. The QCA also supported the key asks in its recent 2021 Budget Assembly on 31 May.
In between there had been major effort poured into building relationships, telling real stories about real people, building power through local elected representatives and group meetings of unusual partners, and persistent campaign meetings with state public servants, policy-makers and politicians. It was not uncommon to see QCA groups leaning into a prep meeting in the lobby of 1 William Street in Brisbane, comprising faith leaders in a collar or turban, union officials sporting their union tee-shirts, and community and ethnic leaders carrying their briefs.
The asks here were to increase renewable energy investment (addressing climate risk), and to support a just transition for those affected by consequent labour shifts towards secure manufacturing jobs built on clean energy (addressing social and livelihood risks).
Earlier this month, Queensland Premier Annastacia Palaszczuk announced a $2 billion 'Queensland Renewable Energy and Hydrogen Jobs Fund'. This fund will support Queensland's public-owned power generators to increase investment in clean energy and create associated manufacturing jobs. QCA is delighted with this outcome, seeing it as a community-powered win.
The QCA is a self-funded alliance of faith organisations, community organisations, ethnic associations and unions. Member organisations represent some two million Queenslanders, giving the alliance the leverage to gain the ear of government on agreed issues of importance.
So why are faith organisations, including the Anglican Church, involved with the Queensland Community Alliance? Christians see partnering with other community agents of change as a means to embody Jesus' missional approach and love. Jesus always engaged with the person in front of him. He carefully listened to or discerned their need, and then provided direction or healing as was most helpful to them. He sent his followers ahead of him. He taught them to proclaim the good news, bring healing and peace, and speak truth to power whatever the consequences. He taught that "whoever is not against us is for us".
If we partner with others to bring about a common good for all people in our state and nation, we are doing God's work. This is relevant whether we are effecting positive change or enablement for God's good Creation, including God's people.
How can you become involved? The work is not done and will never be done until God's kingdom has come, and God's will is done on earth as in heaven. If you have an interest in advocacy, meaningful projects that affect real people, or simply in supporting your wider community through attending community assemblies that showcase commitment to great outcomes for Queenslanders, there are a few simple things that you can do, including:
Jump to next article