News from an Anglican missionary in Africa
"I am now pretty fit in myself and am spending a few days slacking, on Doctor's orders, except for writing sermons for Holy Week and Easter and then translating them into Chinyanja. Learning the local language has been a trial for me, but I am aware of the immense privilege I have in ministering to the folk," as described by The Rev'd Harold Aldwyn Machell Cox CBE, the great-granduncle of Frances Thompson, in a series of family letters called 'The Budget', which is held in the famous Bodleian Library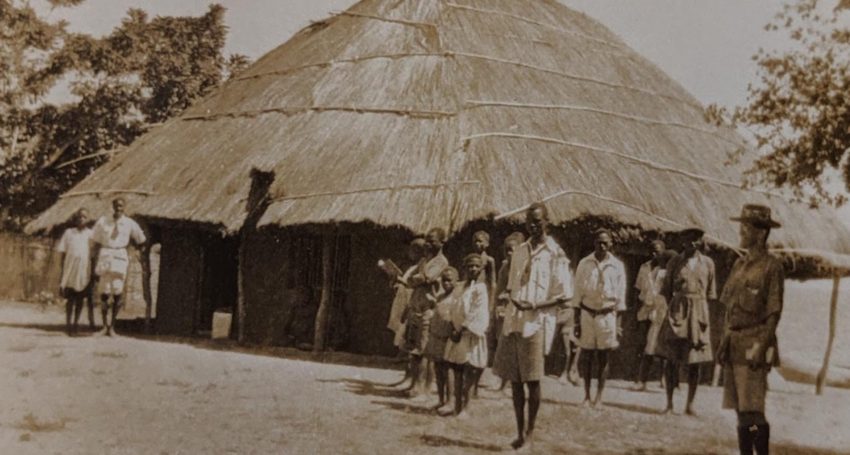 The Mission Hospital,
Kota Kota,
Lake Nyasa,
British Central Africa,
March 1907
Dear Budgeteers,
It is always a great excitement when the mail arrives on the SS Chauncy Maples; a crowd gathers at the lake each time she arrives. I was delighted to receive the latest edition of the Family Budget and read it in bed with a fever and a temperature of 103 degrees. I was so saturated with home news that I quite forgot where I was, and it was with a regular start that I turned over and found that I was lying in a hospital bed in Central Africa. Whether this was due to the fever or the excellence of the letters in our Budget, I leave it to the vanity of its respective writers to decide. I felt quite overwhelmed with the excellence of the letters and was thus inspired to at once begin writing my reply.
I am presently awaiting a hot bath, as my manservant is 'cooking' water for me outside; he has this moment poured it into the bath, so I bid you adieu for the moment.
Half an hour later – I have finished, and I feel much refreshed. I expect you have all heard from Mother that I have been indulging in an attack of Typhoid Fever. I wrote her an exclusively fever letter, so I need not repeat it all here. I have now recovered my appetite and Edward often remarks "mukuta" after a meal, which means "I am comfortably stuffed". It is most realistically visible in the case of little children. Their expansion, notably in Father's favourite region, is remarkable.
I keep having to stop and start writing my letter. Edward has been arranging chair and sheet for a glorious dislocation of my locks after many weeks in the hospital. So, I have at last had a haircut, and the transformation is startling.
As to my hospital feeding, I would regularly drink a little glassful of the concentrated essence of two chickens. The nurse would chuckle over the large pile of empty tins of Brand's Essence of Meat, not to mention gallons of milk. The doctor sat with me from 7 pm to midnight and was regularly summoned with cries of "Milk, please" from the bed. I then moved to the soup and milk pudding stage and now I am on regular grub. I believe that is enough chatter on a forbidden subject of table-talk at home.
I am now pretty fit in myself and am spending a few days slacking, on Doctor's orders, except for writing sermons for Holy Week and Easter and then translating them into Chinyanja. Learning the local language has been a trial for me, but I am aware of the immense privilege I have in ministering to the folk here.
Edward, my new manservant, is an old hand. He is a fine big strapping chap and quite capable. He was a servant at Bulawayo before he came to our Mission. He knows his work about one's room (housemaid's work), but we will see what he is like on ulendo (journeys). I hear he is a good hand at making bread and can cook, which was the reason I gave Crispin the chuck and took Edward on.
I am looking forward to travelling again after our Easter celebrations. On ulendo one's servant has plenty to do. When we arrive at a village, he sees that all one's things are stowed away. He gets firewood (buying it with salt as currency) and he makes a fire, because I am generally longing for a cup of tea. One cannot drink the water in these villages without boiling it first, so I drink a great deal of tea.
Then he goes into the village and buys mkuku (hens – three for eight pence) and eggs. Both are a good deal smaller than they are in England. I generally have a fowl hot for dinner and eat it cold at lunch next day. Edward cooks vegetables, hens, eggs and either bread or scones. He undoes and erects my folding table and deck chair. He undoes my bedding, erects my mosquito net and gets me water for washing.
After celebrating Holy Communion and preaching a sermon in Chinyanja, I travel next day to another village. My manservant packs all my things, ready for the carriers. He himself carries nothing except my hurricane lamp, a most valued possession. For all this one's manservant gets four shillings a month if he is a raw hand. Edward is going to have six shillings as he is an old hand.
By the bye, the Literary Supplements are terribly yet inevitably tantalising (I am sure the other Colonial Contributors will agree with me). There are no new books out here. Books as Christmas presents would be gratefully received and much appreciated.
I should like to point out to all Budgeteers that the postage hither is only one pence, and that we are favoured here at Kota Kota by a weekly mail, so that one can usually receive a letter from England in about six weeks.
The papers most acceptable here are illustrated ones. I get Punch regularly from my friend, The Rev'd Curwen at Workington. A little while ago it arrived very irregularly; I wrote, suggesting to Curwen that it had probably been extracted en-route by envious post office officials. It now arrives regularly, encased in the outer covers of The Church Times! At first, I was most disgusted, thinking it was an additional copy of The Church Times previously sent (many thanks for your regular copy Edmund!), but my sorrow speedily turned into joy.
I enclose a copy of a snapshot of myself, taken just after I was allowed to dress for the first time. Note how I am weighted down by a seven-week growth of hair, which, I am pleased to say, has now been removed. This photo is to be circulated once, not abstracted, and then destroyed.
I am grateful for my health, full of hope for the future, and I look forward to more letters from home.
Your well-beloved brother, Aldwyn
Author's note: The Rev'd Harold Aldwyn Machell Cox (known to the family as 'HAM') is my great-granduncle, brother to The Rev'd Edmund, who wrote about Zeppelin bombs landing on his church in 1916. I have combined content from two of Aldwyn's 1907 letters in the writing of this feature. He was frequently in the Mission Hospital with malaria (all historical details about hospitals and going traveling 'on ulendo' are historically accurate). Aldwyn worked for the UMCA (Universities Mission to Central Africa) from 1906 until his death in 1960. He was awarded CBE, Commander of the British Empire, in the 1940s for his work in Malawi.
Jump to next article