Anglican prayer beads: history and resources
CHAC's Maria Thompson and Year 11 students Alice and Charlize tell us about the history of prayer beads and how they have embraced making unique Anglican prayer beads as they explore spirituality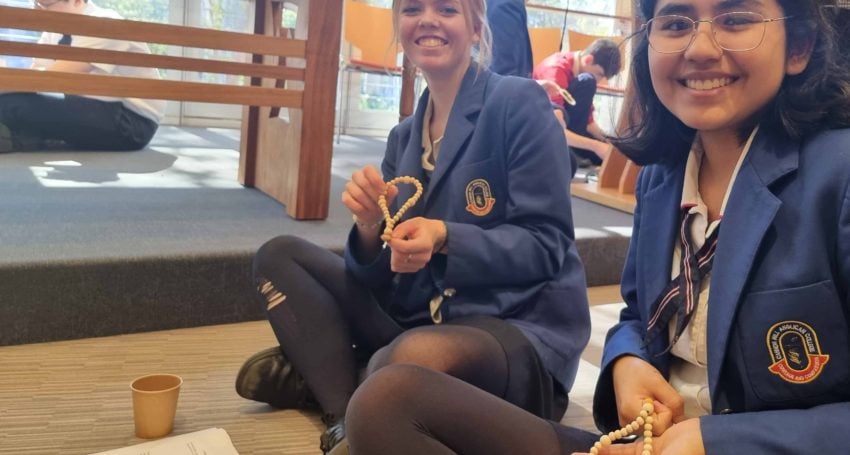 Cannon Hill Anglican College Year 11 students have been exploring how they can embrace spirituality in the modern world. One of the ancient spiritual practices they have enjoyed learning about is prayer beads, including the history of how different faith traditions have used beads for meditation. They have subsequently enjoyed making Anglican prayer beads and writing their own prayers to pray on the beads.
Maria Thompson – Head of Faculty, Life and Faith
"We're all stressed, Miss!" said some of my students one day.
"Well, I think I have something you can try," I replied.
Year 11 Life and Faith students at Cannon Hill Anglican College have recently been focussing on spirituality. They have investigated various spiritual traditions, including First Nation's Dadirri practice and Franciscan spirituality – St Francis of Assisi and St Clare of Assisi are the patron saints of the College – and how we can embrace spirituality in our modern world. It is fine to know the theory, but it is in the doing that spirituality rests. Therefore we have been doing, and one of our initiatives involved students making their own set of Anglican prayer beads and then composing their own individual prayers for them.
Anglican prayer beads arose within the contemplative tradition of our Church as a tool or device to support prayer life. Many Protestant denominations have objected to the strong Marian nature of the Catholic Rosary; however, the practice of counting prayers by using beads, stones or simply knots in a cord is embraced by many faith traditions and pre-dates Christianity. The Buddhist or Hindu Mala (Hindi for 'garland') string is traditionally formed by 108 beads, with 108 being a sacred number. The Islamic Subha (which comes from the word meaning 'to glorify God') contains 99 plus one beads, upon which the 'names' of God are said. Catholic tradition teaches that St Dominic, in the 13th Century, was the first to teach and preach the Catholic rosary (from the Latin for 'rose garden') as a form of prayer. For an illiterate population it was a way for them to imitate the devotions of the monastic practices of the Psalter and the Liturgy of the Hours.
Anglican prayer beads are shorter than their Catholic cousin, which contain 59 beads. The Anglican beads total 33 – the life of Christ. They commence with a cross, not a crucifix as in the Catholic tradition, to remind us of the Grace of God. The first bead is a little larger than the rest and is the Invitatory bead and functions to call us to prayer. Following on from this is the first Cruciform bead; there are four of these and they symbolise the cross of the Christian faith, and are also reminiscent of the four cardinal virtues (prudence, justice, fortitude and temperance). They are there to remind us of our connection to God and God's creation, representing the four seasons (spring, summer, autumn and winter). Between the cruciform beads are four sets of seven 'weeks' beads. You can see the symbolism here: seven days of creation, seven seasons of the liturgical year, the seven sacraments.
With Anglican prayer beads, there are no prescribed prayers. There are many available examples and pre-written prayers for Anglican prayer beads, but in the classroom we composed our own. It is not the easiest thing in the world to do nor can you do it quickly (which is the point), but draws you into reflecting deeply about what to pray about. It is a rich experience and well worth the time. And, as life changes happen, prayers can be changed to follow suit.
When you have made your own set and composed your prayers, you have a uniquely-you prayer support device that gives deeper resonance to focussed time with God.
Alice – Year 11 student, Cannon Hill Anglican College
Making these prayer beads with my peers was an eye-opening experience, which I thoroughly enjoyed. Being able to personalise a set of prayers that were customised for each of us was valuable, as each of us could keep those we love and care for in mind.
The beads have become a symbol of togetherness in our grade, as every one of us had the opportunity to create them. We truly enjoyed the activity, and many of us discovered spiritual insights within ourselves.
Charlize – Year 11 student, Cannon Hill Anglican College
Although I am not an overly religious person, making the prayer beads was a meditative and reflective experience which allowed me to sit with my thoughts and dive deeper into what I want to achieve and into my true desires.
Writing the personal prayers and making the prayer beads was a mindful, calming and eye-opening experience which allowed me to understand myself on a deeper level.
Thank you to all of Year 11 at CHAC, Brother Nathan James (CHAC Chaplain), Mrs Desiree Duvenage and Mrs Marion Rutter for assisting.
Tips and resources for making and using Anglican prayer beads
This YouTube video is a helpful resource for knowing what to source and how to make Anglican prayer beads.
Tip: to source affordable beads, check out op shops and Grandma's drawers.
This is a helpful resource to download, print and distribute, outlining the steps for using Anglican prayer beads.
Jump to next article