Q&A with Wiradjuri man and St John's College student, Eden Monypenny
Meet Eden Monypenny and find out about his studies, favourite scripture, what Reconciliation and NAIDOC Week mean to him, where he does his best thinking and what he enjoys doing in his free time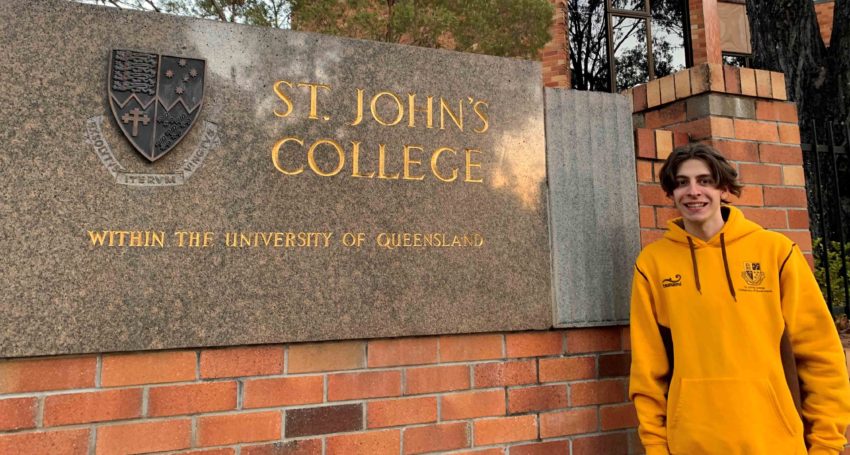 Eden Monypenny is studying at QUT and lives at St John's College within the University of Queensland. He is a proud Wiradjuri man, whose Christian faith connects with Country, including his ancestors.
Where do you currently live and where is your Country?
I currently live at St John's College within the University of Queensland. My Country is Wiradjuri, in NSW.
What is your current Anglican Church Southern Queensland role?
I am a university student living at St John's College.
What projects and activities are you currently engaged in at St John's College?
Currently, I am using my sound and lighting skills and experience towards the 'One Act' performance evening at St John's. I am studying a Bachelor of Fine Arts (Technical Production) at QUT.
What has been a highlight of your involvement at St John's College so far?
My favourite memory of St John's was at the beginning of the year when the college invited local Elders and dancers to come perform a traditional smoking ceremony and Welcome to Country to mark the beginning of the study year. It was amazing to start the year off this way with the college community and to see everyone's involvement.
What does Reconciliation mean to you?
To me, Reconciliation is bringing all peoples together as one in Australia, to acknowledge the important place of first Australians in our national story.
Why is it important for Christians to engage in Reconciliation?
One of the most important things God did for us was to forgive us for our sins, and there is a lot we can learn from this forgiveness that can help First Nations peoples move forward in Reconciliation with non-Indigenous Australians.
This year's Diocesan theme is 'Being Together: Nurturing Relationships'. What are some practical ways that we can communicate with each other when we are not in conflict and build trust so we have strong foundations when inevitable differences arise?
Relationships are core to who we are as Aboriginal peoples. Learning how to build relationships with us as First Nations peoples, and with our local communities, is the heart of how we can learn to build strong and equal relationships in order to uplift our communities and eradicate racism in Australia.
Why is NAIDOC Week important for our First Nations peoples?
NAIDOC Week is about celebrating Aboriginal and Torres Strait Islander peoples, cultures and histories. It is our week to celebrate.
How does your faith inspire you and shape your outlook, life choices and character?
Being raised as a Christian, God and spirituality have always played an important role in my life. My understanding of God, and spirituality, is influenced by our relationship with ancestors and Country.
What is your favourite scripture and why?
Jeremiah 29.11 – "For I know the plans I have for you," declares the Lord, "plans to prosper you and not to harm you, plans to give you hope and a future."
This is my favourite Bible quote as it gives hope and trust in the Lord, and of his plans that will arise in the future.
What person of faith inspires you the most and why?
Mother Teresa was a loving, kind person who cared for people on the very margins. I think she is an inspirational person of faith we can all learn from.
What is the kindest gesture you have ever received or witnessed?
I see gestures of kindness every day between my family and friends and strangers, too. The small gestures sometimes have the greatest impact. The kindest gesture I witnessed recently was a group of St John's College students giving presents and letters to a fellow student whose grandparent passed away.
What is the best piece of advice you have ever received and who gave you this advice?
My great-grandfather (my Mum's Pop) said, "Always do what is right", which was one of the last things he said to me before he passed away a few years ago. He was a wonderful person and what he said always sticks with me.
What do you do in your free time to recharge and relax?
I enjoy working on my car, filming and photographing and enjoying time with my friends and family. I love occasionally going to the beach to relax and reflect.
If you found yourself on a deserted island, what three things would you choose to have with you?
A lighter so that I can create a source of heat to cook and keep warm, a swag to sleep in and keep unwanted insects out, and a filtration device to drink water.
Where do you do your best thinking?
Where there is water, such as the beach, as I can zone out to what's happening around me and focus on the water, which gives me thoughts and ideas.
What's your best childhood memory?
Hanging out with my neighbourhood group and making tracks for mountain biking.
If you are having a bad day, what do you do to cheer yourself up?
Catch up with friends or go for a drive listening to my favourite music.
What makes you nostalgic and why?
When I meet up with my friends from boarding school, I remember all the fun memories we made and the culture of boarding.
Jump to next article