On the prison chaplaincy frontlines
"Stan was a stoic and grumpy old inmate whose head was always downcast, reading, writing, or doing crosswords. Whenever I drew close to the table at which he sat (usually alone), he'd make some disparaging remark about the uselessness of what chaplains stood for," says prison chaplain Ken Collins from St Mark's, The Gap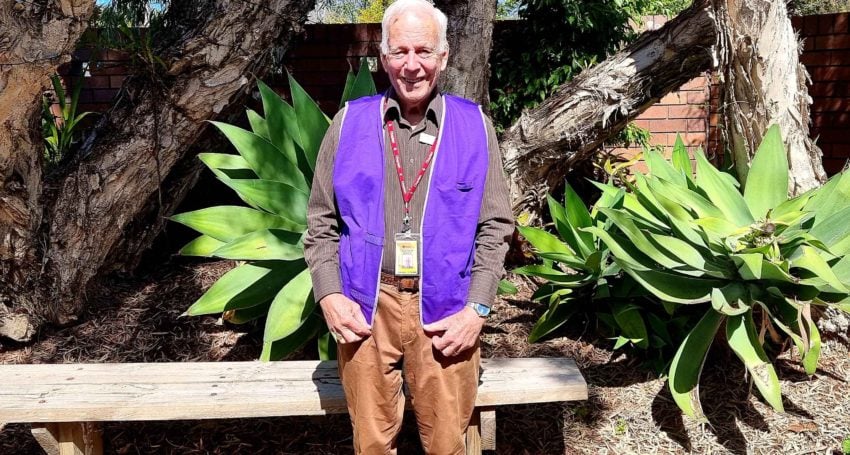 Stan* was a stoic and grumpy old inmate whose head was always downcast, reading, writing, or doing crosswords. Whenever I drew close to the table at which he sat (usually alone), he'd make some disparaging remark about the uselessness of what chaplains stood for. One day, I approached him from behind and saw that he was stuck on a crossword. I said to him, "Can't get it out, eh?" I then proceeded to help him fill in the blank spaces and, suddenly, the ice melted. I had gained his respect and confidence.
How grateful I am to God who, in seemingly inconsequential ways, provides inroads and opportunities to develop deeper conversations with those whose life actions have led them to be incarcerated, often judged and rejected by family and society. Prison ministry is a privileged one, providing pastoral and spiritual care, irrespective of the prisoner's condition, faith background or belief, social position, strengths, weaknesses, ethnicity or crime. We respect who they are every day of their journey to assist in their development.
My calling to this ministry commenced when I retired. I accepted a part-time position at the Queensland Corrective Services (QCS) office in Chermside, employed on weekends to follow up and care for prisoners allowed weekend leave. This work was to be a great grounding for when I entered prison chaplaincy. After attending an information session and interviews, I then undertook the Diocesan and QCS security checks before finally entering the Wolston Correctional Centre for the first time.
On my first day, a QCS officer greeted and led me through the necessary orientation program, safety requirements, various codes, reportable offences and so on. Then my fingerprints were taken for biometrics, enabling my access both into the prison and to office keys. The officer showed me around the centre, through the various departments and many heavy steel doors monitored by cameras and operated electronically from a central position. Finally, I was taken to the Chaplains' Office and handed over to my mentoring chaplain and ready to engage with the prisoners – I still receive a warm greeting from that officer whenever we meet within the centre.
I still recall those first couple of hours full of apprehension when my mentor, after showing her methodology in approaching and conversing with prisoners, encouraged me to proceed amongst the more than 60 prisoners in the secure unit to make my own connections. I believe my prayers and those of my supportive parish family were answered that day, as suddenly I became deeply involved in a conversation with an inmate, all apprehension gone. Thank you, God.
As we moved through the various secure units, the cacophony of noise, from people's voices, rubbish bins being collected, people lining up for medication, and an officer pulling someone into line, was overwhelming. I realised later just how much of an effect this would have on the minds of inmates as they experienced such intrusive and constant noise every day. It was a relief when the first muster of the day was called at 10.30 am and we retreated to our office for a coffee and debrief about my experience of those first few hours.
Over the next seven weeks this would be the normal format as a probation chaplain. On some days I would be placed in the care of a chaplain from a different denomination, exposing me to another approach of ministry, and enabling me to formulate my own style and communication technique. My previous experience of visiting inmates in their homes helped immensely in my formation, realising early on that there was no 'one-size-fits-all' approach, as everyone I talked to is dealing with issues related to their own personal situation.
The twenty-second of September will mark five years as a prison chaplain, serving every Thursday from 8 am to 3.30 pm, whilst conducting three Chapel Services on every sixth Sunday. During these Sundays I have realised how many of the men have Christian backgrounds and are putting their faith to good use, including reading scripture daily and being involved in joint Bible study groups. During Chapel they all sing with feeling and passion and it is so heart-warming to be in their presence. All our services are of an ecumenical format, with an Anglican Eucharist celebrated once a month.
Prison chaplaincy extends within and outside a correctional centre. While we work among those incarcerated, there have been times when arriving at the centre, I have been confronted by crying or anxious relatives coming to visit their loved one or friend for the first time. The experience is quite daunting, filled with mixed emotions about the impending visit, regarding both the person and the physical environment. Opportunities arise to express the Grace of God, comforting and helping to prepare the visitor for a positive visit.
Who benefits from prison chaplaincy? I ask myself this regularly as I witness the revolving door of inmates making mistakes after release and returning for another sentence period. When they are jailed after reoffending, many look at you as if having let you down. As chaplains, we do not judge people's actions. We provide encouragement to start again, amend acknowledged wrongs, seek to become better people, and take advantage of the opportunities to engage in the rehabilitative and other education or spiritual courses available in the centre.
The issue of reoffending is often in the media; however, if a person has been incarcerated for 20, 10, or even five years, the world has changed considerably by the time they are released, making them vulnerable to mistakes and breaking parole. Most need assistance in transitioning back into society and coping with those changes. We are embarrassed at the number of requests we receive for accommodation suitable for parolees, only to say we are sorry that we do not have any suitable placements available.
Another factor for reoffending is caused by their institutionalisation and associated inability to make appropriate decisions for themselves. There is a need when re-entering society for mentors to help guide individuals in making appropriate and wise choices. I wonder if your parish might consider a ministry to assist a prisoner during the transitional period in any of the above areas?
I ask our Diocesan family to pray for all involved in the corrections space, including prisoners, policy makers, guards, and chaplains. On tough days, the prayers of others helps to guide and carry us in our uniquely challenging and rewarding work.
Editor's note: If you would like to volunteer in the special ministry area of prison chaplaincy, please email pmc@anglicanchurchsq.org.au.
*Pseudonym used.
Jump to next article