Palestinian Christian held by Israeli military is released on bail
An Anglican Palestinian student, Layan Nasir, who was arrested last month has been released from prison on bail, the Dean of St George's College, Jerusalem, Canon Richard Sewell reported recently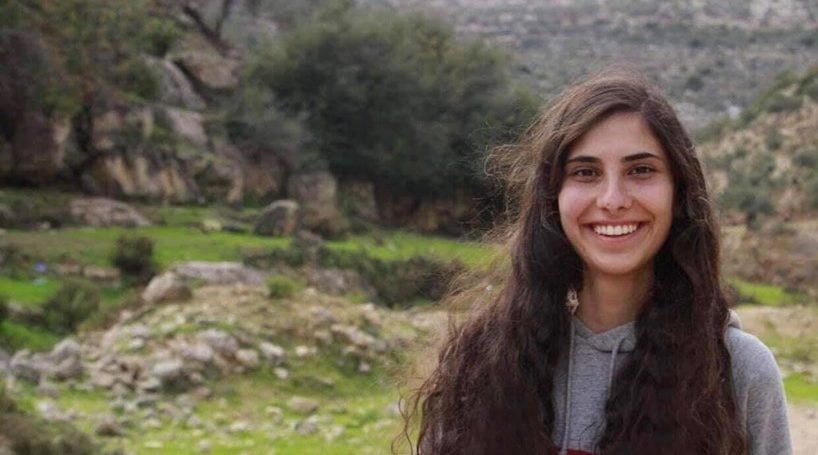 A Palestinian Christian Student, Layan Nasir, who was arrested last month has been released from prison on bail, the Dean of St George's College, Jerusalem, Canon Richard Sewell reported on Friday.
Miss Nasir, a 21-year-old student who is studying nutrition and dietetics at Birzeit University, and is a parishioner of St Peter's Anglican/Episcopal Church, Birzeit, was arrested by the Israeli Security Forces on 7 July. The 5.30-a.m. raid on her family home involved seven soldiers and 12 military vehicles. She was charged with membership of the Democratic Progressive Student Pole: a student union that the Israeli government has designated an "unlawful association".
She was interrogated at Ofer military prison, and transferred to Damon military prison, where she and seven other female students had been awaiting trial. More than 70 Birzeit students were being held in Israeli prisons for expressing their opposition to Israel's treatment of Palestinians — without the use of violence, it is believed. It is not known whether any others have been released.
The trial was due to take place on Tuesday of this week, but was put back for a further six weeks. According to the United States-based news source Mondoweiss, the indictment-document list includes assisting new students in purchasing low-cost stationery and leading students in environmental activities.
Canon Sewell wrote on Twitter on Friday morning: "Layan was released on bail last night to fight her case outside prison. The family are so relieved and grateful for prayers, advocacy and solidarity. The struggle continues."
Miss Nasir's church describes her as "a remarkable young woman with a calm demeanour, tender spirit, and incredible potential. Layan was raised in a devout Anglican family to live her faith in whatever challenges may come in life."
The trial delay was a further blow to the family, who were deeply upset, Canon Sewell said on Tuesday.
A petition to the US government on the website change.org has called for the release of Ms Nasir and all the other detained students. It declares: "The freedoms of expression and peaceful association are fundamental, universal human rights. We call on our elected representatives and those in authority within our government, to demand and pressure the Israeli government and military forces to immediately release Layan and her fellow students."
Birzeit University reported the increased Israeli aggression against its students on 5 August, including the mass arrest of 14 students on 7 July. The violence was neither new nor unprecedented, it said.
It called for international organisations to "take a stand against these severe human rights violations and to raise awareness of them worldwide, exposing these practices that target our students and academics, and hold the occupation authorities accountable to ensure the sanctity of higher-education institutions and protect academic freedoms and human rights".
Miss Nasir's father had told the Church Times on Wednesday: "We are distressed and concerned at the way we have been treated when our daughter is completely innocent. We are deeply concerned for our daughter's welfare. But we will fight on for justice."
First published in the Church Times on 25 August 2021. Visit the Church Times website to subscribe today.
Jump to next article