Tips for reducing clothing waste
"We know that what we are doing now, and will do in the future, is contributing greatly to the circular economy and the environment, even in ways we may not be able to see directly right now," says Year 10 Hillbrook Anglican School student Ella Zeeman, while offering tips for families and students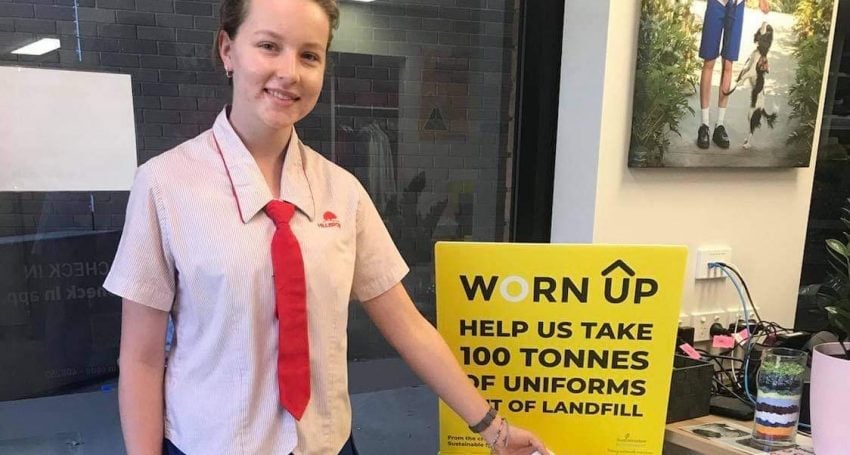 Hillbrook is extremely well progressed in terms of contributions to sustainable community actions. We have undertaken many projects that have resulted in notable positive environmental changes and I'm so grateful to have the chance to be a part of this. We've also won the Brisbane City Council WasteSMART Schools Award for the last two years in a row.
Some of the projects undertaken at Hillbrook so far include:
A four-bin system, consisting of the conventional landfill and recycling bin, as well as bins for compost and soft plastics – these hubs are in place all over the school.
Most of our energy being solar-sourced – we currently have 496KW of solar panels.
A fully compostable packaging tuckshop.
Conducting regular bin audits.
Regular creek clean-ups.
Our most recent substantial addition of creating an outlet for students to recycle their old uniforms through an organisation called Worn Up.
Together with another student, I participated in the Lord Mayor's Young Environment Leadership Network (SELN) Project. Through this project I learned some mind-boggling facts about clothing waste in Australia, and the world.
Did you know that on average, Australians purchase 27kg of clothing and subsequently dispose 23kg of this into landfill every year? As students, our most commonly worn and used items of clothing are our school uniforms. With the demand for new uniforms or new components of the uniform each year, we end up with a lot of clothing waste as a side-product. Hillbrook acknowledged this problem and we decided to take action and come up with a circular solution.
We cleared out all the excess stock of unsold old uniforms and asked students to bring their old school uniforms (not shoes…yet) to school. We packed up these uniforms into over 10 boxes and sent them off to Worn Up. From there, the textiles are sorted, cleaned, processed, and then remanufactured into purposeful items such as desks, dog beds and cushion inserts.
This process of clothing disposal is in alignment with concepts of a circular economy, opposing the conventional, linear method of textile use and disposal –buy, wear (or not, really) and then throw away.
We now have a bright yellow "Worn Up" collection box in our Uniform Shop and students are encouraged to keep bringing in their old uniforms so they don't end up in landfill.
Participating in this thrilling program has helped Hillbrook progress even further in terms of achieving sustainability goals and engagement.
From here, Hillbrook still has much to do and we will continue to pursue new ideas, projects and challenges with excitement and enthusiasm. We know that what we are doing now, and will do in the future, is contributing greatly to the circular economy and the environment, even in ways we may not be able to see directly right now.
Our next projects include the addition of shoe recycling and working towards sourcing our uniform's materials through non-virgin materials (those with a previous life or that have been recycled).
I am always looking for ways I can introduce circularity into my own life.
Here are my top tips for reducing clothing waste:
Purchase clothing from sustainable brands where possible.
Buy less and keep your clothing for longer – it's simple – buy what you will wear! Buy things of quality that you know you will wear and keep for a while. Quality over quantity!
Purchase second-hand clothes – you never know what you might find in a thrift store. It's cheap, it's sustainable and it's funky…give it a go!
Be creative with your 'unwearable' or old clothes – got a hole in your jeans? Sew them up or make them into something new – a cushion, a skirt, a bag, a headband, anything!
Practise dropping old clothes to clothing bin recycling points (such as at H&M, Zara, goodwill/second-hand shops, etc.).
Jump to next article