Nativity story told through stunning dot art on new Cathedral Shop Christmas cards
The Cathedral Shop has commissioned Kuku Yalanji artist Lalania Tusa to design new Christmas cards, depicting the nativity story told through richly symbolic ancient dot art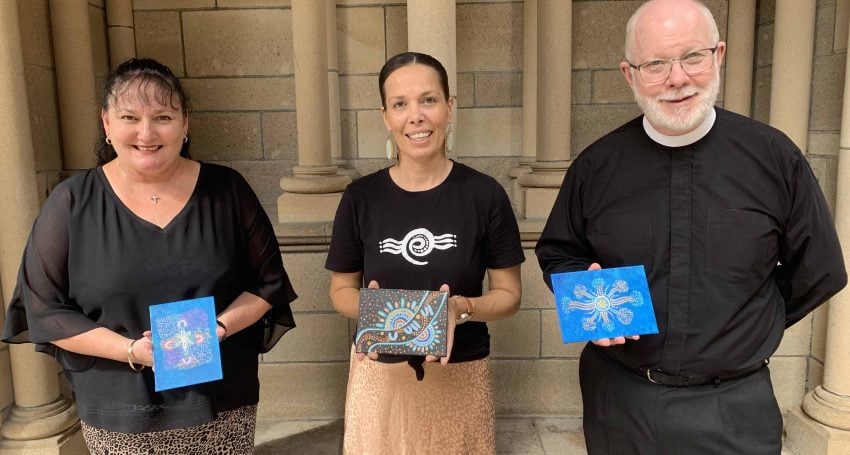 The Cathedral Shop has commissioned Kuku Yalanji artist Lalania Tusa to design new Christmas cards, depicting the nativity story told through richly symbolic ancient dot art.
Known by many in our Diocesan community through her Anglicare Cultural Support Worker role, Lalania Tusa said that the highlight of the painting process for her was the opportunity for reflection in the lead up to Christmas.
"The best part of painting the cards was being able to bring my own spirituality and culture into one and reflecting on the nativity of the birth of Jesus and the time of giving that is Christmas," Ms Tusa said.
"Dot art is a special form of storytelling because it encompasses a range of forms depending on your Nation.
"Each First Nation has different forms, meanings and symbols, and being a rainforest person, my art strongly reflects the rainforest.
"I also seek to respect my ancestors through my art."
Each year, the Cathedral has a range of Christmas cards available for purchase and online, in packs of 10 or as single cards.
The cards generally feature images taken around the Cathedral, including many of the large well-known cardboard nativity sculptures.
This year, Ms Tusa's custom-designed cards are a special addition to the Cathedral's existing gift card collection.
The three card designs are named 'Star of Bethlehem', 'Star of Bethlehem on Country' and 'Journey Line of Lord Jesus', and each card is accompanied by a story explaining the symbolism.
Cathedral Warden Helen Wootton, who organised the commissioning of the artwork, said that she is thrilled with the designs.
"I am delighted with Lalania's Christmas cards because they give a different perspective to the nativity story, while also helping us to understand how First Nations peoples record stories through their art," Ms Wootton said.
"We are pleased that the Cathedral's engagement of First Nations businesses is aligned with the new ACSQ Innovate Reconciliation Action Plan, which includes even stronger procurement actions.
"We look forward to engaging with other First Nations artists and craftspeople in the procurement of Cathedral Shop products."
Cathedral Shop Manager Ann-Marie Reynolds said that the exclusive and affordable cards have wide appeal.
"Lalania's Christmas cards are beautiful artwork – so unique and colourful," Ms Reynolds said.
"They are the perfect cards for every family member and friend as they are so different, while also being reasonably priced especially for original artwork."
The stunning new cards will be sold both in-store and in the online shop and will cost $1.00 each, with packs of 10 sold for $8.00.
Purchase your Christmas cards in-store at St John's Cathedral on Ann Street or online.
Jump to next article