Coomera Anglican College community celebrating Christmas with creativity
"The Creative Art Hub is a group of Years 7 to 10 Coomera Anglican College students who love to make and create. This year we took the next step to transform our passion into a small business using entrepreneurial thinking," says Year 7 Coomera Anglican College student, Chloe Henry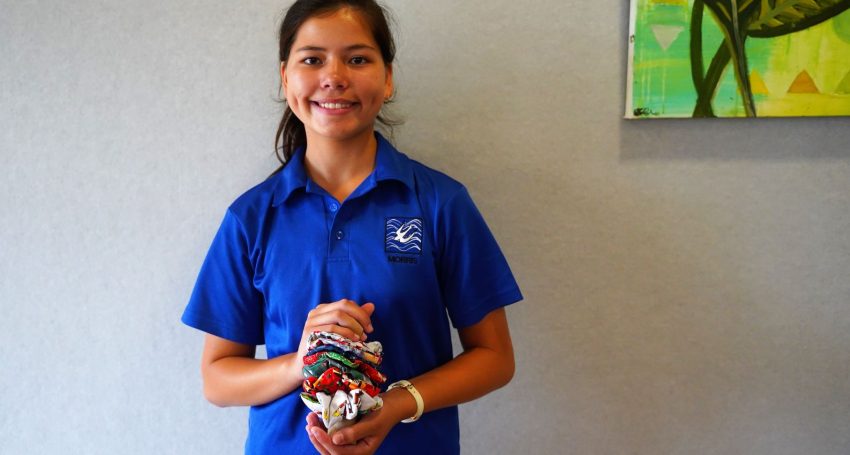 The Creative Art Hub is a group of Years 7 to 10 Coomera Anglican College students who love to make and create. This year we took the next step to transform our passion into a small business using entrepreneurial thinking. The Christmas Catalogue that we are distributing to school staff showcases five young entrepreneurs and presents the first large-scale opportunity to sell to the wider community. Catalogue products include crocheted water bottle holders, custom Christmas cards, beeswax wraps and oil painting commissions.
I joined the College's Creative Art Hub this year. I have had lots of fun and made new friends along the way in this co-curricular activity. The Hub is run by two enthusiastic and creative teachers, Ms Franks and Ms Howard, who put a lot of time into mentoring us. The Creative Art Hub helps me and other group members create business plans and structures for our small businesses. We went through a process of ideation, market research, branding and marketing, as well as making of the products.
Starting in Term 3, each student created something for either personal use or the Christmas Catalogue. Many students chose different art styles, ranging from crocheting and sewing to pottery and ceramics. I decided upon sewing facemasks and scrunchies. I did most of the making at home, using the Creative Art Hub as a space to brainstorm ideas. I made and sold masks during the period of COVID-19 mask-wearing. In addition to making masks, I also made scrunchies, which was my original idea. I am very happy that I had scrunchies as a back-up product because (luckily), we don't have to wear masks at present.
Finally, by Term 4 everything was finalised and projects and pieces were ready to be photographed for the Christmas Catalogue. We learnt about how to style a photoshoot and how to use the best camera angles and settings to display our products and make them appealing to buyers. The Christmas Catalogue has a wide variety of products for selling, including cards, crocheted items, masks, scrunchies and artworks. Even though masks are not in high demand at the moment, I decided to make masks in Christmas fabrics just in case. I also made Christmas scrunchies to adapt the product to the Christmas season. The products in our catalogue were sold to College staff, so we learnt about receiving and filling orders.
I enjoy making and sewing different things and using the Creative Art Hub for brainstorming ideas and planning the selling and marketing. I think that the Creative Art Hub is extremely helpful and so much fun, not only for me but for everyone involved in the program.
I would like to give a shout-out to Ms Franks and Ms Howard for their amazing help and hard work supporting the Creative Art Hub. I thoroughly enjoy the relaxed and open atmosphere of the Creative Art Hub and will definitely continue as a Hub member next year.
Jump to next article