Speaking publicly about science? "I'd clench my buttocks" says bishop
UK survey finds clergy interested, but not ready for scientific debate in public. Research conducted by Equipping Christian Leadership in an Age of Science found a "disconnect" between personal enthusiasm for science and confidence in discussing it in the public domain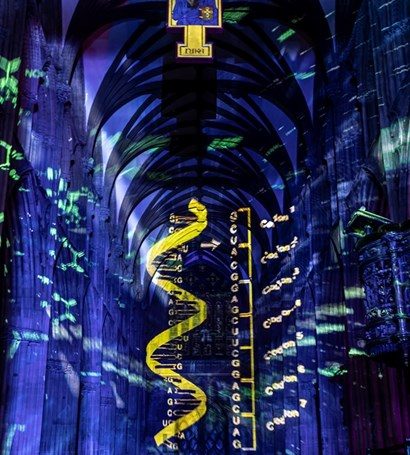 Clergy are interested in science but lack confidence discussing it in public, a new report suggests.
The research, conducted by Equipping Christian Leadership in an Age of Science (ECLAS), surveyed 1100 clerics, mostly from the Church of England, and interviewed 32 senior church leaders and educators.
Most church leaders surveyed (91 per cent) said that they were having conversations about science, including climate change, evolution, and the origins of the universe; 85 per cent had researched, read, or watched a TV programme on science in the past year. But the report found a "disconnect" between personal enthusiasm for science and confidence in discussing it in the public domain.
The Bishop of Oxford, Dr Steven Croft, who co-chairs the Anglican Communion Science Commission (News, 28 May 2021), welcomed the findings, which were published last week. He said on Tuesday: "The report underlines both a sense of the importance of the Church engaging confidently with the sciences, and that many clergy feel out of their comfort zone and poorly equipped in that dialogue. However, there is very good news in the report that personal connections, training, and encouragement can lead to more positive engagement."
The paper, Building Enthusiasm and Overcoming Fear: Engaging with Christian leaders in an age of science, was written by Dr Lydia Reid with concluding remarks by the Principal of St John's College, Durham, the Revd Professor David Wilkinson, who is the project co-director at ECLAS.
Summarising the findings, Dr Reid said: "One of the key observations to emerge has been that, despite the relationship between science and religion being framed as one of 'conflict' in the media, this was not the prevalent view among the church leaders and educators I surveyed and interviewed. Indeed, many church leaders were enthusiastic and complimentary about science, viewing the relationship as one of 'integration' or 'dialogue'.
"Nevertheless, the conflict thesis had framed the way in which church leaders related to science — with expressions of fear and uncertainty being reported by church leaders, and in the clear omission of science topics in ordination training in a UK context."
The report identifies the "conflict thesis" of the interaction between science and religion as being upheld by the media, but found that only 0.2 per cent of clergy saw the relationship in terms of "conflict" — compared with 51 per cent who saw it as "integration", and 45 per cent who saw it as "dialogue".
Professor Wilkinson writes: "The stubborn existence of the conflict model alongside its use in public discourse by celebrity scientists puts church leaders immediately into a defensive posture."
Asked by the researchers, "Would you take part in a local radio interview on science and Christianity?" one anonymous Church of England bishop replied: "I'd run a mile!" Another bishop responded: "I'd clench my buttocks!"
Professor Wilkinson, who has a doctorate in theoretical astrophysics, writes: "We should not neglect the power of senior church leaders modelling an engagement with science that is not characterised by fear. Fear and hesitancy about science from senior church leaders has a trickle-down effect eroding confidence in clergy and laity."
The report identifies pre-ordination training as crucial to giving clergy the confidence to engage with science in the public domain. ECLAS runs a "Science for Seminaries" programme to encourage the integration of scientific topics into theological education.
Dr Croft welcomed this work, and said: "I would encourage dioceses to look carefully at what is offered through CMD, and ensure that confident engagement with science is on the agenda."
The full report is available in the most recent edition of Zygon, an academic journal focused on the interactions of religion and science.
First published on Church Times on 18 February 2022. Visit the Church Times website to subscribe today.
Jump to next article