Community of The Way members cook and distribute 50 hot meals to rough sleepers during the recent flood emergency
The Community of The Way rose to the challenge during last week's flood emergency, cooking 50 hot meals for rough sleepers despite a power outage at their St Francis College base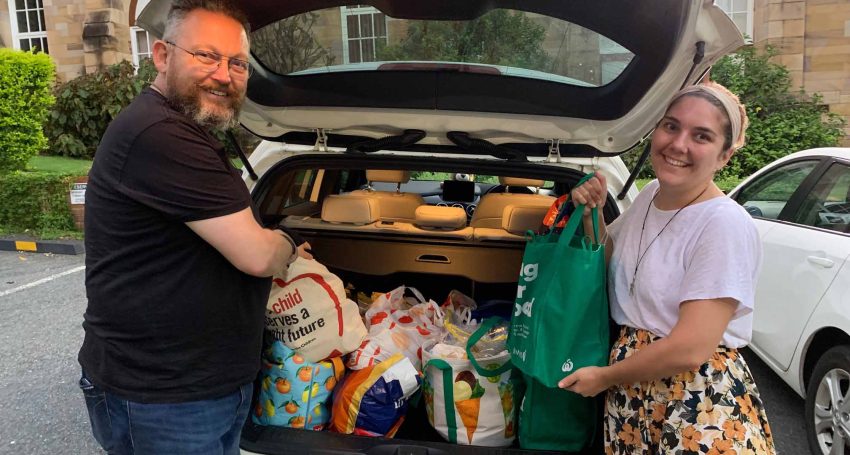 The Community of The Way rose to the challenge during last week's flood emergency, cooking 50 hot meals for rough sleepers despite a power outage at their St Francis College base.
Three community members, along with their new chaplain John Rolley, cooked the meals on camping stoves and barbeques at Old Bishopsbourne in what was to become a four-day blackout.
Community of The Way member Stacey McCowan said that some of the grateful recipients had not eaten for several days because their usual food source – workers and shoppers in the CBD and surrounds – were sheltering at home or starting the flood clean-up.
"It was really important to take food to the rough sleepers in the CBD and West End because many hadn't eaten for days," Stacey said.
"They can sometimes be forgotten in natural disasters."
Stacey and fellow community members cheerfully handed out the hot dinners, along with a care package that included fruit, a breakfast Up & Go, a muesli bar and water, on Tuesday night.
Recipients appreciated both the food and the lively conversations with Stacey and two other Community of The Way young folk who have asked to remain anonymous.
Stacey said that she was especially impacted by those sleeping rough outside the Cathedral, which was the first stop for the merry band and provided a base for the CBD run.
"I was struck by the community of rough sleepers at the Cathedral – they really seemed to value the reliability of the space and the blankets and you could tell that they felt safe and welcomed there," she said.
In his anglican focus flood response message, Archbishop Phillip Aspinall encouraged all members of our Diocesan community to "offer a helping hand".
The ingredients for the lamb curry, beef bolognaise and vegetable pasta dishes and the care package items were purchased with the generous financial help of The Rev'd Andrew Cooper from St John's, Bulimba and formation student Courtney Smith.
Registered nurse Dr John Rolley, who recently moved from Canberra to commence in the role of the community's chaplain, led the three group members in Evening Prayer before packing the car and heading off to Ann Street.
Chaplain John said that the community's prayer life and their mission to be Christ to, and find Christ in, others go hand in hand.
"When we choose to live in community, it can't just be about ourselves making our own community – it has to be an expression of contemplation in action, so that our prayer life as a community impacts on the experienced love of God in the wider community," Chaplain John said.
"When we were in West End, we came across a group of homeless young people, and watching the Community of The Way young people relate to them in such a natural and warm way was quite beautiful."
At one point during their four-hour initiative, the community members walked past a well-dressed woman sitting alone in the dark before doubling back to check on her.
While conversing with her they discovered that she had become homeless earlier that day, and then promptly assisted her with transportation to a safe place.
In 2010-11 more than 28,000 homes were flooded, with thousands of Queenslanders left sleeping rough on the streets or "couch surfing".
Hundreds more have been left homeless by the recent flooding event following record-breaking deluges that started on Thursday 24 February.
An Emergency Housing Security Stakeholders meeting was held in Brisbane last week, bringing together the state government and key representatives from the housing and homelessness sectors, to discuss the housing challenges created by flooding.
Minister for Communities and Housing Leeanne Enoch said that the emergency housing response was activated early and she encourages all those at risk to seek assistance.
"Our local housing service centres remain open and anyone in need of emergency accommodation is encouraged to reach out either in person or on the phone to discuss their needs," Ms Enoch said.
"Temporary accommodation options are available and we have expanded access and eligibility for products, such as rental grant and loan products in flood-affected areas.
"I encourage anyone requiring housing assistance to call their local Housing Service Centre, 13 QGOV (74 68) or the Homelessness Hotline on 1800 474 753."
Jump to next article