The book I have given away the most and why: Margaret Thurgood
"This book is a parable about how people would react to Jesus today and how the Church, in an institutional sense, could react to him," says centenarian parishioner Margaret Thurgood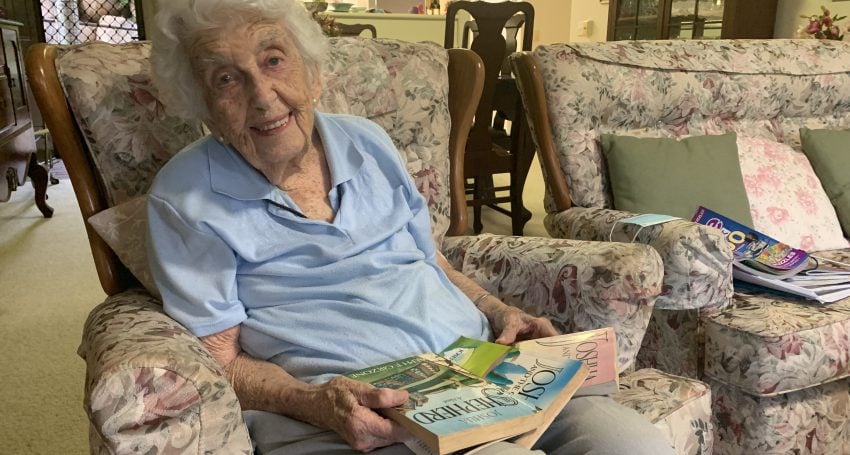 In the 1990s I was given a book by a girl named Melva, whom I knew because our respective husbands were friends. Melva said to me one day, "I've got a book I think you'd like to read," before gifting me a copy.
Joshua: A Parable for Today is the first book in the bestselling  Joshua series. It was written by a dissenting Catholic priest from America and published in 1983.
The main character is named Joshua, a wood carver – representing Jesus – who moves to a small American town. Jesus of Nazareth, of course, would have been called Yeshua, which is translated from the Hebrew to "Joshua".
This book is a parable about how people would react to Jesus today and how the Church, in an institutional sense, could react to him.
The book is special because it makes you feel that Jesus was a lovely person to be with – so kind to everybody. He did not look down on anyone. Some of the priest characters in the book do not like it when everyone likes Joshua. One of the priests writes to the Bishop saying that he was doing the wrong thing – just like the Pharisees used to say about Jesus.
The Joshua series has taught me that sometimes you need to break the rules, or the law, to do the right thing. I like how it is based on scripture. According to the Pharisees, who were strict about the law, you couldn't eat with sinners – but Jesus did. Jesus also told us not to judge.
Reading this book was the first time I have ever really considered that "the law was made for man, not man for the law". It made me think about the behaviour of the priests and Pharisees:
"They [chief priests and Pharisees] failed to see the main thrust of Jesus' life, which was to free the human spirit from the theological prisons that religious leaders construct for people. Fidelity to the teachings of Christ cannot be forced by threat of punishment. Jesus never wanted that." (p.102)
Over the years I have given away copies to people at church and in the village where I live, but mostly to church people. They say that they enjoy the book.
The book made Jesus more personal to me. It made Jesus more real to me.
It is good to sit quietly in prayer and think of Jesus sitting beside you – you will get that peace.
Editor's note: If you would like to share with other readers what faith-related book, including those with theological, spiritual, ministry, Church history or justice themes, you have given away (or referred) the most and why, please email the Editor Michelle McDonald and she will let you know what is needed. 
Jump to next article