The night the Northern Rivers went under
"I should have been on campus at The Southport School boarding, but I was on the family property in Alstonville, NSW, when the unprecedented flood event hit our region of the Northern Rivers. I had been sent home after testing positive to COVID-19, with no idea what was about to unfold," says Year 12 TSS student Jack Thornton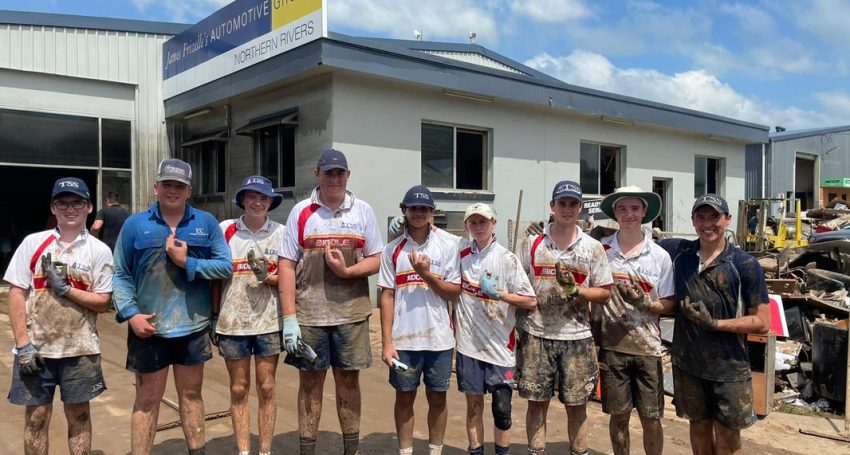 I should have been on campus at The Southport School (TSS) boarding, but I was on the family property in Alstonville, NSW, when the unprecedented flood event hit our region of the Northern Rivers. I had been sent home after testing positive to COVID-19, with no idea what was about to unfold.
Our family home is high on a hill, so we were okay, but the destruction and devastation I witnessed to friends' homes and lives are indescribable. Residents in Lismore lost absolutely everything.
There were dead horses and cows floating down the street. Not to mention entire houses floating away, leaving their foundations behind.
Friends of ours went to bed on the Sunday night only to be woken later by water that had risen to the level of their mattress. They climbed out of windows and waited on their roof in the rain to be rescued like so many others. The rain was heavy and consistent for at least 24 hours, and it left many people fighting for their lives.
Sadly, the SES couldn't start rescuing people until 7am on Monday morning due to the lack of light, but that didn't stop anyone who owned a boat or jet ski launching their own rescue missions in the dark. Our community rallied, randomly picking up stranded people from roofs and verandas throughout Lismore. They relied on screams for help to know which direction to head to, and there were plenty of screams.
My Pop, who has lived in the Northern Rivers his entire life, was telling me that the water was three or four metres higher than anything that has ever been recorded. Nobody was prepared for it.
Our family home became a refuge and still is. As well as our family of six, we took in another family of six, a family of five and family of three. We simply did whatever we could to help, knowing how fortunate we were.
By the Wednesday, I was able to travel back to TSS and was told the school would be sending a bus load of students and staff to Lismore to help with the clean-up that Sunday. I was thrilled to hear this. When we drove into town though, what we saw was beyond confronting. Houses I had visited many times were destroyed.
Led by our Headmaster, Andrew Hawkins, we helped out at a few businesses in Lismore, doing whatever we could to assist. The mud was so thick. We swept, we used gurneys, and we threw a lot out that was destroyed. On top of this, the TSS community collected a heap of donations for the people of the area. Some wonderful TSS parents drove the donations down on the Sunday as well. It was heart-warming to see.
My peers from the Gold Coast, who were on the bus with me, said driving into Lismore was like entering a horror movie. They couldn't believe what they were witnessing.
What lies ahead for these people is hard to even consider. The Northern Rivers is a close-knit community, if you don't know someone, you know someone who knows them. Everyone is connected in some way. My family is committed to helping whenever and however we can, knowing it's a long road ahead for many who lost everything.
Editor's note: In this anglican focus reflection, Archbishop Phillip Aspinall tells us about Anglicare North Coast's 2022 Lismore Flood Appeal for tax deductible donations. Please donate if you can. 
Jump to next article