Mothers Union supporting Pacific neighbours with climate resilience
"Anglican Mothers Union Australia (AMUA) recognises the privileged position that comes from living in a high-resource country and the need to share financial resources with Mothers Union members overseas. To this end, AMUA is supporting specific projects in the Pacific over two-year periods," says AMUA Coordinator for Overseas and Northern Outreach, Dr Robin Ray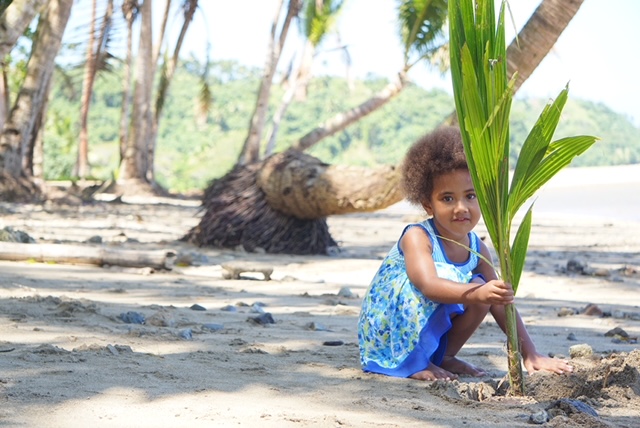 While facilitating training for Mothers Union members in the Torres Strait Islands in 2014, I was shocked by the impacts of climate change. On one island, the sides of several houses were crumbling into the sea. Local people explained that when the houses were built, they were a safe distance from the water's edge. While I had heard about rising sea levels, seeing the effects on people's lives first hand brought home the necessity to be more proactive about caring for the climate.
Research has demonstrated a clear relationship between damage to the climate and natural disasters associated with the weather. Damage to the climate increases the intensity and frequency of extreme weather events such as tropical cyclones, floods and heatwaves.
Our Pacific neighbours are increasingly experiencing the impacts and adversity of climate change, with cyclones and flooding becoming regular events, along with ongoing rising seawaters. Repeat natural disasters destroy infrastructure, homes, hospitals, churches and schools and damages economies, while also destabilising family life and placing children at risk. While the probability of dying in a natural disaster is greatest in low resource communities, it is 14 times greater for women and girls.
The Anglican Diocese of Polynesia is well-respected in Tonga and Fiji, playing a pivotal role in not only engaging communities in worship and prayer, but critically in times of disaster, mobilising people to serve those in need. In times of adversity, the Church can reach outlying communities often much faster than relief agencies to provide families with much-needed support.
The Diocese is also at the forefront of demonstrating how a strong theological underpinning (based on the Theology of Disaster Resilience), can inform an appropriate and relevant response to climate change. Further information about the Theology of Disaster Resilience can be found on the Anglican Overseas Aid website.
The Anglican Diocese of Polynesia has successfully piloted a project to improve communities' preparation and management of natural disasters, and is now ready to embark on a wider rollout of the project.
Young people are being equipped to go into their communities to engage in disaster preparedness activities through the Church and Community Disaster Resilience Project, such as by:
Locating buildings (such as churches) suitable for cyclone shelters and mapping these.
Identifying the skills of local people who can be called upon in a crisis.
Encouraging people to store non-perishable supplies (prepositioned supplies) in readiness.
Working with churches to equip them to be first responders in their local communities.
Such initiatives will assist with food and equipment shortages and bridge gaps until outside aid arrives. These measures and accompanying shifts in beliefs and attitudes build safer, resilient communities.
Equipping young people also ensures that these initiatives and shifts are sustainable, as communities move forward in the future.
Anglican Mothers Union Australia (AMUA) recognises the privileged position that comes from living in a high-resource country and the need to share financial resources with Mothers Union members overseas. To this end, AMUA is fundraising to support specific projects in the Pacific over two-year periods.
These projects are managed with high levels of governance through accredited partnerships. Previous projects have been managed by the Worldwide MU through Mary Sumner House in London. Recent changes to the structure of MU Worldwide have resulted on a zone approach to the work of MU. This has enabled AMUA to focus its two-yearly project in the Pacific Zone and to partner locally. For example, over the last three years (extended due to COVID-19), AMUA has raised money to support a parenting program in Papua New.
In response to member enquiries following the underwater volcano in Tonga, the national executive of AMUA sought to locate a project in the Diocese of Polynesia. This has opened the way for a partnership with the Diocese of Polynesia, which is managed through an implementing partnership with Anglican Overseas Aid.
Editor's note: If you are interested in finding out more about Church and Community Disaster Resilience Project, please contact the AMUA Coordinator for Overseas and Northern Outreach, Dr Robin Ray via robin.a.ray@gmail.com
Jump to next article