The book I have given away the most and why: Bob Randle
"I recall a two-page chapter, titled 'Labels'. The author tells the story of a long bus trip to New Delhi. The tourists' tinned food was stored in the luggage compartment beneath the bus. So when the bus went through rivers, the tins became wet and their labels fell off, with the tourists never knowing what they were going to eat until the tins were opened," says Bob Randle from Holy Hermits Online and Cursillo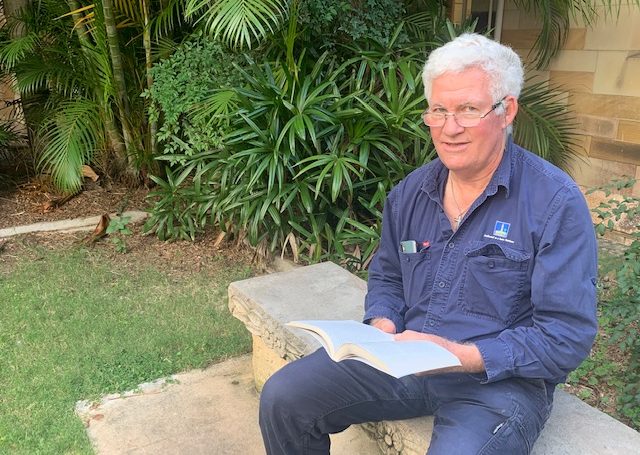 I first came across Eddie Askew's small books in the library of St Bart's, Mt Gravatt in the mid-1990s. Disguises of Love: meditations and prayers was the first book of his that I read. His books typically combine scripture, poetry, story and a reflection on different topics. Disguises of Love is a collection of prayers and meditations that he wrote for the Leprosy Mission's newsletter, with a particular focus on his time in India.
I recall a two-page chapter, titled 'Labels'. The author tells the story of a long bus trip to New Delhi. The tourists' tinned food was stored in the luggage compartment beneath the bus. So when the bus went through rivers, the tins became wet and their labels fell off, with the tourists never knowing what they were going to eat until the tins were opened. Reflecting on Romans 8.14-18, he goes on to write that:
"Labels help, when it comes to food or other consumer goods, but not with people. It's so easy to label…Yet people are not stereotypes. We don't fall off the end of an assembly line…People are different, and similar only in their diversity – in the mixture of good and bad, in the richness of experience to which we are continually adding from birth. You and I realise we are made up that way, and we hope that others will allow us the freedom to be what we are. Can't we do the same for them? Can't we accept people unlabelled?…Yet the most important thing is not that we can recognise others, labelled or not, nor that they acknowledge our labels, but rather that God recognises us. And the thing he recognises is love, not labels." (1983, p.76)
Disguises of Love is not heavy War and Peace reading – one or two pages on the topic you're looking for insight on and you can then park it on the bookshelf. It is written in lay person's language so it's very accessible. Eddie's words, like Jesus' parables, help me to understand how Bible teachings relate to us in our daily lives. The Bible teaches us that we should love each other and live in a peaceful manner.
I am a new member of Cursillo and we are about encouraging each other, led by scripture, so it's handy to have a go-to book when I'm struggling to find the right words.
A regular listener to Bishop Cam's Facebook 'Live at Five', he recently spoke of the Good Samaritan. So I shared with Bishop Cam's Facebook group about Eddie's 'The absent Samaritan', which is a retelling of the famous parable with the Samaritan omitted. After the priest and Levite walk past the beaten man, he dies. In his retelling, Eddie illustrates how God could be reaching out to you and me to be the Samaritan, and that help only comes if we respond.
Editor's note: Thank you to Bob for emailing me about his most-given away book. If you would like to share with other readers what faith-related book, including those with theological, spiritual, ministry, Church history or justice themes, you have given away (or recommended) the most and why, please email the Editor Michelle McDonald and she will let you know what is needed. 
Jump to next article