Q&A with retired nurse, author, RAP Working Group member and Gold Coast North parishioner, Jean Anderson
Meet Jean Anderson and find out about her many Anglican Church roles, her thoughts on National Reconciliation Week and the 30th anniversary of the Mabo Case, her faith journey and favourite scripture, and her unanswerable question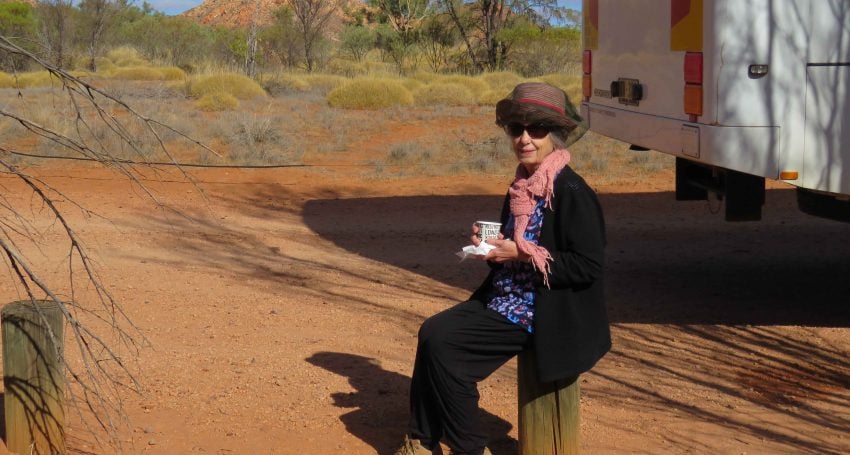 Where do you currently live and where do you worship?
Since 2016, when I moved from Victoria to be with family, my home has been in Upper Coomera on the Gold Coast. I worship at St Matthew's Anglican Church, one of three church centres forming The Parish of Gold Coast North.
How long have you been part of the Anglican Church and in what roles?
I have been a part of the Anglican Church for six years. Here, my roles include Parish Councillor and Parish Council Secretary, Liturgical Assistant and Worship Service leader; leader of Prayer and Presence, our pastoral care small group; and, member of a PATSIMAC (Prayers for Aboriginal and Torres Strait Islander Ministries and Concerns) small group, which includes being a parish representative on the Diocesan Reconciliation Action Plan (RAP) Working Group.
How does your role contribute to the Church's mission?
My former professional roles in nursing, teaching and management have been practical expressions of my long-term commitment to encouraging and nurturing others in their journeys toward wholeness and wellbeing. I continue this through my church and RAP roles, which I hope are expressed in the Anglican Communion Mark of Mission, "responding to human need through loving service."
What projects and activities are you currently working on?
In teamwork with others, I am working on establishing a support team to facilitate discipleship growth in our parish; negotiating wider parish recognition of Aboriginal and Torres Strait Islander concerns; and, rebuilding our outreach service to residents in aged care following the lifting of COVID-19 restrictions.
What are your plans and goals for the next 12 months?
Administratively in the parish, I am planning to update the parish office Policy and Procedure Manual.
Otherwise, I want to decide the direction I might pursue in a course of study for personal spiritual growth.
I am also busily making my way through a reading list of Australian authors in preparation for a literary heritage tour of central and western Victoria later in the year, visiting places I've lived in and loved, but seeing them from a different perspective.
What has been one of the best memories in your Anglican Church roles so far?
Last year our pastoral care team members pooled their talents to design and organise a parish-wide prayer workshop for a Saturday afternoon. Emceed by our priest, its theme was "Here, There and Everywhere" and our facilitators – including some of our retired clergy, a deacon and parishioners – presented their differing perspectives on how we might approach God formally and informally through prayer. People came from the three churches, and the afternoon is widely remembered as a refreshing time of supportive learning and sharing in unity during a time of trial. Notable outcomes have been increased commitment to prayer and the growth in the confidence of our pastoral group members to volunteer their talents in different forms of service.
Why is it important to celebrate National Reconciliation Week?
The Bible has much to say about reconciliation with God and with each other and our responsibility to be honest, respectful, willing to listen and willing to discuss in all our relationships. Celebrating National Reconciliation Week focuses attention on what we share as peoples made in the image of God, and as peoples sharing this country, and how we have to work together to remedy the negative impacts of our history on First Nations peoples and rebuild the trust that we let go.
The theme for this year's National Reconciliation Week is "Be Brave. Make Change". What is one way that anglican focus readers can do this? 
The courage to support First Nations peoples seeking justice and social equality comes from knowing the truth of our shared history and recognising the great losses sustained. Change can come by convincing others as well as ourselves, so we need to be reliably informed about issues and concerns, including progress on significant initiatives such as the Uluru Statement and the Aboriginal Tent Embassy.
Why is it important to commemorate the 30th anniversary of the landmark Mabo High Court decision?
First Nations peoples lived in all parts of Australia from about 65,000 years ago, yet it was only in 1992 that the High Court overturned the 200-year-old legal presumption of the first white colonisers that this land belonged to no-one. The landmark High Court decision was the result of the dedication of five Mer plaintiffs, including Eddie Mabo and several Anglicans. Twelve months after the High Court decision the Commonwealth Native Title Act 1993 was passed through Parliament. Native title and the Mabo Case anniversary call us to remember the trauma of dispossession experienced by Traditional Owners and the fact that many are still fighting for Native Title recognition through complex legal processes and active opposition.
2022's Diocesan theme is "Being Together: Embracing Joy". What are some practical ways that we can celebrate the way differences help to make us whole and the importance of diversity in our unity?
I like that sharing food and fellowship brings opportunities for talking, learning and showing that we care about each other. Often stories and songs break down barriers and encourage shared laughter. Learning the skills of other cultures, especially when travelling, has helped me to appreciate how other people manage the practicalities of daily life and creatively add to it.
Can you tell us a little about your personal faith journey?
I remember a specific moment in my early life when the Holy Spirit breathed on me and my faith journey seriously began. Since then, my Bible has been my constant source of wise counsel; my friends have been God's gifts to treasure; and, I have been assured always of the love of Jesus even in the worst of times.
What is your favourite scripture and why?
"Be still and know that I am God!" (Psalm 46.10) is my favourite scripture because it calls me out of the busyness of life to stop, to rest and to consider God's creation, His plan and my place within it. Everything is wrapped up for me in that call to peace in the midst of turmoil and the assurance that God is in control.
What person of faith inspires you the most and why?
I have been drawn recently to the life of the German Reformer, Martin Luther. I am inspired by his dedication, courage, resilience and compassion in testing and teaching a life of faith at odds with the beliefs of his society. I do not understand all that he has written, but his words force me to consider my own responses to the Biblical Word in the light of his writings.
What is the kindest gesture you have ever received or witnessed?
My father, who rarely spoke of his World War II experiences, told me once of marching in convoy through the burning Palestinian desert with a blinding migraine, wondering how he could go on, when an officer in a passing vehicle stopped and told him to climb aboard. This was an act of compassion that my father never forgot and his story has impressed me with the knowledge that such acts of random kindness may carry good will beyond the act itself.
What is the best piece of advice you have ever received and who gave you this advice?
I was told by a Christian minister in my youth that if I wanted to devote my life to God's service, I would need to be prepared and wholeheartedly committed, to be disciplined and not lukewarm.
What do you do in your free time to recharge and relax?
On my own, I read and write for pleasure and insight, and I create useful, and often useless, things out of textiles. With friends I drink, eat and chat.
If you found yourself on a deserted island, what three things would you choose to have with you?
I would have my Bible, lots of blank-page notebooks and a supply of pencils, and a pen-knife.
If you could have a billboard with any text on it, what would it say and why?
I am going to have on my grave plaque "Raised to new life in Jesus" as a message of hope for those passing by.
What is your earliest memory?
I may have been aged two or three years, crawling along the hallway of our rented terrace in inner-city Sydney, tracing the texture of the frieze of autumn leaves that bordered the wallpaper above the skirting board.
If you could only eat one thing for the rest of your life, what would that be?
Probably dried fruit, being little packages of goodness with no cooking or washing up required.
What's your best childhood memory?
My father took me to Sydney Art Gallery when I was about seven and said I could choose a print of one of the paintings to take home. I chose Bailed Up by Tom Roberts – an 1895 painting that depicts a stage coach being held up by a bushranger. I treasure it still, knowing that my parents could ill-afford to buy it and that it was an expression of love they were never able to show in a physical way.
What is your karaoke go-to song?
No-one ever wanted me to sing karaoke, but my choice will always remain 'On the Road Again' by Willie Nelson.
What item should you throw out, but can't bear to part with?
I have lots of things I should throw out, but each of the things I hold onto reminds me of the person who gave it to me, so I will leave it to my son who won't feel the wrench of separation that stops me.
What makes you nostalgic and why?
When I see photos of the red rocks and soil of central and western parts of Australia, I yearn to be part of those spaces again. And, when I see the box-ironbark scrub of Central Victoria, I yearn for the peace and independence of my life there.
What is one of your hobbies?
I love to research and write and have two publications to my name. One is titled Thinking Management, Focusing on People, which is a text published in 1996 for nurses. The other is The Dunolly District Hospital: a goldfields hospital story, which covers a 150-year period and was published in 2010.
What's your unanswerable question – the question you're always asking yourself?
Will Jesus return in my lifetime?
Editor's note: National Reconciliation Week (NRW) is held annually between 27 May and 3 June. This year's theme is "Be Brave. Make Change." Visit the Reconciliation Australia website for posters and resources and to register your NRW events. Find out about Diocesan NRW events by visiting the anglican focus 'Events' page.  
Jump to next article