What Do You Seek? Wisdom from religious life for today's world
"As Friendship's book reveals to us, monasticism offers a distinct wisdom to ponder – a wisdom that is being written in the lives of so many people who continue to test and live out this vocation from God, in both old and new ways," says Bishop Godfrey Fryar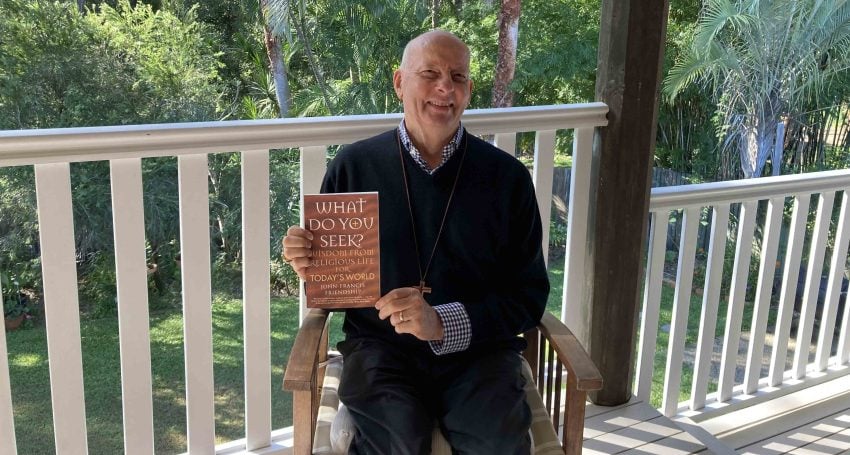 The recent decline of traditional religious communities in the Western Church has led to a fading awareness of the core purpose of such communities, which at its best has served as a beacon of radical Gospel simplicity.
I pondered this recently while reading John-Francis Friendship's latest book, What Do You Seek? Wisdom from religious life for today's world. His book lays open the vast treasure of the Christian tradition of religious life, and in doing so makes it accessible not only to those who seek to explore such a vocation today, but also to individuals who wish to deepen their journey of faith in everyday life and embark on this disciplined pathway of transformation into Christ.
Friendship's book effectively shows the reader that, at its heart, monasticism is a particular living out of our Baptismal calling that draws us to refocus our inner life, so that we may love as Christ loves and be an agent of transformation in the world. As Fr Gregory, the New Zealand born former Father Superior of the Community of the Servants of the Will of God (a small community of Anglican monks living in Crawley in the UK) wrote in 1983:
"The monastic community has a special role, a prophetic role in the present age to be the Church as a contemplative community and thus bear witness to the primacy of the action of God in the affairs of humankind." (Quoted in John-Francis Friendship, 2021, p.84)
The book also tells us that the contemplative way radically challenges false notions of individuality that have dominated Western society and have proved so destructive of community life and the environment. As Martin L Smith, formerly of the Society of Saint John the Evangelist, wrote in 1980:
"Your whole life must be a relative life. The moment you are imprisoned in your own self-consciousness, in your own separate individuality…You destroy the very life of your person…Humanity is created to be a social being as God is a social being." (Quoted in John-Francis Friendship, 2021, p.85).
Friendship tells us about how the restoration of the religious life in the Church of England began in 1837 when Marian Hughes (1817-1912) believed God was calling her to become a religious sister, and to commit her life to the care of people living on the margins. She was the first Anglican since the Reformation to openly make the vows of poverty, chastity and obedience and was the founder of the Society of the Holy and Undivided Trinity.
Mother Marian, along with others, sent sisters to join Florence Nightingale to care for wounded soldiers during the Crimean War. She was the first of many Anglican women around the world who became religious sisters. As well as living the monastic life, she and her sisters served God by caring for people who were poor and marginalised through nursing, social welfare and education.
John-Francis Friendship estimates that over 10,000 Anglican women have tested and lived this vocation since 1837. The Sisters of the Society of the Sacred Advent, founded in Brisbane in 1892, are steadfast examples of this.
Members of monastic communities, both men and women, are called to match their lives of prayer and worship with service. All of our religious communities since the re-founding of the religious life in the Anglican Communion, whether inspired by Augustinian, Benedictine, Cistercian, Franciscan, Celtic or other traditions, have at their heart deep spiritual roots in worship and contemplation that underpin whatever "works" they may do inside or outside the monastery, convent or friary. Whenever these foundations are weakened, communities find themselves adrift like corks on the ocean.
John-Francis Friendship was a member of the Society of Francis First Order for a number of years. Even when he was released from his vows and moved on, he was deeply Franciscan and continues to live out his vocation now as a member of the lay Anglican Third Order.
While reading Friendship's book, I was particularly touched by his anecdote about the importance of detachment, which applied to him as a Franciscan, but more widely to all of us in our arguably Western materialist society:
"Once while hitchhiking, I became anxious and irritated on discovering I'd left something of importance in the car in which had just received a lift. With no way to contact the anonymous driver, I began to fret until one of my brothers said – 'Just give it to God', and with a struggle I did, and discovered through that, detachment." (p.119)
It is quite possible to live the essence of the religious life outside a religious community, provided it is still lived in relationship and accountability with others and with deep spiritual roots and the discipline that the original inspiration provides.
Much is said about many in the Western world desiring "spirituality" in their lives, but not religion. I have some sympathy with this view. Religion, as it is commonly known, tends to mean conforming to an institution that is at times seen as repressive, and this use of "religion" usually means "the Church".
Anglican priest Fr Gilbert Shaw once reminded the Community of the Sisters of the Love of God that:
"There is a distinction between the Christian way and the search for the 'spiritual' way. The latter involves an 'experience', but the former concerns a surrender…" (Quoted in John-Francis Friendship, 2021, p.31)
Spiritual experiences can be wonderful encouragements on our journey, but in the end, they are not the main game.
The main title of Friendship's book is, What do you seek? As we look at these words, only we can answer the question. These are words that are asked when someone joins the Society of St Francis.
If you are seeking information about the monastic life in all its different forms, as it has existed for the past 2,000 years, along with its focus on the restored Anglican communities of the past 200 years, you will find Friendship's book most helpful.
If you are drawn to the second half of the book title, which is Wisdom from religious life for today's world, you may also find this book very satisfying. The "wisdom" it speaks of will be found not only in words that have been spoken by members of religious communities and their supporters, but also in the consideration of the lives of the multitude of Christians since the time of St Antony of Egypt whose lives of dedication and struggle are an inspiration.
As Friendship's book reveals to us, monasticism offers a distinct wisdom to ponder – a wisdom that is being written in the lives of so many people who continue to test and live out this vocation from God, in both old and new ways.
John-Francis Friendship. 2021. What Do You Seek? Wisdom from religious life for today's world. Canterbury Press, Norwich.
Jump to next article