Lessons from an accidental advocate
"As welcoming celebrations continue in Biloela, and the Tamil family starts to rebuild their lives in peace after more than four years in immigration detention, it would be easy for us to return to our busy lives and miss the lessons from this inspiring story. To me there are many things we can learn from Angela Fredericks and the Bilo community," says Peter Branjerdporn as Refugee Week approaches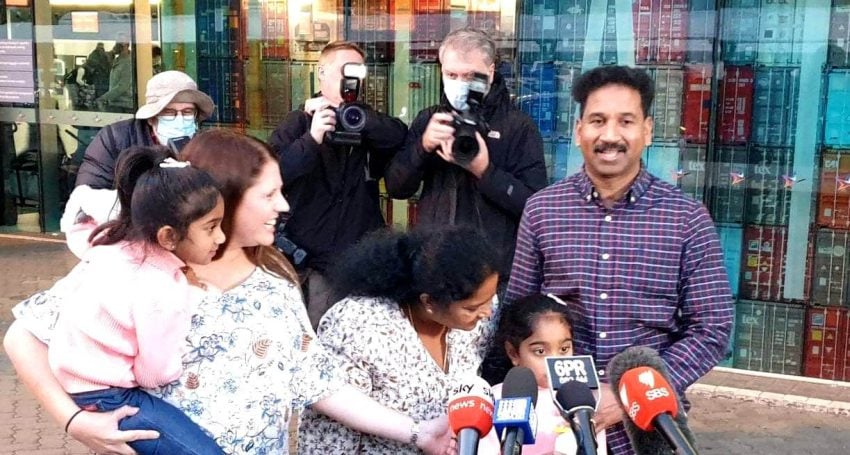 I first heard Anglican "accidental advocate" Angela Fredericks speak at a vigil for refugees in Brisbane a few years ago. At the time, I had no idea where her small Queensland town of Biloela, or "Bilo", was. She told us about her friends, Nades and Priya, and their little girls, Kopika and Tharnicaa – a young Tamil family, beloved by the Bilo community, who were taken from their home by armed government authorities in an early 2018 dawn raid.
The family was detained in Melbourne before they were detained on Christmas Island the following year. In June 2021, the family was released into community detention in Perth after the youngest child, four-year-old Tharnicaa, nearly died of sepsis. However, they were unable to return to Bilo from Perth because the former government would not grant Tharnicaa the same bridging visa as her parents and sister. Over the weekend, Tharnicaa, who turned five on Sunday, celebrated her first birthday out of detention after the government announced that they could return.
Since the family was taken from their Bilo home in 2018, the #HomeToBilo campaign brought over 596,500 people together behind one of the nation's most successful refugee advocacy campaigns. Because of the Bilo community-led campaign, the family returned home to Bilo where they belong on Friday. Loyal locals Angela and her friend, fellow Christian Marie Austin, spearheaded the campaign.
As welcoming celebrations continue in Biloela, and the Tamil family starts to rebuild their lives in peace after more than four years in immigration detention, it would be easy for us to return to our busy lives and miss the lessons from this inspiring story. To me there are many things we can learn from Angela Fredericks and the Bilo community.
Angela first met Priya, Nades and Kopika (before Tharnicaa was born) at the Biloela Hospital. At the time Angela was a parish councillor at St Gabriel's Anglican Church in Bilo. Priya used to bring Kopika, and later Tharnicaa, to 'Mainly Music' sessions at St Gabriel's. So what are some ministry and advocacy opportunities in the local area that your church community can offer and support, particularly for marginalised families who might need some TLC?
At the heart of this family's incredible story is the friendships forged in a small community with ordinary people who go out of their way to look after one another, even when it requires them to leave their comfort zones and fight systemic injustice.
Writing in anglican focus in 2019 about why she started the #HomeToBilo campaign after her friends were forcibly taken from their home, Angela said that as a life-long Anglican she found inspiration in Jesus who:
"…fought not just to transform individuals' lives but to change the systems that perpetuated inequality, poverty, exclusion and exploitation. The fourth Anglican Mark of Mission is to 'transform unjust structures of society', and for me this is exactly what it means to be a Christian – it is our role to speak out and challenge unjust systems."
Caring for friends can lead you to do extraordinary things like running an in-person and online campaign, starting a petition that gained nearly 600,000 signatures, travelling all over the country and speaking to journalists on the nightly news, as Angela did.
The Angela Fredericks of this world are extraordinary – beacons of loyalty, faithfulness, courage and compassion. There are also ordinary people in our churches whose names we will never know who provide safe meeting spaces, set up the tea and coffee and welcome people enough to make new friends – they also make this kind of story possible. The work of justice is best done with others, and there are many wonderful church initiatives and community organisations right here in Southern Queensland that you can be a part of.
It seems that we as a country are finally beginning to find and celebrate our common humanity, leaving behind decades of divisive political fear-mongering against people seeking asylum. Angela says that the happy turn of events:
"…shows that we as a nation can do better and we can learn to love one another just as Christ taught us to."
She also reminds us that, while:
"…we all welcome the decision to issue the entire family with bridging visas…this family will never be safe until they have permanency in Australia".
And, so the work of pursuing peace, freedom, stability and safety for refugees continues.
Refugee Week will be celebrated between Sunday 19 June and Saturday 25 June this year. This year's Refugee Week theme is "Healing".
Here are three things you can do to help people like Nades and Priya and their children begin to heal from the pain of the past, and show support for the wonderful work advocates like Angela do:
Join the Brisbane Refugee and Asylum Seeker Support (BRASS) Network, which is co-convened by our Diocese's Social Responsibilities Committee, where you will find many local events and links to current refugee advocacy campaigns and resources.
The Tamil Refugee Council provided support for Priya and her family when they were initially forced into detention. This work was important to the advocacy campaign and the family's eventual release. Angela asks supporters of #HomeToBilo to support the Tamil Refugee Council so other Tamils in the same situation can be protected.
Speak to your friends, family and faith community about what you can do together to be more welcoming and supportive of refugee families in your local area and beyond. Please get in touch with me or a Social Responsibilities Committee member via contact@doingjustice.org.au if we can be of any assistance.
Jump to next article